Reading Time:
3
minutes
Horror comedy mixed to perfection as Landis reinvents werewolf movies and Rick Baker creates monster-making history in An American Werewolf in London 1981. Review by DAVID SAUNDERSON.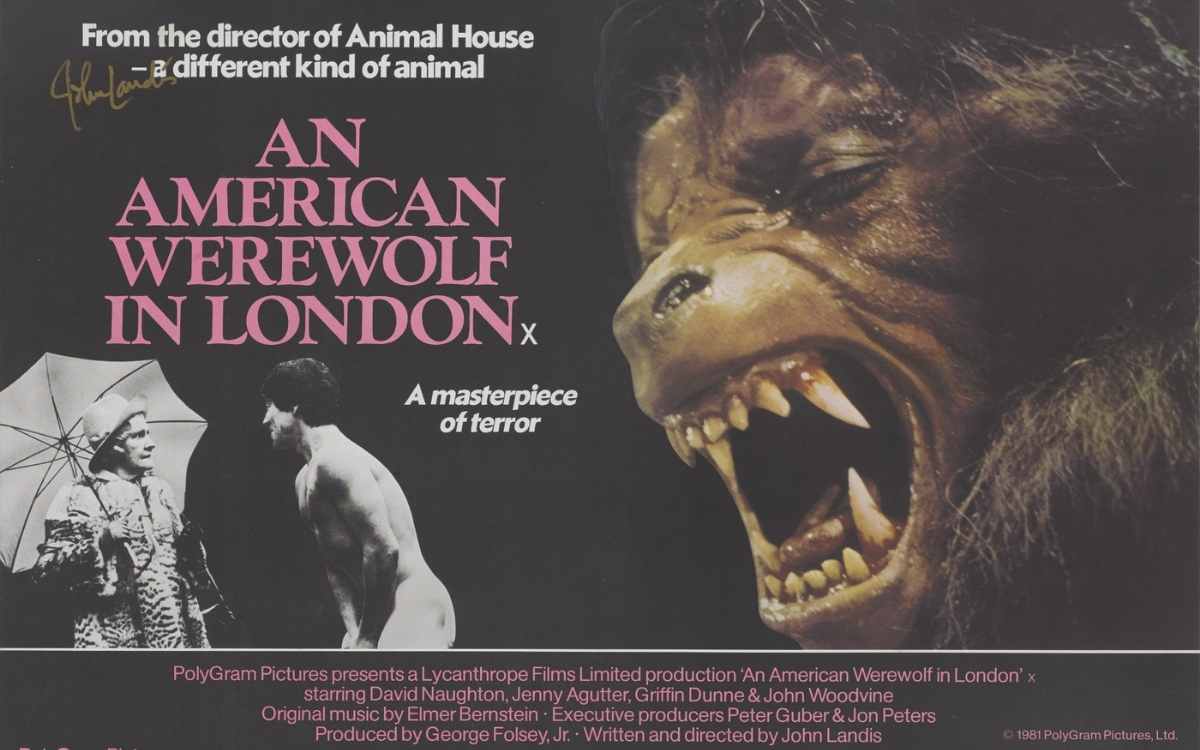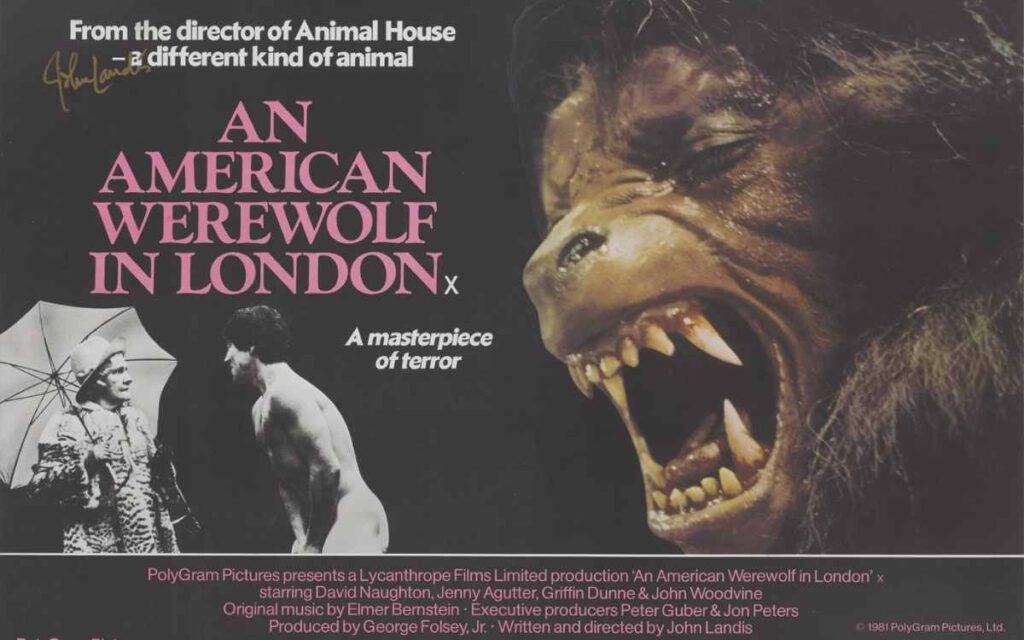 TITLE: An American Werewolf in London
YEAR RELEASED: 1981
DIRECTOR: John Landis
CAST: David Naughton, Griffin Dunne, Jenny Agutter

PLOT: Two American backpackers are mauled by a werewolf on the Yorkshire moors. The survivor, haunted by his slaughtered friend, learns he will become a werewolf unless he kills himself.

MORAL OF THE STORY: Beware the moon. And stick to the road.

FUN FACT: Studio executives hoped John Landis would cast Dan Aykroyd and John Belushi in the lead roles. John Landis refused.
YEARS ago I was driving in Yorkshire and looking out on the moors, the tune of Blue Moon was going through my head – as were the words "Beware the moon and stick to the road."
Knowing now that An American Werewolf in London was filmed mainly in the south of England and Wales will no doubt dampen my enthusiasm the next time I drive up north.
But I still enjoy the knowledge that my local Tube Station here in London's West End is Tottenham Court Road. Now, there is nothing especially wonderful about TCR – but it has one major claim to fame that makes it just awesome – it is THAT Tube Station from An American Werewolf in London.
The scene where David, in werewolf form, hunts a poor commuter through the labyrinth of London's Underground is one of the scariest moments in horror film history. The claustrophobic camera work following the doomed sod down the tunnels showing the werewolf's point of view still gets my heart pounding in terror. For a comedy horror, there are some real poo-your-pants moments in that film.
I've recently learned that while Tottenham Court Road is the station depicted in the film, the chase scenes were shot at Charing Cross Station. Not really disappointing really considering it is only two stops along the Northern Line. I can still enjoy knowing a "werewolf attack" happened only a few blocks away as I sleep at night.
Hammer obviously filmed their productions in and around the Greater London area during the 1960s and 1970s. I don't know much outside central London, so I don't recognise the locations in the legendary Hammer films (something I plan to rectify).
Having watched 28 Days Later with its many London locations last week, I am now under the firm opinion that familiar locations and familiar situations make horror films all the more terrifying. A haunted castle is wonderfully spooky but I can't really relate to being attacked by a vampire bat in Transylvania. But I do know what it is like being alone and feeling uneasy in London's Underground (which sometimes happens but not often).
An American Werewolf in London is not a traditional horror film. It is funny and scary at the same time. It presents a supernatural event and wraps it in a plausible chain of events – a guy is coping with death of a friend from a werewolf attack while dealing with the consequences that he will now become a werewolf. (I am not saying werewolf attacks happen; there are less plot holes in An American Werewolf in London than most horror films.)
An American Werewolf in London was probably the first horror film I ever saw. Mum rented it on video thinking that it was a comedy – which it was – but certainly not suitable for an eight year old.
It's nearly 30 years since I first saw the film and I love it every time I watch it. The fact I am now in England makes the film all the more fresh. I just love it to bits.
Watch An American Werewolf in London 1981 trailer
Tell us your thoughts on An American Werewolf in London 1981 in the comments section!