Reading Time:
4
minutes
DR KAJA FRANCK looks at Neil Jordan's The Company of Wolves 1984, a dreamy and hallucinatory re-telling of Little Red Riding Hood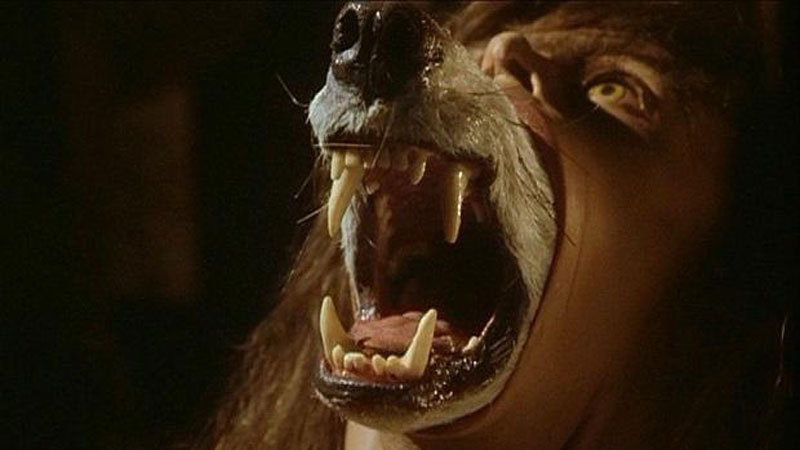 TITLE: The Company of Wolves
YEAR RELEASED: 1984
DIRECTOR: Neil Jordan
CAST: Sarah Patterson, Angela Lansbury, Stephen Rea, David Warner
Review of Company of Wolves
Following the passing of Angela Lansbury (1925-2022), it seems timely to return to one of her most intriguing characters, Granny in Neil Jordan's The Company of Wolves 1984. Its dreamy and hallucinatory narrative weaves together Angela Carter's wolf-themed fairy tales in her collection The Bloody Chamber (1979). These stories are themselves re-workings of the various versions of 'Little Red Riding Hood' and werewolf folklore.
My What Big Eyes You Have…
The film is framed as a dream: a young girl Rosaleen (Sarah Patterson) falls asleep and her imagination takes her to a fairy-tale woods in which she lives with her parents, after the recent death of her sister after a wolf attack. The central narrative broadly follows 'Little Red Riding Hood'. As the story unravels, it is interspersed with other tales told by each of the characters centring on the figure of the wolf.
This framing technique was taken from the 1980 radio adaptation of Carter's lupine short stories written by Carter herself. She and Jordan re-worked this script, drawing on the narratives-within-a-narrative structure to give the film an uncanny quality.
Though the costumes for the film suggest a 17th-century setting, like all fairy tales, the narrative appears to take place in a nebulous 'once upon a time' existing outside a fixed sense of history. In this world, Rosaleen goes to visit her Granny meeting a wolfish Huntsman (Micha Bergese) on the way.
Lansbury's characterisation of Granny makes her the archetypal, rosy-cheeked and snowy-haired grandmother of fairy tales. Granny and the Huntsman's namelessness evokes the symbolic nature of these stories and the morals hidden therein. Apart from Rosaleen, only her sister is given a name and other characters are given broad monikers.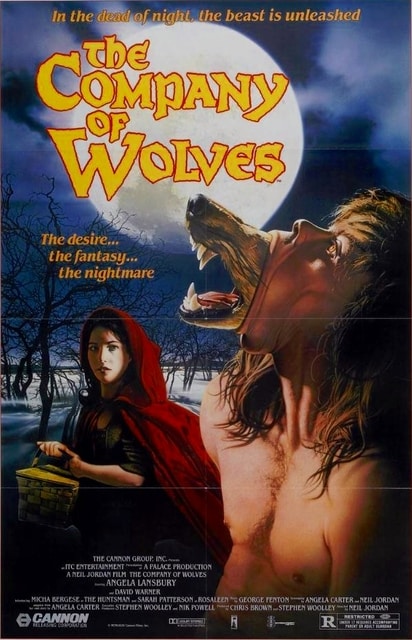 Down the rabbit hole
The name of her sister – Alice – is a reference to 'Wolf Alice' another of Carter's tales about a feral girl raised by wolves, as well as Lewis Carroll's Alice in Wonderland (1865). In the film, Alice is taken by wolves but re-emerges in the story that Rosaleen tells the Huntsman. Rather than a rabbit-hole, a she-wolf surfaces from a well in the form of a human.
The character of the she-wolf alludes to 'Wolf Alice', but also suggests that Rosaleen's sister may not be dead but gone to another realm. Complementing Rosaleen's disdain for the amorous attempts of a young man in the village, and her yearning for something beyond her village, such a reading fits in Carter's feminist re-visioning in her short stories.
Beyond the village is a forest depicted as a wilderness Wonderland, replete with over-sized trees and mushrooms and perpetually gloomy and misty. The size of the flora plays with perspective reinforcing the preternatural quality of the fairy-tale forest. However, whilst this was in part purposeful, it was also a side-effect of the limited budget.
Jordan stated that he had around 12 trees with which to make a forest and the liberal use of dry ice helped to hide the small scope of the set. Filmed for the most part at Shepperton Studios, the restrictive space draws on Hammer horror films, as noted by Louise Watson. Writing for BFI Screenonline, she argues that the 'Hammer-like theatrical forest creates a sense of brooding claustrophobia where no sunlight can reach, accentuating Rosaleen's trapped existence' (2010). The slightly old-fashioned production values interplay with the traditional narrative effectively.
Hairy on the Inside
Similarly, the special effects for the werewolves benefitted from being practical rather than CGI more readily used in contemporary werewolf films. The 1980s was a significant time for the werewolf on the silver screen. Whilst lycanthropes were already staples of horror narratives, the advances in special makeup effects caused them to become visually more arresting and terrifying. Both The Howling (Joe Dante, 1981) and An American Werewolf in London (John Landis, 1981) won awards for the special makeup effects done respectively by Rob Bottin and Rick Baker.
Though not necessarily as refined, the gory physicality of the werewolf transformations in Company of Wolves capture the somatic violence of Carter's tales. These effects were created by Christopher Tucker and his team, and like Dante and Landis, his work was recognised by the BAFTAs for which he won an award for both makeup and special visual effects.
Another practical aspect of film were the many four-legged beasts we see on screen. For this no wolves were harmed as they were more likely to be canine than lupine. Wolves are expensive to have on set as they are wild animals and need specialist handlers. In one memorable scene, Patterson performs alongside actual wolves. However, for the vast majority of the film, particularly when masses of wolves were needed to burst through walls and run through forests, Belgian Shepherd dogs are used as stand-ins. The dogs were dyed to look more wolf-like.
A Twist in the Tale
At the time of its release The Company of Wolves was not a blockbuster – though arguably it was never intended to be – and whilst critical response was broadly favourable, the appeal of the film did not reach its zenith until later. Now recognised as one of the more original werewolf films, it continues to be studied by horror and feminist scholars alike.
Sadly Carter died in 1992, at the age of 51, and was not able to see the ongoing impact of her work. This also meant that despite discussions between her and Jordan about collaborating on another film, perhaps an adaptation of her vampiric short stories, they did not see fruition.
Given how beautiful and effective Jordan's adaptation of her work was, we can only imagine what that would have looked like through his other vampire films, Interview with the Vampire 1994 and Byzantium 2012. Alternatively, you can settle in on a cold winter's night with this film and enjoy straying from the path.
Tell us your thoughts on The Company of Wolves 1984 in the comments section below!
Watch The Company of Wolves 1984 trailer