Reading Time:
4
minutes
Several ghosts make themselves known to the living at Arnos Manor Hotel in Bristol, says RICK HALE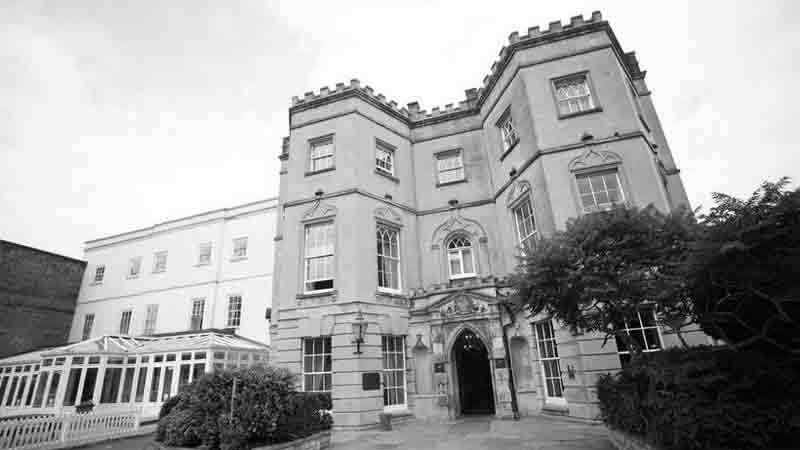 Bristol in the south west of England is a vibrant city with a long tradition of trade and industry dating as far back as the 13th century.
If you should need a place to stay after exploring it's many boutique shops and buildings of great historical significance, you may want to consider spending the night at Arnos Manor Hotel.
A hotel that not only offers a comfortable bed to rest your weary head, but frightening spirits that reportedly call this 18th century manor house home.
History of the Arnos Manor Hotel
Arnos Manor Hotel was constructed in 1760 by local wealthy merchant, William Reeve for his growing family.
The house stayed in the Reeve family for a relatively short period of time before being converted into an all girl's Catholic school.
The school remained an honoured part of Bristol until it was badly damaged by German bombing runs during World War II.
It wouldn't be until the 1970s when the manor was reopened as a luxury hotel.
And, of course, its many ghosts began to make their presence known to the living.
The Haunting of Arnos Manor Hotel
As with many reports of ghosts in old houses, the hauntings weren't realized until a grisly discovery was made hiding behind the walls of the building.
Shortly after the second world war, workmen were clearing the rubble when they discovered something they did not expect.
When they broke through a wall they found the skeleton of a nun in full habit.
When historical research was conducted to ascertain who this person was, a tragic story was uncovered.
A story that many believed directly caused the haunting of the hotel.
The Nun's Fate
When Arnos Manor Hotel was a girl's Catholic school, one of the young nuns found herself in an unenviable situation that no bride of Christ should ever be in.
After breaking her vow of celibacy she discovered she was pregnant.
She did everything she could to hide her condition from the students and her sisters. Unfortunately, her habit could only do so much to hide the pregnancy.
When the pregnancy became obvious the nun became desperate and did the only thing she could think of. She killed herself by throwing herself from the highest window in the building.
When the nuns discovered her body, they bricked it up in one of the rooms and forgot about it. The school went back to business as usual. The soul of the nun didn't forget quite so easily.
Since being turned into a hotel the apparition of a nun in a brown habit has been seen wandering the halls and corridors of the hotel.
Her ghost is said to be particularly fond of room 160 possibly because it was behind the walls of the room where her skeletal remains were found.
She is said to appear and pace about the room sobbing inconsolably. She then fades away leaving a sense of great sadness in her wake.
Although her remains were given a proper burial, her soul has not found the peace she was denied in life.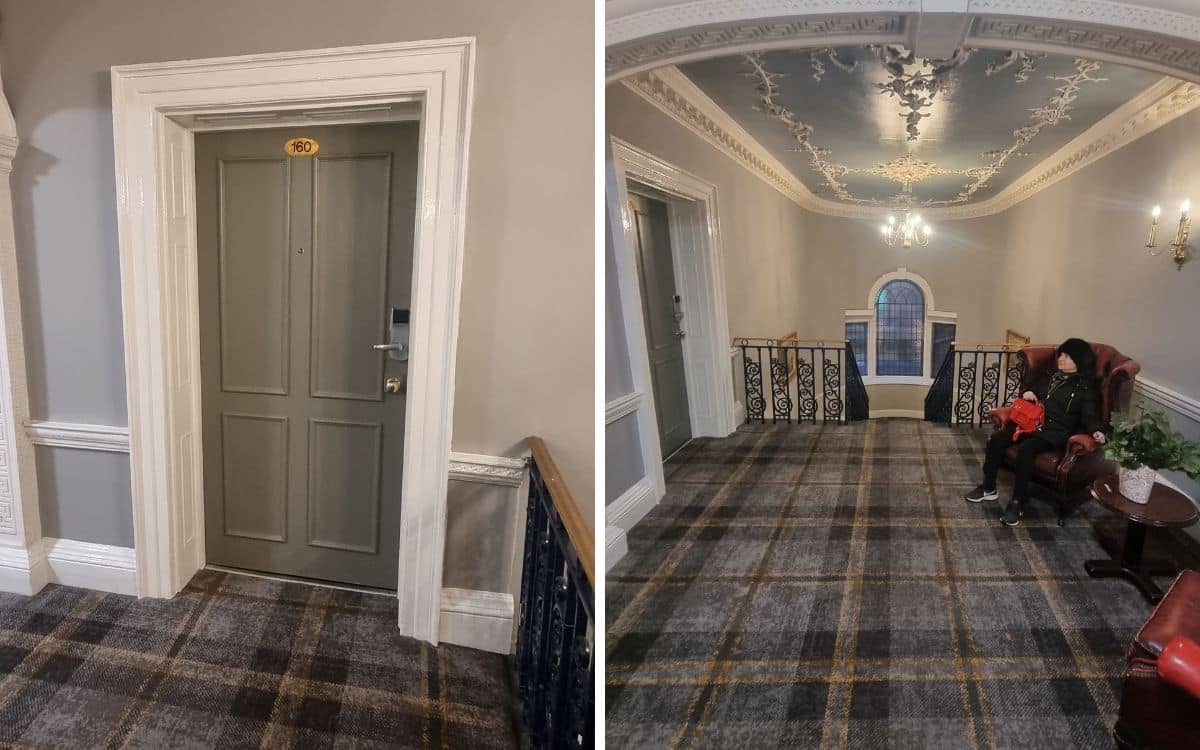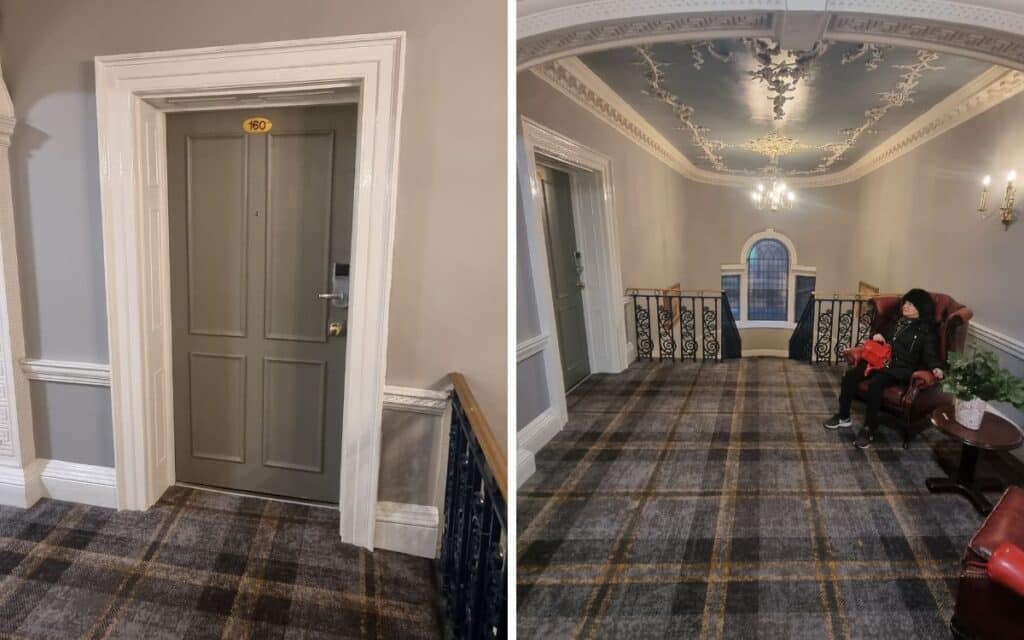 The Man In Tweed
The apparition of the tragic nun isn't the only ghost said to haunt Arnos Manor Hotel.
A cheerful man in a tweed jacket and cap has been reported in the lounge area of the hotel.
By all accounts he has a smile on his face and a twinkle in his eyes before he fades away into thin air before the eyes of an unwitting guest.
Night Terrors
Over the years several guests have reported a terrifying situation that has caused many to vacate their room in haste.
These guests have reported being awakened in the middle of the night by the feeling of a powerful person pinning them to their beds.
Whomever, or whatever, this spirit is only releases its hold when the victim screams out.
Poltergeist Activity
Lastly, what haunting would be complete without poltergeist activity? Arnos Manor Hotel appears to not be lacking in this.
Staff and guests have reported watching as some unseen hand throws ashtrays and glasses from tables.
As well as loud footsteps and heavy banging on walls. A few guests have even reported returning to their rooms to find their bedding and personal belongings thrown about.
What The Hotel Offers
Arnos Manor Hotel offers 73 comfortable en-suite rooms, individually and tastefully decorated.
The hotel's restaurant, The Cloisters, in the courtyard of the original manor house offers a menu that changes with the season.
And if you're looking to have a quiet drink, the bar and lounge has a wide variety of ales and spirits.
Out and About
Arnos Manor Hotel is located near the heart of Bristol and there is plenty to do.
Bristol is well known for its shops, pubs and restaurants.
If it's family fun you seek, the Bristol zoo and Berkeley Castle are open daily for tours.
Arnos Manor Hotel in the vibrant city of Bristol is ideal for any travel, and paranormal, enthusiast.
Have you been to Arnos Manor Hotel in Bristol? Tell us about your experience in the comments section below!