Reading Time:
4
minutes
The haunted Bell Hotel in Winslow, Buckinghamshire, has long been the focus on paranormal investigations, says RICK HALE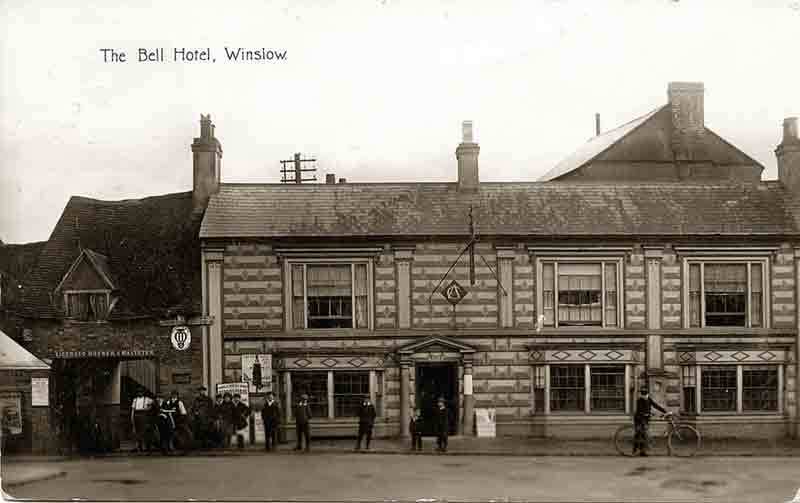 The Bell Hotel
Market Square, Winslow MK18 3AB
Located 57 miles northwest of London is the town of Winslow. A historical market town nestled into the Buckinghamshire countryside.
Among the quaint boutique shops and pubs of Winslow is the historic Bell Hotel.
A hotel with a reputation for its hospitality as well as it's ghostly goings-on.
History Of Bell Hotel
According to historical records, an inn has sat on the foundations of the Bell Hotel for centuries.
The first detailed record of the Bell Hotel can be found in the will of Anthony Jackson in 1591.
Although a gentleman farmer by trade, Jackson would often open his house up to travellers to stay the night.
Roadways were dangerous for stagecoaches in those days as highwaymen lurked in the shadows waiting to rob and murder wealthy travellers.
In the 19th century, Bell Hotel was used by the magistrates court to try petty crimes and misdemeanours.
The true claim to fame for the Bell Hotel was the beer that was brewed in its pub and served up to locals and travellers alike. Serving as a prototype microbrew for future brew enthusiasts.
The Haunting of Bell Hotel
The Bell Hotel's long-time reputation for being haunted is so well known, it's been the focus of paranormal investigators and psychic mediums.
And what these investigators discovered just may shed light on why this hotel is home to so many unhappy spirit inhabitants.
A Man and His Horse
One of the most commonly experienced ghosts in the hotel is a poor destitute man named, Marshall.
According to the paranormal group, Marshall was a man whose horse was repossessed when he couldn't pay the stabling fees.
Marshall, supposedly refuses to move along to the other side for a very simple reason, if he goes his horse may never find him.
Marshall's ghost is said to appear in the pub with a pitiful look upon his face and begs for money.
When people are unable to give him the money he requests, he gets an angry look on his face and abruptly vanishes.
She Doesn't Know She's Dead
A commonly accepted theory in psychical research is that ghosts haunt a location because they don't know they're dead.
Whether there is any truth to this theory is debatable. However, the Bell Hotel appears to have one such spirit.
The ghost of a little girl has been witnessed throughout the hotel.
The paranormal group discovered that she doesn't know she died many years ago. And she is awaiting the arrival of her family.
She has been seen in the halls as well as occasionally making appearances in guest rooms.
Ghostly Children
Guests of the Bell Hotel have called down to the front desk to report the unmistakable sound of obnoxious children running down the halls making noise.
When an employee arrives to investigate, they find nothing. No children in sight. Just a silent hall and a shocked guest.
The Murdered Housekeeper
No haunted hotel would be complete without at least one haunting borne of a tragic event. The Bell has one of those as well.
In life, Angelina was a housekeeper who carried on an illicit affair with her boss and former hotel owner, a man named Malcolm.
One day, Angelina, discovered to her dismay that she was with child.
And as she had only been with one man her entire life, the baby's father could only be Malcolm.
When Angelina approached her lover with the news, he became irate. He was married and a respected member of society. He feared such a scandal would ruin him.
A heated argument broke out and in a desperate act, Malcolm grabbed the young woman and shoved her down the stairs.
When he regained his good sense, Malcolm discovered he had bigger problems than an unwanted child. Angelina laid at the bottom of the stairs lifeless.
Since that day, when the hotel is quiet, it's said that you can hear the argument between Malcolm and Angelina.
The phantom yelling stops when the sound of a body tumbling down the stairs is heard. The noise replaced by an eerie silence.
There is more to this haunting. The ghostly figure of a young woman in an old fashioned housekeepers uniform has been seen in the hotel.
She is said to go about her daily chores and vanishes when she realizes she is being observed.
What the Bell Hotel Offers
Over the years, the Bell Hotel has undergone several renovations while maintaining its old-world charm.
All rooms are en-suite and have all the amenities you would come to expect.
The hotel's Carvery restaurant is open on Wednesdays and Thursdays for lunch. And all day on Sundays.
The hotel's pub is open daily and serves traditional pub food with a good selection of beer and spirits.
Out and About
There is no shortage of things to keep you busy when staying at the Bell.
The towns of Winslow and Buckingham are nearby. Both towns are well known for shops and pubs.
As well as art galleries, museums and several buildings of historical significance.
If you've ever stayed at the Bell Hotel and had a supernatural experience, we invite you to tell us about it in the comment section.
Watch Bell Hotel Winslow video