Reading Time:
3
minutes
SARAH BLAIR-DICKINSON picks 5 haunted places to visit in Bishop's Stortford, Hertfordshire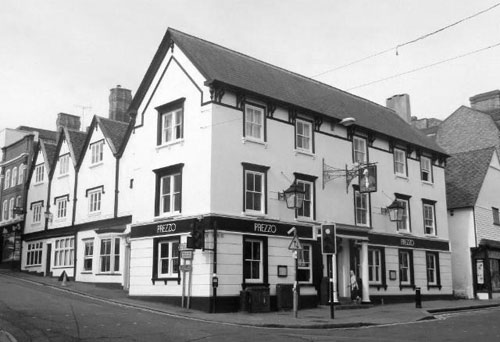 The George, 1 North St, Bishop's Stortford CM23 2LD
A former pub that is now a hotel has many ghostly stories associated with it. Room 27 in particular is where the ghost has been experienced the most.
Guests brave enough to stay in the room have reported the feeling of being stared at and seeing a grey mist hovering over the bed. Another woman walked into her room to find the figure of a woman in a grey dress bending over the pain with her arms raised as if she was in pain. The guest cried out and the figure disappeared.
The hotel used to have a pub that also had spooky activity such as a white mass that hovers in the basement and someone – or something – that regularly turned off the beer gas.
St Michael's Church, Windhill, Bishop's Storford CM23 2ND
About 10.30 one night after an evening out with his friends, a man was walking home and used St Michael's churchyard as a cut through to the high road. The man claims to have seen a black figure creeping amongst the graves around the church.
He said the figure was quite a bit taller than an average man and didn't appear to have any facial features. In another instance a woman reported walking through the churchyard in the early hours of one morning when she saw a female spirit wearing a long dress who vanished shortly after being spotted.
Bishop's House, Windhill, Bishop's Stortford CM23 2NF
Bishop's House, formerly Handscombe's Department Store, has seen a lot of activity including poltergeists, strange noises and Bishop's Stortford resident ghost The Grey Lady. The lady has been sighted walking up the stairs late at night and also walking along the hallways.
At one time a pile of human bones were found underneath an old cupboard – the bones were given a proper burial in the hopes of bringing an end to the haunting, but unfortunately it did not work. Loud crashes and running feet are still heard when no one is about and The Grey Lady continues to roam the corridors.
Royal British Legion Club, 
28 Windhill, Bishops Stortford CM23 2NG
In a flat above the bar, the manager of the Royal British Legion club is often woken at night by doors slamming shut and various other noises in the rooms below.
One night she was having a chat in the bar with a friend when they heard footsteps running through the room above when they knew that they were the only ones there that night. Another time she was closing up the bar for the night when she heard a man's voice say 'hello'. She turned around expecting to see a customer that had been accidentally locked in, but the room was empty.
Coopers of Stortford, 11 Bridge St, Bishop's Stortford CM23 2JU
This shop is home to a spirit that is known for knocking things off shelves, swapping labels on various items and causing lights to flicker. The Grey Lady has also been sighted upstairs where she will cross a room and then disappear into a wall.
When the store was refurbished they discovered a door in the wall that had been plastered up in exactly the same spot where The Grey Lady has been seen to vanish. Just last year an employee was getting a cup of tea when a loud noise in roof above gave him a scare. Shortly after a fire door swung open of its own accord.
Have you seen a ghost in Bishop's Stortford? Tell us about it in the comments section below!