Reading Time:
3
minutes
SARAH BLAIR-DICKNSON explores five haunted places to visit in Ware, Hertfordshire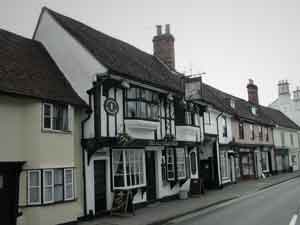 Scott's Grotto, Scott's Road SG12 9JQ
Hidden away down a quiet residential road in Ware is Scott's Grotto, which is the largest grotto in England. This grotto is comprised of six eerie interconnected chambers and are set into a chalk hillside. Though there aren't many stories, it has been a long held belief that the grotto is home to a ghost. In 2004, a group of tourists told a radio presenter that were visiting the grotto when an unexplained cold wind suddenly blew through the passageway and each person felt someone – or something – touch them as it passed by. `
The Old Bulls Head, Baldock Street SG12 9DU
Several hauntings have been reported at The Old Bulls Head pub, one of Ware's oldest buildings. Members of the staff have mentioned seeing the flicker of a flame in the corner of their eye, but upon turning to look there is nothing there. The pub is also rumoured to be haunted by a taxman that was murdered when he came to collect his money, the spirit of a little girl and the ghostly tinkling of an old-fashioned music box. Also, it's been rumoured that the tree in the pub parking lot was at one time Ware's hanging tree, but this is unconfirmed.
Fanhams Hall, Fanhams Hall Road, SG12 7PZ
Fanhams Hall has more than its fair share of ghosts, from moving objects to full body apparitions. One of the staff was cleaning in a room when she felt a pair of icy hands around her neck. When she turned to look, no one was there. The ghost of a man has been seen in the Long Gallery looking out of the windows, but only his top half—his bottom half isn't there! Other strange happenings at Fanhams hall have been pencils spinning around on their own, the sound of crying children when no children are there and radios turning themselves off and on.
St Mary's Church, Church St, Ware SG12 9EH
St Mary's Church is a large and very beautiful church that resides on Ware's High Street. Though there aren't many ghost stories connected to St Mary's, there is one particularly spooky story about an unmarked grave that lies in the church's cemetery. At midnight one night a small group of priests were seen laying a ghost to rest in the graveyard, possibly at the unmarked grave. Unfortunately there is very little information regarding this strange event. A local historian by the name of W. B. Gerish tried to uncover the story in the late 19th century but sadly, nothing came of it.
Presdales School, Hoe Lane SG12 9NX
Stay out of the grounds near Presdales School if you don't want to risk an encounter with a spooky creature that roams the woods near the school. A local legend tells the story of a creepy figure that wears a long black hood and has scarred skin that roams the woods at night. This sinister being has yellowish green cat-like eyes and is said to chase away anyone that it meets in the woods. There have been several reported sightings of this terrifying figure with the most recent being as early as 2003.
Tell us in the comments section below if you've seen a ghost in Ware, Hertfordshire!