Reading Time:
2
minutes
Kenny Everett's foray in horror with Bloodbath at the House of Death wasn't in the best possible taste, says ANN MASSEY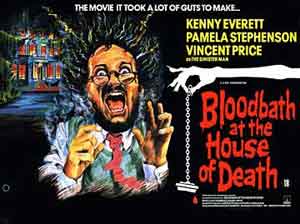 TITLE: Bloodbath at the House of Death
YEAR RELEASED: 1984
DIRECTOR: Ray Cameron
CAST: Kenny Everett, Pamela Stephenson, Vincent Price, Gareth Hunt
Long before Scary Movie was even a twinkle in the eye of the Wayans Brothers, this delightfully-dreadful horror spoof had already bypassed Purgatory and had gone straight to Hell for its sins.
My advice when watching  Bloodbath at the House of Death is to have a drinking game based on body count and on the number of movies you can reference. 
Sobriety is not the way forward if you are looking for belly laughs throughout the 1 hour and 28 minutes of disjointed, badly-scripted tomfoolery.
Centred around Headstone Manor, where some years before a joint businessmen's weekend retreat and girls summer camp became a bloodfest resulting in the murders of 18 residents, six scientists, led by Kenny Everett and Pamela Stephenson, are sent to get to the bottom of the mystery all hiding their own secrets.
The Manor turns out to be the home of a Satanic Cult, headed by the legendary Vincent Price known as "The Sinister Man".
What follow are the mutilated skeletal remains of a Carry On film with no direction and a storyline rapidly evaporating into the mist surrounding Headstone Manor.  
Random plot fillers such as Kenny Everett being revealed as a former German surgeon, clones and the whole cult being Alien takes the whole thing past awful into car crash movie making at its finest.
Vincent Price is the film's saving grace by superbly hamming up every line and action in the way of a true star knowing he was stuck there and might as well enjoy it. 
No one can say "You piss off" in quite such a wonderfully derogatory manner and steal the scene.
Written by Barry Cryer and Ray Cameron (who wrote for the Kenny Everett Television show) and directed by the latter with a great cast, the potential was always there.
However what transpired was a below average attempt at a comedy-horror and no, it wasn't all done in the best possible taste.
Watch Bloodbath at the House of Death 1984 trailer
What did you think of Bloodbath at the House of Death? Tell us in the comments section below!