Reading Time:
4
minutes
When you think of the world's scariest hotels, a castle hotel in County Cavan, Ireland isn't necessarily top of your list. ANN MASSEY tells us why the Tripadvisor Haunted Castle award given to Cabra Castle is very much deserved!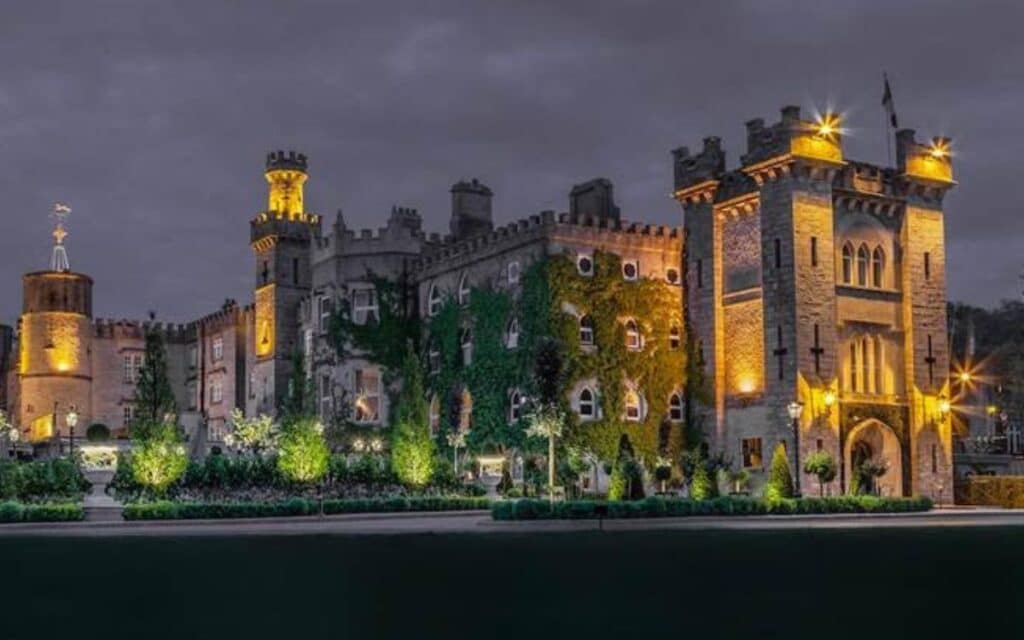 As a paranormal investigator, only a hotel with a haunted claim will do. So I jumped at the chance to stay in the second scariest hotel in the world.
History of Cabra Castle
Cabra Castle is a story of two fortresses with the original ruins still standing over the Wishing Well in the heart of nearby Dún a Rí Forest.
The castle and lands belonged to Clan O'Reilly, until Oliver Cromwell's men laid siege and took control in the 1600s.
Colonel Thomas Cooch was 'rewarded' for loyalty to Cromwell and became the first landlord of Cabra Estate. His daughter Elizbeth, was widowed young and remarried into the local Pratt family, bearing a son who was to be left the entire estate by his grandfather.
The original castle was destroyed by Cromwell's troops and a further property, Cabra House, was built on the land. The acreage of Cabra Estate was so large, that today's town of Kingscourt remains within the original boundaries.
Throughout this time, on the other side of what is now known locally as the Carrickmacross Road, stood Cormy Castle, a round tower owned by the Foster family. Following the death of John Tomas Foster, his estate was left in trust to his cousin, as his children were being raised in England and too young to take ownership.
Delusions of grandeur tempted Henry Foster to rebuild Cormy Castle, damaged severely during Cromwell's occupation. In doing so, he not only spent every penny of Augustus Foster's inheritance, he incurred additional debt, forcing the sale of the newly restored castle to the Pratt family.
Already residing in nearby Cabra House, Colonel Joseph Pratt took up residence in Cormy Castle, changing the name to Cabra Castle in the early 19th century. After remaining in the same family for almost three centuries, death, duties and heavy financial losses saw Cabra Castle and Estate sold to a local family who renovated the majestic County Cavan dwelling into a hotel.
It remained this way for a couple of decades, then became a private home, until the Corscadden family added to their hotel collection and launched Cabra Castle as a luxury castle hotel.
Tripadvisor did a Top 10 Haunted Castles for Halloween in 2010 and awarded Cabra Castle second place. Here's the reason why:
Hauntings of Cabra Castle
The land itself is in a part of Ireland which is heavily imbibed with the supernatural energy of local kings, clan chiefs and of course with Pagan nobility come Druid priests. It stands within the diamond shape created by joining some of the most important ancient and mystical sites of Ireland through ley lines.
Charged with the energy of the past, land changing hands through war, death and destitution, it is little wonder that some of the former Cabra Estate residents remain as permanent guests!
Before you even step foot inside the castle entrance, you may be privy to a ghostly row between an old man and a young gent, arguing about the sale of the property!
Witnesses have also made repeated claims of a ghostly horse and carriage tearing up the drive, screeching to a halt and then fading away into the night. In its place, remain the chilling cries of a wailing baby…
A servant girl of Cabra Castle, when it was still known as Cormy Castle, was engaged in an illicit affair with the son of the owner, a timeline that ties in more likely with the Foster ownership than the Pratt dynasty. This relationship resulted in a pregnancy and the disgraced girl was pulled from her bed and dragged to the nearest tree and hanged. It is now known as the hanging tree near to the Courtyard rooms of the hotel.
Reports of creepy, hair-raising feelings, drops in temperature and the distinct sensation and whispered horror of a woman in distress continue to abound. Perhaps the wailing ethereal baby is hers, waiting to be reunited with a spectral mother?
Once inside, the reports of ghostly activity continue, with accounts of a startled guest meeting a man dressed in early twentieth military uniform in the corridor, where he promptly vanished from sight!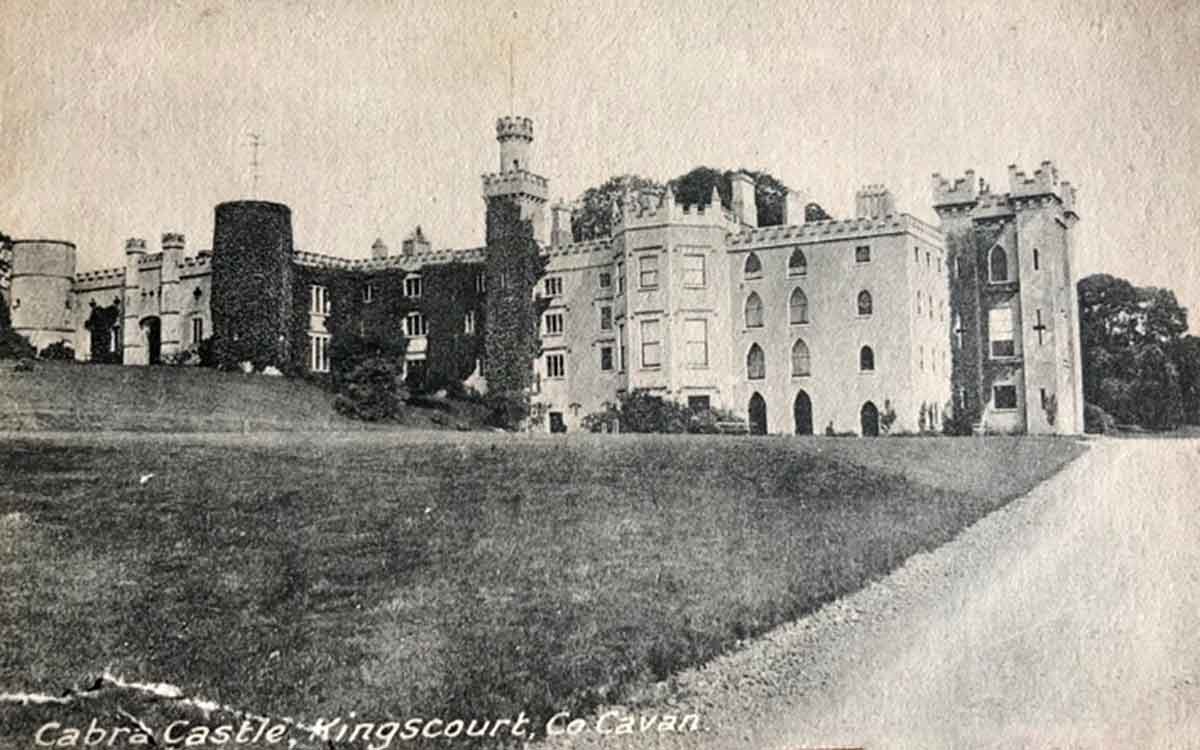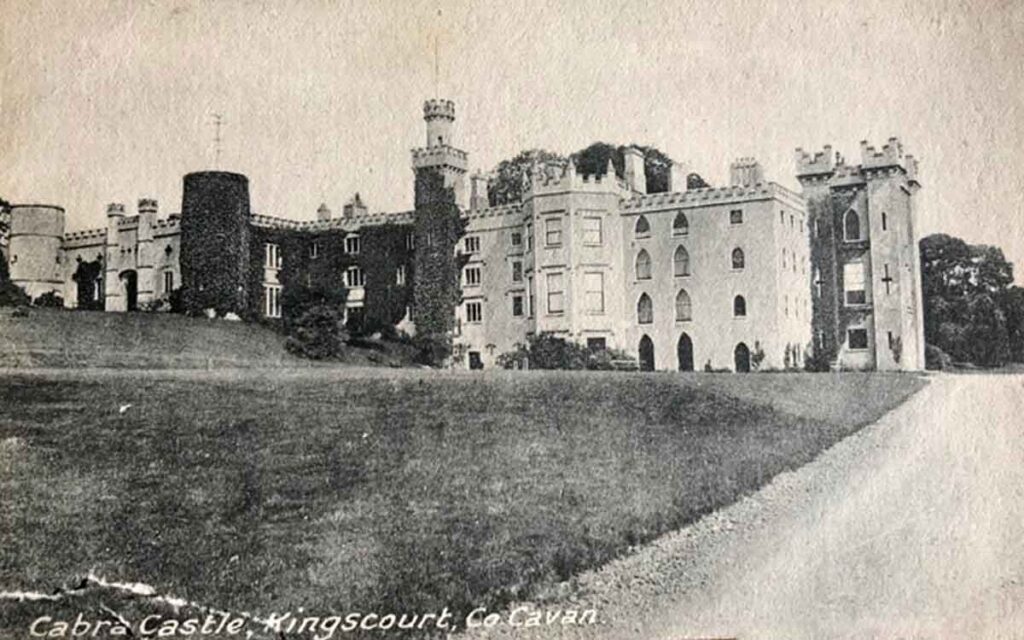 On the night of my stay, we opted for a Courtyard room of course! A definite sensation of the weight of history carried on my shoulders, and there is an eerie spot outside the Courtyard rooms where the birds seemed silenced.
As it was a warm night, many of the guests were sitting outside, so we took advantage and wandered the empty castle halls. We felt as if we were watched, proud former owners ensuring that their home was maintained and respected – a sensation that did not leave until we reached the foyer.
In our room we were woken by the opening and closing of a solid bathroom door, most definitely closed when we turned in for the night!
Visit Cabra Castle
Chequered history and hauntings make for an exquisite location to visit.
The idyllic location, authentic charm and hospitality and luxury period surroundings, however, make Cabra Castle a place you simply have to stay!
You can visit Cabra Castle at Carrickmacross Road. Kingscourt, County Cavan, Ireland, A82 EC64
Have you been to Cabra Castle? Tell us about your experience in the comments section below!