Reading Time:
3
minutes
In the lead up to MR James' 150th birthday this year, ROBERT LLOYD PARRY explores the great writer's first full-length ghost story
Canon Alberic's Scrapbook was the first full length ghost story that M R James wrote, and it's one of his best. All the elements that made him so original and powerful a storyteller are here.
The brilliantly described setting, in this case the tiny town of St Bertrand de Comminges in the French Pyrenees. An antiquarian object of desire that offers a glimpse into another, far more dangerous world: here a scrapbook containing the choicest cuts from a monastic library. The droll, donnish details – the Latin phrases, the biblical and art historical references – that lend such entertaining authority. And a gnawing sense of unease, a steady accumulation of sounds, shadows and images that finally meet in a single moment of sensational physical horror.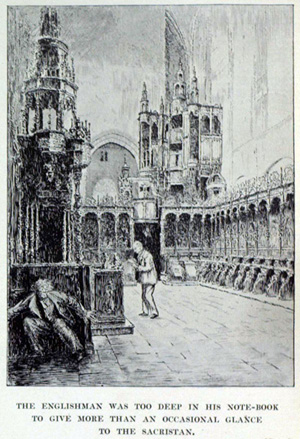 The story tells of Dennistoun, a young Cambridge antiquary who comes to St Bertrand to view the mighty cathedral, half an eye looking out for medieval treasures to take back to his university museum. In 1893, James himself, already an eminent medievalist, was appointed Director of the Fitzwilliam Museum in Cambridge, and the protagonist of Canon Alberic's Scrapbook is in many ways a self portrait.
After taking all the photographs and notes he needs, Dennitoun is invited by the old sacristan of the cathedral to view something that might be of interest to an "amateur des vieux livres". Sitting alone in his hotel room later that night, gleefully perusing the priceless book he has acquired, Dennistoun notices a hand stationed at his elbow, a hand that is attached to … But, wait… No … Read the story yourself. You won't regret it. Bald summaries do James no justice. Let it suffice to let you know that Dennistoun survives this encounter with the supernatural (not all James's heroes are so lucky) and returns to Cambridge with his treasure, a sadder but a wiser man.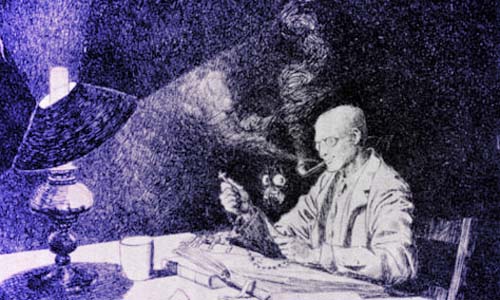 In a characteristically wry and melancholy coda, James has him reflect upon his experience: "Isaiah was a very sensible man. Doesn't he say something about night-monsters living in the ruins of Babylon? These things are rather beyond us at present."
Forty-three years later, as he lay on his deathbed, James echoed the sentiment. A lifetime of academic and literary achievement had left his friends and readers with one pressing question. Did he himself believe in ghosts? "Yes," he answered, with characteristically quiet authority. "We know that such things exist. But we don't know the rules."
ROBERT LLOYD PARRY's performance of Canon Alberic's Scrapbook is available on DVD from www.nunkie.co.uk.
Robert Lloyd Parry interview with Spooky Isles