RICHARD PHILLIPS-JONES remembers the long career of Geoffrey Bayldon (1925-2017), who bought magic, mayhem and "electrickery" to childhood TV screens of the 1970's as Catweazle.
Who was Geoffrey Bayldon?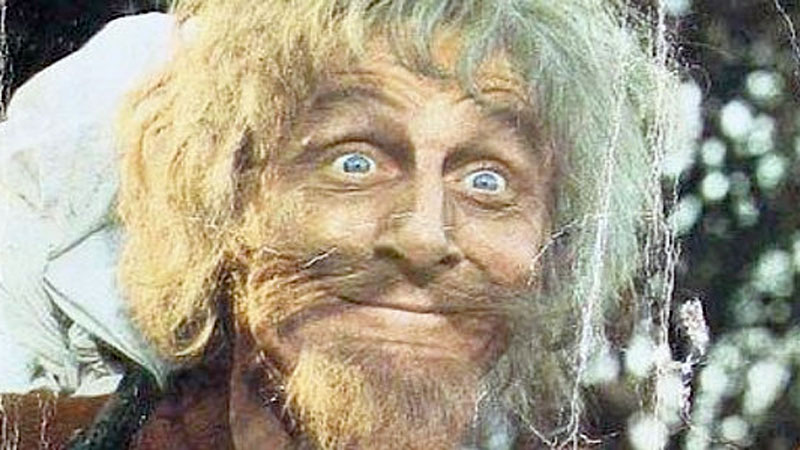 Ask anyone of a certain age about Geoffrey Bayldon's starring turn as Catweazle (1970-71), and they'll likely get misty eyed with nostalgia, remembering the adventures of the 11th century magician, whose problematic grasp of magic accidentally transported him to the 20th century. Created by Richard Carpenter, the show's timing couldn't have been better, arriving in a Britain increasingly fascinated by ancient magic and folklore.
Bayldon managed to make this wildly egotistical wizard somehow loveable, not just with the intended young audience but with their parents as well. They perhaps empathised all too well with his inability to comprehend the fast-changing world around him, and its inherent technological advances. To the unwilling time traveller, a light bulb was seen as "the sun in a bottle", a telephone became "the telling bone", and all were powered by "electrickery". The latter term will still raise smiles from the faithful all these years later.
The character's name, meanwhile is known by people who have never even seen the series: the term Catweazle is still used in reference to anyone with a tufty beard.

Despite only running for two years, the show's popularity has long outlived its original broadcast through later repeats and a DVD release. It was also a big overseas seller for its producers, London Weekend Television, and Bayldon became a celebrity in such diverse locations as Australia, Scandinavia and Czechoslovakia.
Bayldon would go on to create a second childhood-defining characterisation as The Crowman in Worzel Gummidge (1979-81), achieving the remarkable achievement of giving children the goosebumps in what was essentially a lighthearted (if unorthodox) sitcom aimed at a family audience. The Crowman himself, in Bayldon's hands was generally a benevolent type, treating the scarecrows he created with love and care. However, if any of his creations incurred his wrath with misbehaviour (as Worzel, played by Jon Pertwee frequently did), the Crowman's demeanour would change in a flash, as he threatened the miscreant with the nasty fate of being dumped on the dreaded compost heap.
Looking at Worzel Gummidge today, the show is imbued with a surprising amount of what might now be termed folk-horror, albeit in a lighter comedic form. Bayldon's captivating delivery of detail from the scarecrow lore of the show's universe did much to add to the slightly surreal, otherworldly edge which made it quite unique in its field. Sadly, the show came to an end when producers Southern Television lost their ITV franchise, and attempts to continue the show elsewhere came to nothing. (Eventual revival Worzel Gummidge Down Under (1987-89) did not feature Bayldon, who didn't fancy relocating to New Zealand for the shoot).
Bayldon had earlier been a familiar face in many horror films for first Hammer then Amicus. There was a small role as Van Helsing's manservant in Dracula (1958), before Frankenstein Must Be Destroyed (1969, as a police doctor) eventually followed. The 1970's saw Bayldon in The Cloak segment of The House That Dripped Blood (1970), and playing the tour guide in Tales From The Crypt (1972), but perhaps his best role for Amicus was as institute assistant Max in Asylum (1972), a role which was originally intended for Spike Milligan. However, director Roy Ward Baker was sure Bayldon was the right actor for what would be a pivotal role in the film, and one fondly remembered by fans.
These are but a small selection of highlights from a colourful career which saw Bayldon turn down the role of Doctor Who not once, but twice (he claimed to have no interest in sci-fi), although he did eventually appear in the 1979 story The Creature From The Pit.
He was constantly in demand for guest spots in numerous popular series right up to his retirement in 2010.
Geoffrey Bayldon passed away on May 10th, 2017, at the age of 93.
Tell us about your memories of Geoffrey Bayldon in the comments section below!