Citadel 2012, an Irish 'hoodie horror' with feral children, is worth a look, says ANN MASSEY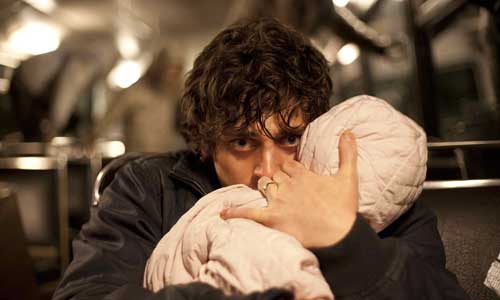 TITLE: Citadel
YEAR RELEASED: 2012
DIRECTOR: Ciarán Foy
CAST: Aneurin Barnard, James Cosmo, Wunmi Mosaku
Citadel is a psychological horror written and directed by Irish filmmaker Ciarán Foy and filmed on location in Glasgow.
Tommy (Aneurin Barnard) is a young man struggling to cope with the death of his wife at the hands of feral children in the tenement building they were about to leave. His daughter was born before life-support was switched off and Tommy is left with the task of raising baby Elsa whilst battling crippling agoraphobia.
At Joanne's funeral he encounters a foul mouthed renegade priest played by James Cosmo (Braveheart, Game of Thrones) who warns Tommy that the savage creatures will come for his daughter and make her one of them and tells him they 'see' fear.
The priest is accompanied by a young boy called Danny, blinded by the crazed kids in preparation for making him one of them. It apparently left Danny with the gift of being able to be unseen as he was rescued before he was turned completely.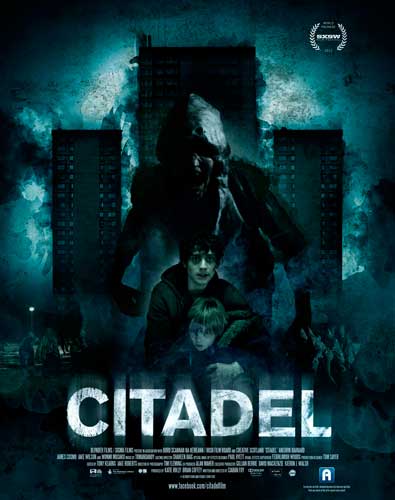 Step in Wunmi Mosaku who plays Marie, the friendly nurse from the hospital who has feelings for Tommy and tries her best to help him get back on his feet. She doesn't however, accept his story of killer kids and believes they are just misunderstood.
What unfolds is a slow burning but fairly gritty tale of horror, panic and survival against monster teens with a cold, hard, almost post-apocalyptic backdrop.
It does appear that Ciarán Foy (writer and director) picked up a guide to modern, urban horror and checked every character, location and premise off of the list.
However, I learned that the film is loosely based on his own experiences of being attacked senselessly by hoody teenage thugs and the effect it had on him, so that brings a bit more depth to the overall storyline.
The acting was a bit too hammed up for my liking in places, disappointing from the likes of James Cosmo and the flow was somewhat disjointed and slow to build.

As modern horror goes, Citadel doesn't give anything new and is fairly predictable, however, the limited dialogue, camerawork and lack of 'slash' given the storyline, means it has an edgier, more contemporary feel that it wouldn't have depicted otherwise.
All in all Citadel has a good foundation in the fear we all have of hooded youths in darkened streets and buildings and the escalation of anti-social behaviour.
That said, a good horror film is about entertainment and originality which is where it fell short.
Generally speaking, Citadel is not the worst of its genre and is ultimately worth a look.
Watch Citadel 2012 trailer
Did you enjoy Citadal 2012? Tell us your thoughts in the comments section below!