Reading Time:
2
minutes
TITLE: I Don't Want To Be Born aka The Devil Within Her
YEAR RELEASED: 1975
DIRECTOR: Peter Sasdy
CAST: Joan Collins, Ralph Bates, Eileen Atkins, Donald Pleasence
REVIEW BY PETER FULLER
Ex-stripper Lucy Carlesi (Joan Collins) gives birth to a 12lb baby boy, Nicholas.
However, she's been cursed by Hercules the dwarf (George Claydon) over her one-night stand with her former strip club owner boss (John Steiner), so the tyke turns out to be a little monster who, from the confines of his pram and cot, goes on a killing spree – drowning his nurse (Janet Key), hanging his dad Gino (Ralph Bates), decapitating the doctor who delivered him (Donald Pleasence), and eventually stabbing mum Lucy with a pair of scissors.
Coming to the rescue of Nicholas' soul, however, is Gino's sister in a habit, Albana (Eileen Atkins), who performs an exorcism on the murderous tot, causing Hercules to have a heart attack in the middle of his stage act.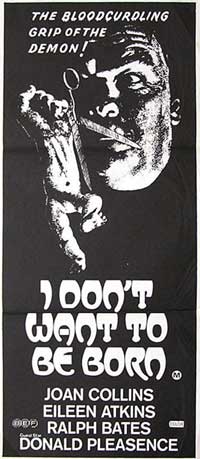 Imagine The Exorcist fused with It's Alive and you'll have this woeful British exploitation in a nutshell. There are a couple of shocks and some gore on offer, but it's lazily directed by Peter Sasdy, who was capable of far superior stuff, his excellent 1971 thriller Hands of the Ripper being a prime example.
Sasdy and his cast seem to be just going through the motions in getting Stanley Price's lame script up on the screen, while no effort is made to make the bump and grind scenes of the bare-breasted strippers anything more than filler footage. As for the accents – well, Ralph Bates' Italian twang is terrible, but Eileen Atkins (whose nun is involved in some questionable medical experiments using live animals) is really, really bad.

On the plus side, however, Ron Grainer's score is excellent and the tourist views of the London locations make for a nostalgic snapshot of the hip and happening King's Road in Chelsea, as well as Bond Street, Parliament Square and Fortnum & Mason, circa 1974. The house where the Carlesi's reside (at 32 Wellington Square, just off the King's Road) gets well used, especially by Joanie's stripper pal, Mandy (Caroline Munro, dubbed 'supposedly' by Liz Fraser), who's always popping in for tea and the occasional scotch on the rocks.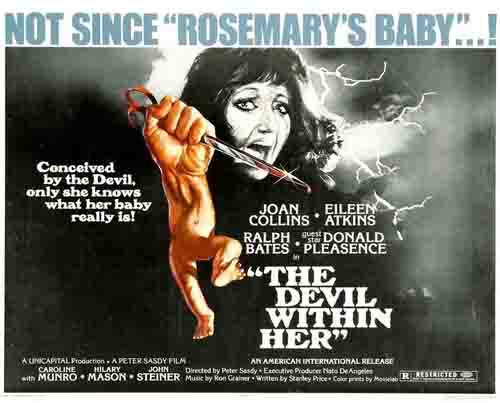 According to the BBFC, the film was originally entitled The Monster, but was released in the UK as I Don't Want To Be Born. In the US, it was called The Devil Within Her, which was the UK title of the 1974 Italian horror, Chi sei?, starring Juliet Mills, which was titled Beyond the Door in the US.
What did you think of I Don't Want to be Born 1975? Tell us in the comments section below!