Reading Time:
4
minutes
Tales that Witness Madness: Does this Amicus imitator hit the mark? RICHARD PHILLIPS-JONES investigates…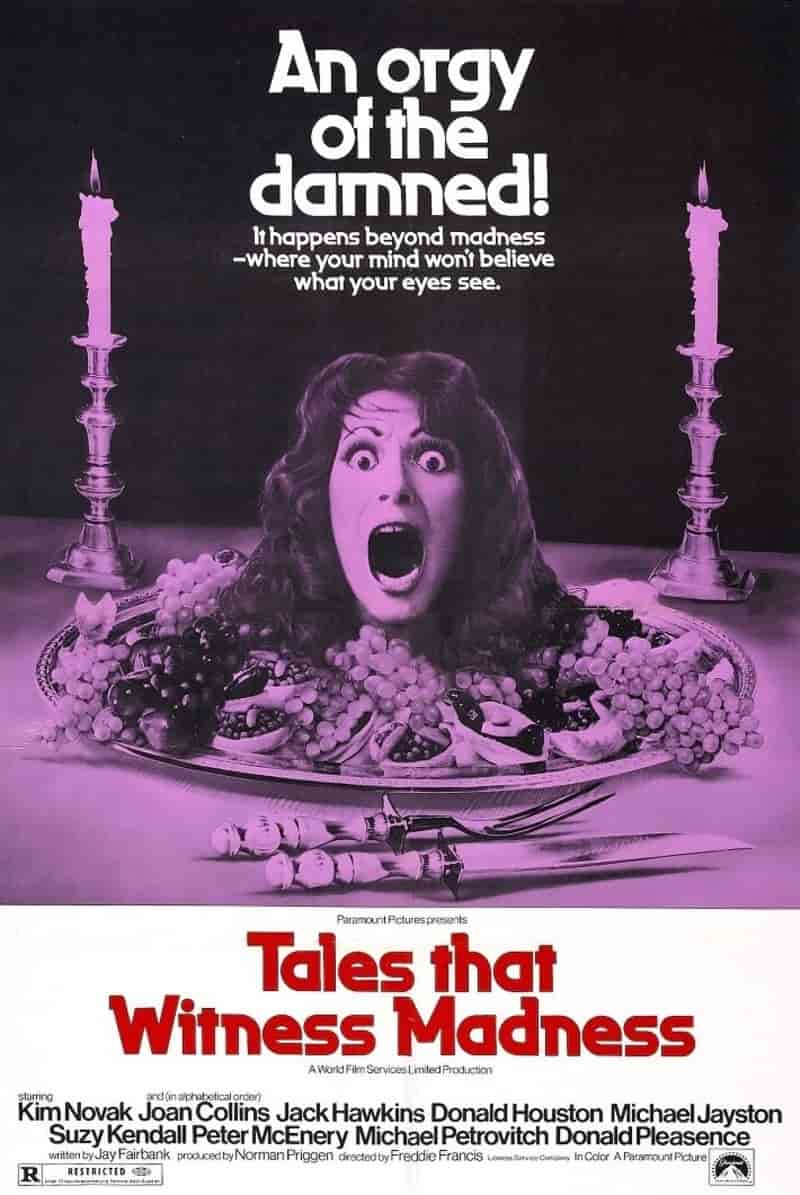 TITLE: Tales That Witness Madness
YEAR RELEASED: 1973
DIRECTOR: Freddie Francis
CAST: Kim Novak, Joan Collins, Jack Hawkins, Donald Houston, Michael Jayston, Suzy Kendall, Peter McEnery, Michael Petrovich, Donald Pleasance
Review of Tales that Witness Madness 1973
A relatively late-in-the-day attempt to cash in on the success of the Amicus portmanteaus, this entered the market as that particular cycle was coming to an end. It's curious in a way that Amicus didn't have more imitators, since the business model for their multi-story films seemed a no-brainer, as related by producer Max J. Rosenberg. The company could get top bracket actors and pay them top dollar, as they would only require their services for a few days. With that many star names on the poster, you couldn't fail to get the punter's attention.
Looking to emulate this model for success, a company called World Film Services entered the fray with Tales That Witness Madness, calling on reliable hand Freddie Francis to direct from a script by Jay Fairbank (aka actress Jennifer Jayne), whose only other script to see the light of day was the ill fated spoof Son Of Dracula (1974), also helmed by Francis.
In the film's linking segments, a psychiatrist (Donald Pleasance) explains to a disbelieving colleague (Jack Hawkins) how he has solved four complex cases, in what may be an aping of the central premise of Asylum (1972).
The first patient is a young boy (Russell Lewis), who, in what appears to be a reaction to the constant bickering of his parents, conjures up an imaginary friend named Mr. Tiger, and who turns out to be just that. He may also be not quite as imaginary as everyone seems to think.
The second tale centres around a mysterious penny farthing bicycle, left to antique shop owner Peter McEnery by his aunt, along with a strange portrait of Uncle Arthur (Frank Forsyth). Upon riding the bicycle, McEnery is transported back in time, and appears to take the place of Arthur in a past courtship with Suzy Kendall. As the visits to days gone by become more frequent, the life of McEnery's girlfriend (also played by Suzy Kendall) is put into danger. This segment perhaps has the best potential, but is let down by feeling too rushed and inadequately developed.
Story number three presents one of the more unlikely ménage à trois to be committed to celluloid, as Michael Jayston is tempted from the arms of his missus (Joan Collins), by of all things a seemingly dead tree. (You can insert your own joke about wooden acting here. I can wait.) Needless to say, Ms. Collins isn't too happy about this marital arrangement, but the tree (named Mel!) isn't too happy about Joanie's presence either…
In the final segment, Kim Novak is the agent of mysterious Hawaiian writer Kemo (Michael Petrovich), who (for reasons not entirely clear) has to save himself and his poorly mother from an infernal fate in the afterlife. This involves a ridiculously elaborate ritual which (to cut an overly long story very short) involves a gruesome, culinary related fate for Novak's daughter (Mary Tamm).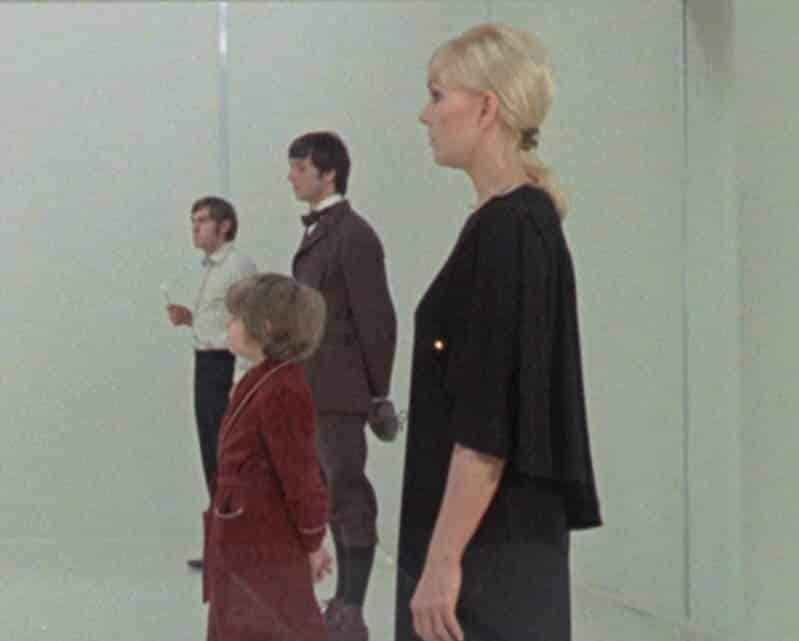 Tales That Witness Madness (or as my Nan used to call it, "that one with Joan Collins and that tree") fails to reach the heights of the Amicus outings thanks to a script that isn't fully developed (particularly in the second segment and linking material), a general lack of any real suspense, and a final segment which is ridiculously convoluted and runs far too long for its own good. That might be the reason why other parts of the film don't seem to have the time to sufficiently resolve themselves. The unsatisfying linking segments don't help matters, and it's never made too clear exactly what Pleasance is trying to achieve, even after the "surprise" denouement.
However, none of the above is to say the film isn't a lot of fun. That it works as well as it does is likely down to the presence of several Amicus alumni on the crew, as well as a reliable cast. Warts and all, Tales That Witness Madness, whilst not sitting at the main table in the Brit-Horror hall of fame, can still take a discreet place at a side table near the fire exit. It is, despite its many deficiencies, a very entertaining way to spend an hour-and-a-half.
TRIVIA NOTES: This was Jack Hawkins' final film. He died shortly afterwards, following surgery to fit him with an artificial voice box (his larynx had been removed several years earlier due to cancer). He was dubbed for the film by Charles Gray.
Kim Novak was a late replacement for Rita Hayworth, who jumped ship early in production.
Child actor Russell Lewis has gone on to be a successful screenwriter, with credits including Between The Lines, Sharpe and Inspector Morse. He also created the Morse spin-off/prequel, Endeavour.
Watch Tales that Witness Madness 1973 trailer
What did you think of Tales that Witness Madness 1973? Tell us below in the comments section!