Reading Time:
4
minutes
Countess Ilona, the second episode of the BBC's Supernatural 1977 series is essential Gothic horror for fans, writes RICHARD MARKWORTH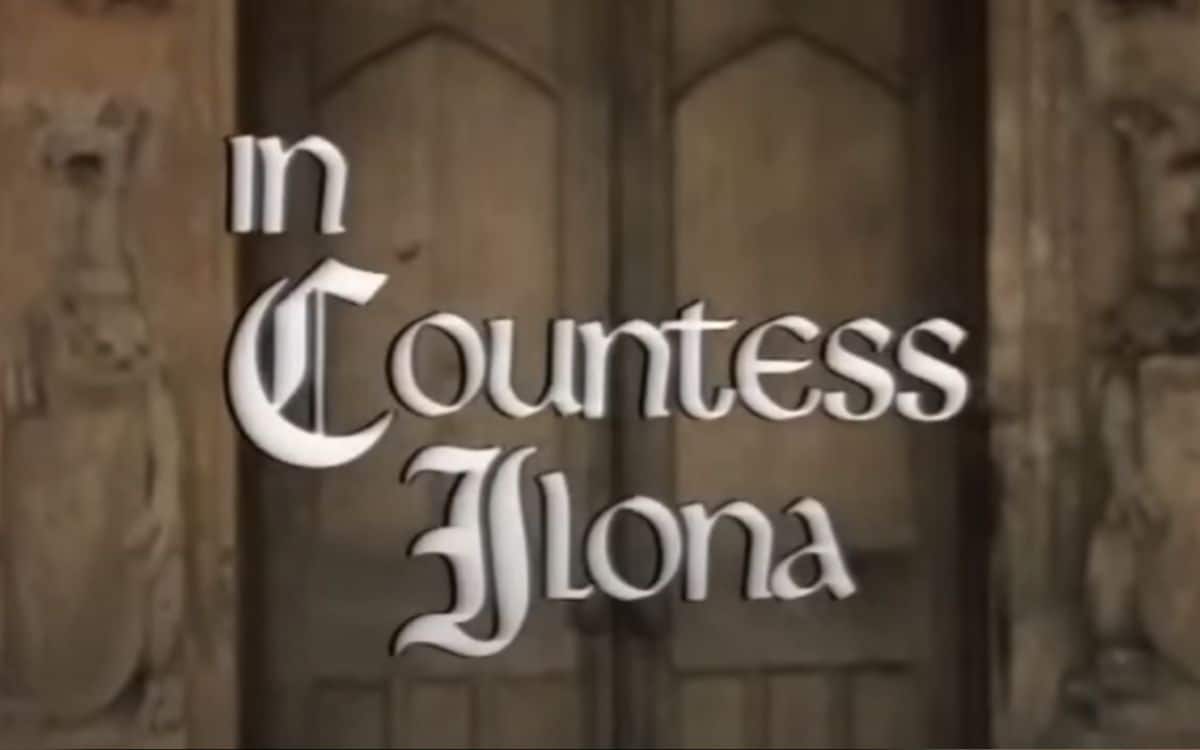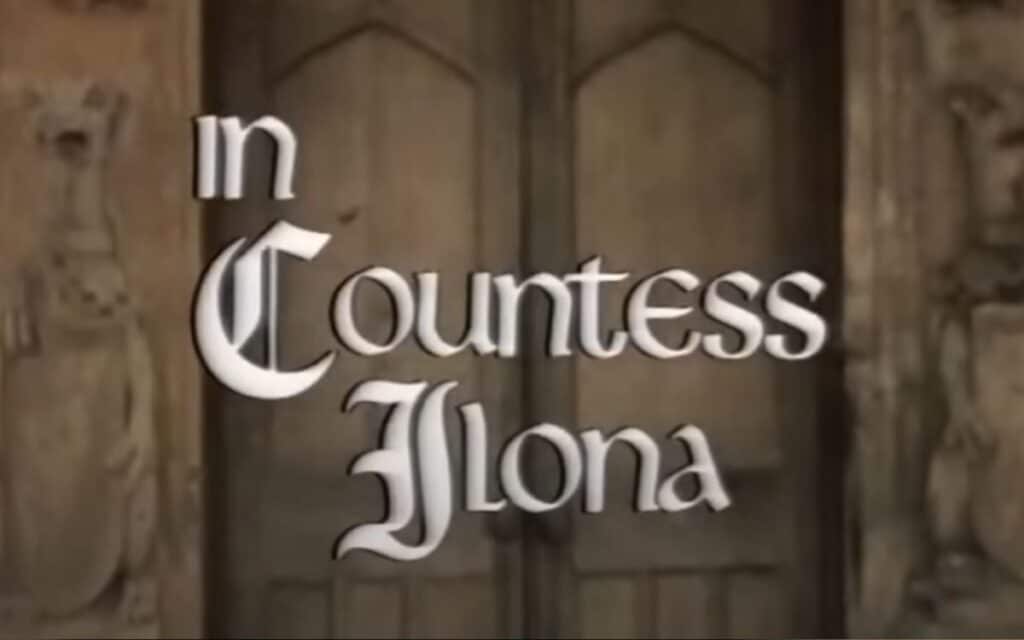 TITLE: Countess Ilona
DIRECTOR: Simon Langton
FIRST BROADCAST: 18 June 1977 BBC1
Review of Countess Ilona
Countess Ilona is the first instalment of the only two-part story to be included in the BBC's Supernatural series. The tale concludes with The Werewolf Reunion originally broadcast a week later.
This segment opens with a member of The Club of the Damned hurrying to the society's evening meeting, only to find himself locked out of the room as a mysterious figure relays his tale of supernatural horror from within.
The story is set in Hungary in the year 1880 and concerns Countess Ilona Tyrrh, a former café entertainer who was born into poverty but ascended to the ranks of nobility by utilising her beauty and guile. During her rise, Ilona had unfortunately been taken advantage of by "many men" before finally marrying the infamous Count Tyrrh, "a man about whom wild and terrible things were whispered".
It is 10 years since Ilona both married her husband and became a widow. In the same year she also gave birth to her angelic young son, Bela. All in all quite an eventful 12 months.
Now, a decade on, Ilona has planned a very special event at her ancient castle to which she has invited four participants, all of whom are her ex-lovers.
First to arrive is erstwhile revolutionary turned arms dealer Zoltan Vinzenz (Ian Hendry), a man with a seemingly perpetual hunger for both food and money.
He is soon joined by Dr Felix Kraus (Charles Kay) who has eschewed medicine to become a full time seducer and, after greeting his old friend Vinzenz, wastes no time in arranging an assignation with compliant young maid Magda (Amanda Boxer)
Finally, arrogant virtuoso Hugo Hoffman (John Fraser) arrives at the castle and immediately displays a superior attitude towards the servants, issuing a plethora of instructions designed to facilitate his comfort.
As darkness falls, the expected fourth party fails to materialise with Ilona stating to her strapping servant Andras "He will not come now". Even though there should be four guests, she ominously adds "We need only one tonight".
Prior to dinner, the three attendees converse. Their talk turns to Ilona and the fate of her husband with Hoffman stating his belief the Countess must have killed him. Before the matter can be discussed further Ilona arrives to join her visitors.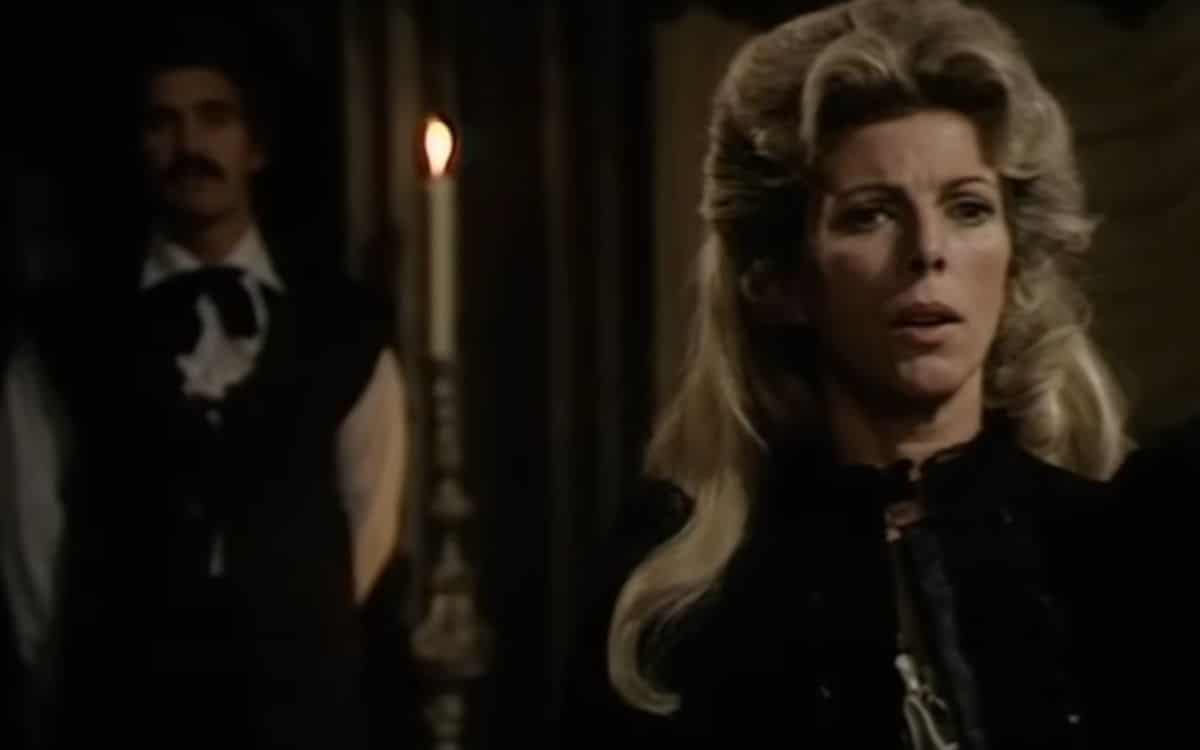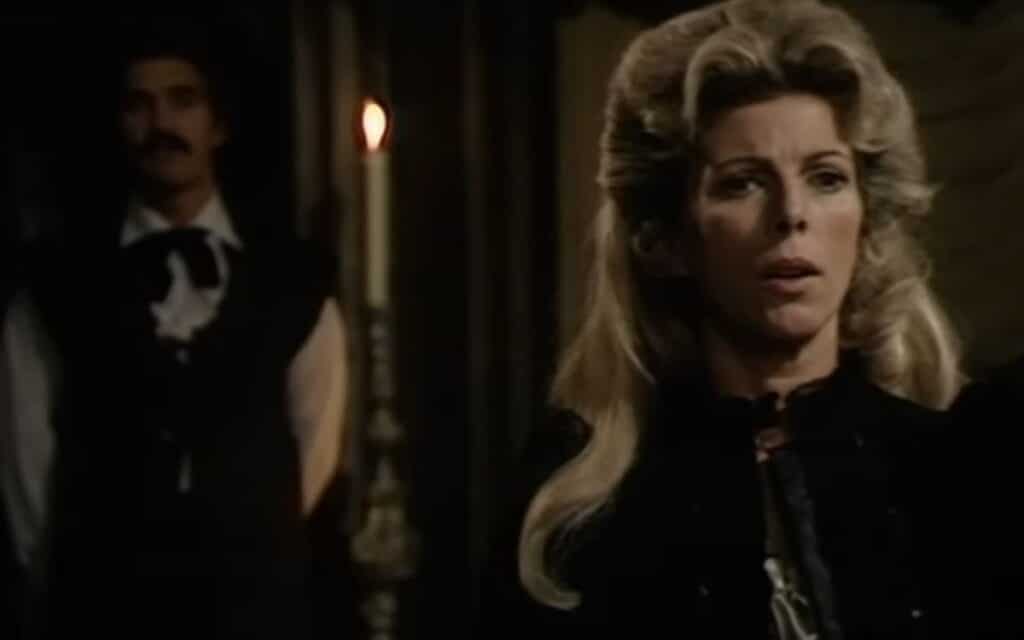 The men are charming towards their hostess and toast her over dinner, but Hoffman again raises the subject of the Count. Ilona confirms the evil nature of her spouse but assures them her husband perished in a hunting accident when attacked by wolves.
However, once Ilona has retired, Kraus informs the others he understands the Count did not die immediately after the accident. Rather, he expired a few months later of a "very rare disease", namely lycanthropy. It seems he imagined himself to be a werewolf.
The three discuss werewolves and contemplate the likelihood of their existence. Eventually, Hoffman leaves for bed having dismissed the possibility of such a creature.
Nonetheless, something menacing is prowling the grounds of the castle and one of the guests, whose shabby past treatment of Ilona is brought to light, will meet his bloody destiny before the night is over.
This entry is an immediate improvement on episode one's Ghost of Venice. Although the story is rather slowly paced, the central mystery regarding the purpose of the gathering, and the Countess' true intentions toward her old flames, is suitably intriguing.
The themes, including the premise a man's selfish desires will lead to his eventual destruction, the corrupt nature of the wealthy and long-gestating plans for revenge, prove rich ingredients in the drama while a subtle sexual undercurrent pervades the production and adds further flavour.
For horror fans, the essential Gothic tropes are firmly in place. A medieval castle, a mysterious member of the aristocracy, the haunting howls of a wolf and moody shots of a full moon and sinister forest are all present and correct.
Billie Whitelaw is perfectly cast as Ilona, fully believable as an experienced courtesan, whose beguiling personality belies an underlying ruthlessness.
The actors playing the Countess' former paramours all perform admirably. Hendry and Kaye particularly excel, with both appearing to relish portraying such caddish figures.
Strangely, as the episode ends, there is no indication this story is to be continued which may have been confusing to viewers when the series was originally transmitted.
Although undoubtably enjoyable as a solitary piece, this instalment is best viewed in a double helping alongside The Werewolf Reunion. Just be sure, in the words of Ilona herself, to "lock your doors and windows".
Tell us your thoughts on Countess Ilona, Supernatural 1977 Episode 2, in the comment section below!
Read Richard Markworth's reviews of Supernatural 1977 episodes on Spooky Isles.