Reading Time:
4
minutes
London Underground Shocker Death Line (1972), aka Raw Meat, starring Donald Pleasence and Christopher is a fan favourite. Here's 10 fun facts you didn't know from SIMON BALL.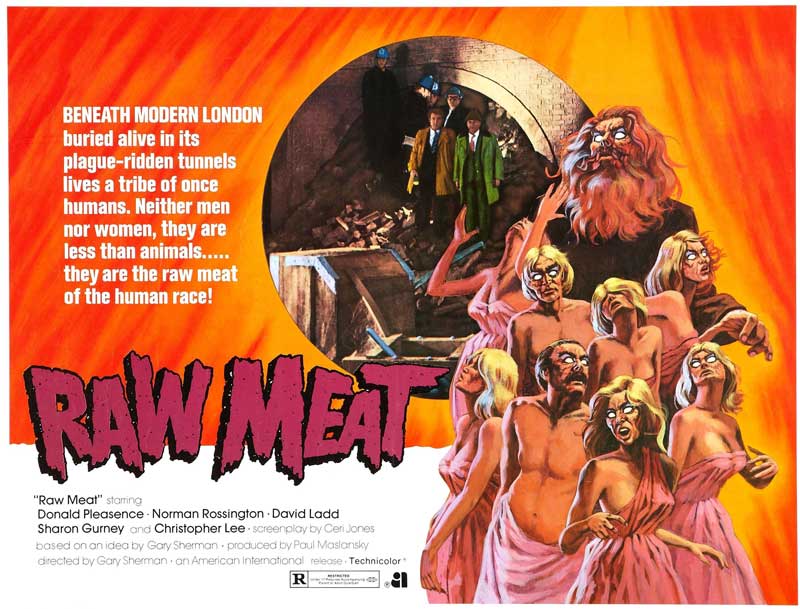 In 1972, a low budget horror movie pulled the carpet from under the comfortable Hammer Gothics that had kept bums glued to British cinema seats for the past decade.
Death Line, directed by a young American by the name of Gary Sherman, introduced a new visceral kind of dread to UK film audiences.
There were no far away dark cobwebbed castles or electrically charged laboratories in Death Line. Sherman's tale of the cannibal descendants of workers trapped in a cave in during the construction of the London Underground slapped the horror right in middle of the familiar world of the daily commute. Its stylistic approach paved the way for directors like Tobe Hooper and Wes Craven to take the genre movie to a new level of gruesome terror.
On a lighter note, here are 10 fun facts about the movie and its director…
1. Director Gary Sherman sang on Yardbird's 1966 hit single Shape of Things
While Sherman was studying photography at the Institute of Design in Chicago, he used to earn money for his college fees working as a session musician at the legendary Chess recording studios. At Chess, he got to work with Bo Diddley and the Yardbirds. It's Sherman singing 'Come tomorrow' on the Yardbird's 1966 hit single Shapes of Things.
2. Bob Diddley got Gary Sherman his break in film
Sherman got to make his first film at Chess studios when Marshall Chess (son of label founder Leonard Chess) caught him filming a session with Bo Diddley for a photography school project on work. Chess liked Gary's film so much that he hired the technicians to turn the project into the documentary The Legend of Bo Diddley (1966) which was sold to 75 TV stations around the world.
3. Sherman's dubbed voices in Death Line (1972) and Dead and Buried (1981)
Much like Alfred Hitchcock and Ken Russell enjoyed making cameo appearances in their movies, Sherman likes to be heard in his. In Death Line Sherman overdubs the actor who directs Detective Sergeant Rogers (Norman Rossington) up the stairs to Alex Campbell's room. In Vice Squad (1982) he is one of the voices on the police radio and in his zombie romp Dead and Buried (1981) every time you hear a zombie say 'Welcome to Potter's Bluff' that's Sherman's voice.
4. It took a whole day to film the eight minute tracking shot through the cannibal underground lair
It took a full day to set up Death Line's infamous eight minute tracking shot through the cannibals underground lair. As the budget didn't run to a dolly Director of Photography Alex Thompson and Camera Operator Colin Corby rigged a camera on a four wheeled pedestal with a mini jib to give it up and down movement. In those pre video-assist days Sherman had no idea the shot would work until he previewed the rushes.
5. Christopher Lee took less pay to work with Donald Pleasence on Death Line (1972)
Christopher Lee only became involved in Death Line by happy accident. At the time Lee was a tax exile living in Switzerland and only coming to the UK to work. While Death Line was being filmed by coincidence Lee was making The Creeping Flesh with Peter Cushing at Shepperton Studios and had dinner with Death Line's producer Paul Maslansky. When Lee discovered that Maslansky was working on a film with Donald Pleasence, he asked if he could be in it too. Maslansky explained that they had no budget to pay Lee his usual fee, but because he wanted to work with Pleasence so much Lee offered to do it for the Equity agreed day scale rate for a movie.
6. The script was rewritten to include Christopher Lee's character Stratton Villiers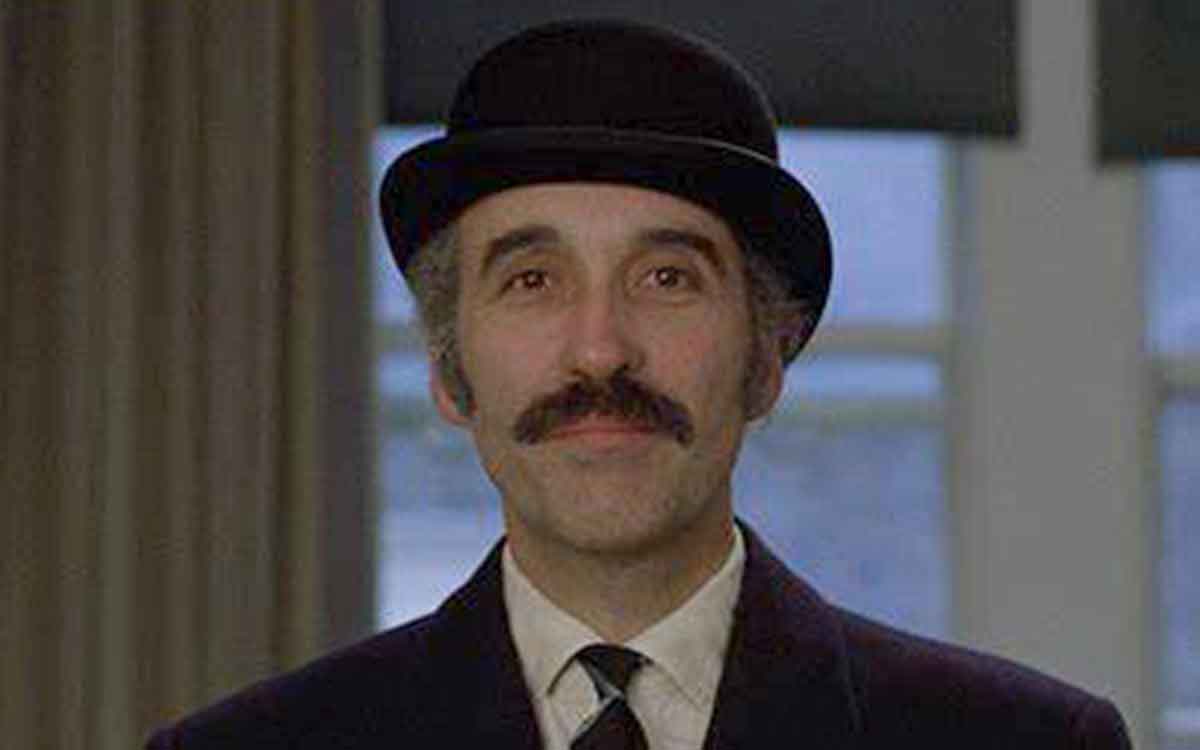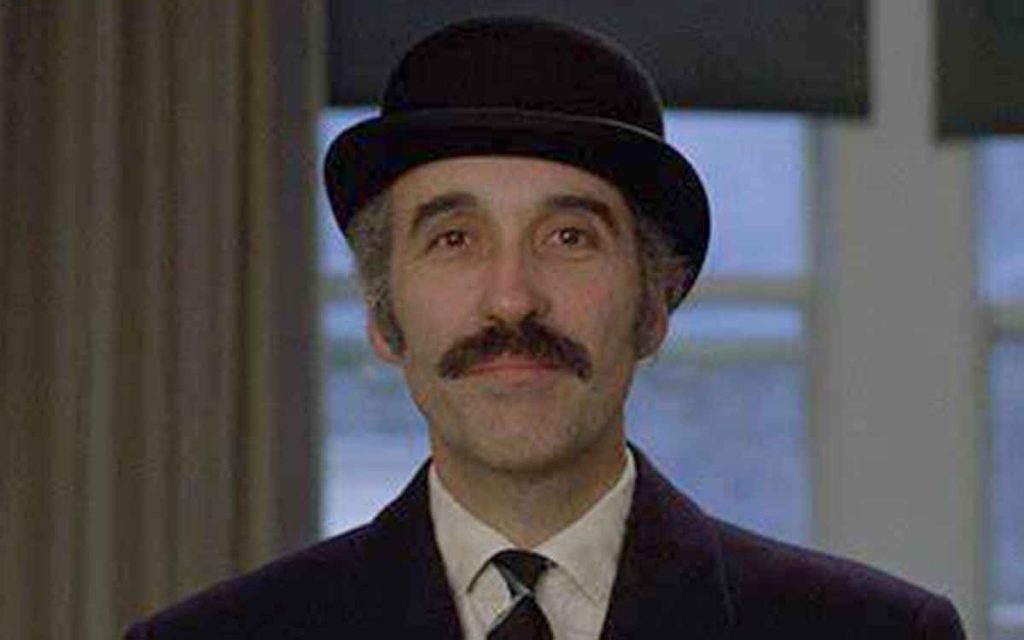 Lee's character of MI5 boss Stratton Villiers had only been mentioned in the original script, so Sherman had to write the scene for Lee and Pleasence to go head to head from scratch during the shoot.
7. Christopher Lee was only seen with Donald Pleasence when he was sitting down
Shooting Lee and Pleasence together presented a major problem for Sherman because Lee was six foot seven and Pleasence was only five foot six. This is why each actor was shot in singles and you only get see them together on screen once Lee sits down.
8. There was no budget left for Pleasence's scene with Lee
As there was no studio time budget left for Pleasence's scene with Lee, Sherman's crew moved all the furniture out of producer Jay Kantner's dining room and dressed it with borrowed furniture to create the office for Stratton Villiers
9. Gary Sherman's daughter worked with Christopher Lee in The New Adventures of Robin Hood (1997)
Sherman's daughter Melissa got to work with Christopher Lee when he played Olwyn in The New Adventures of Robin Hood in 1997.
10. Death Line's assistant director sat next to Christopher Lee at a Metallica concert
Death Line's Assistant Director Lewis More O'Ferrall got to meet Christopher Lee for the second time when he found himself sitting next to the actor at a Metallica gig in San Francisco.