Reading Time:
3
minutes
DOM COOPER tells us about Wil Malone's eerie main theme from the British 1972 Donald Pleasence horror classic Death Line.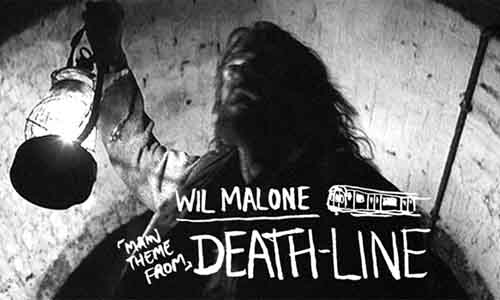 Have you ever stood on an empty underground platform and looked into the dark of the tunnel? Hearing scrapes and scuttles coming from the black. You see faint lights flash, and sparks. Noises echo around the empty platform. A rat darts on the rail out of the corner of your eye, and you recoil.
But would you expect to see a hand emerge from that black hole, grabbing, reaching out?
Imagine the descendants of Victorian builders, the very men and their families who built the underground. Now imagine they had become trapped in disused lines deep among the winding networks that rumble below the streets. They are living right under your feet as you walk to work.
They had intermingled and bred, living off passengers. Snatching them and taking them back to their horde to feast upon the flesh. Imagine the cannibals living zombie-like within those dark tunnels. Coming out slowly, creeping up and dragging you back for supper.
This is the premise of the 1972 British Horror film Death Line. Also called Raw Meat in the U.S. (with added gore). It starred Donald Pleasence and Christopher Lee.
Now I tell you, this slink of horror needs a soundtrack.
Death Line soundtrack
The main theme is a pounding, foot stomp, with a lame leg dragging behind. A dirty synth hit that stalks you. Accompanied by crashing cymbals, shaking percussion and drums. A jazzier organ scuttling in the background. Suddenly a string stab breaks in. Adding urgency. The tune picks up and then tumbles to a false stop, the strings scraping harder. Yet all the time, that evil synth keeps on hitting the concrete and following you. Getting nearer. Things get jazzier. Then at the very end the strings change and bring in a more ominous tone, just before leaving. Leaving you with the feeling of dread, as things become fuzzier. Blurring out of focus.
Who was the composer of this piece?
I present Wil Malone.
Who is Will Malone?
He started out in a skiffle group in 1959, The Rob Storm Group. Various singles for Decca, Columbia and Piccadilly didn't quite lead them to success, but they toured with Helen Shapiro and soldiered on until 1966. In the midst of the times they renamed them selves Orange Bicycle. Adopting a swirling psychedelic pop sound with group harmonies. Their first single 'Hyacinth Threads' was a number one hit in France, and they performed at the Isle of Wight festival. Releasing their eponymous album soon after. Success didn't quite come and hey broke up in 1971.
Subsequently Wil made an album called 'Motherlight'. It was recorded in 1969 with Mike Bobak and Andy Johns (misspelt as Jons on the sleeve). Just a studio project for the guys.
The album is filled with spooky psychedelia, eerie sounds and had prog tendencies. After that Wil released a solo album on Fontana in 1970. The album named simply 'Wil Malone' consists of thoughtful Baroque pop, highly orchestrated.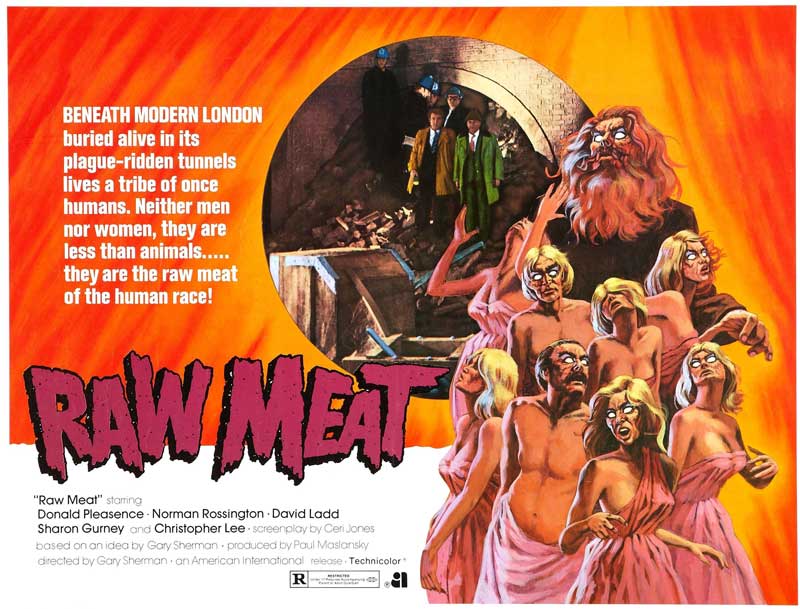 Following those forays into the music of the time, Wil went on to forge a career as a producer and arranger. He scored both the symphonies, bittersweet and unfinished, and has worked with Black Sabbath, U.N.K.L.E., Gomez, Kylie Minogue, Massive Attack, The Verve and many more.
Back to 1972 though. Wil wanted to create a soundtrack that represented the horror of the film. A melting pot of weird rhythm and blues, the type that swung, mixed with the squelchy alien sounds of early electronica. It was those ideas that gave birth to the theme tune. Elsewhere in the film, Wil mixed symphonic elements with raw synth sounds. Keeping up the intensity.
Death Line's lingering sound may be its cannibal scream of 'Mind the doors'. But Wil's theme tune still sloshes around your head long after the film ends.
DOM COOPER is a graphic designer, illustrator and writer. He co-runs Rif Mountain Records and plays in The Straw Bear Band. Previously he played in The Owl Service, The Fiends and Wolfgang & The Wolf Gang. Dom is obsessed with music, and is interested in British folklore, history and culture. Follow him at @domcooperdesign | Find him at www.domcooper.com