Reading Time:
3
minutes
What A Carve Up! 1961 is a simple but effective 1960s horror comedy, says TERRY SHERWOOD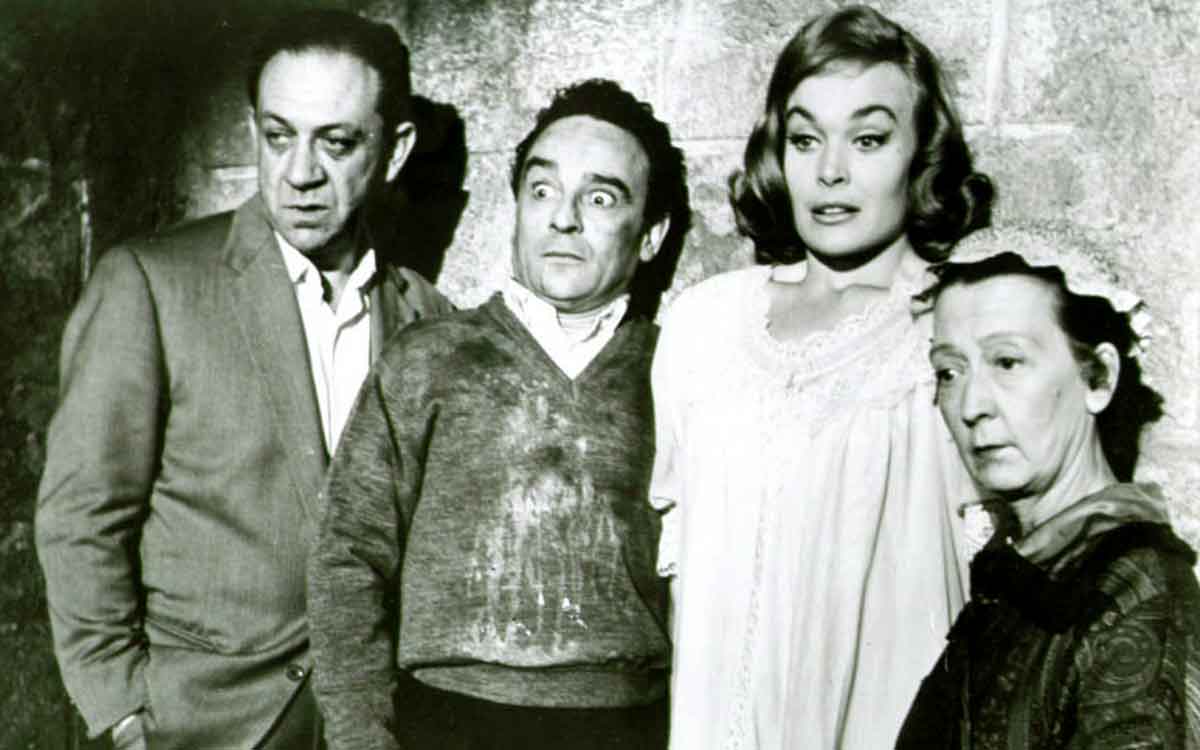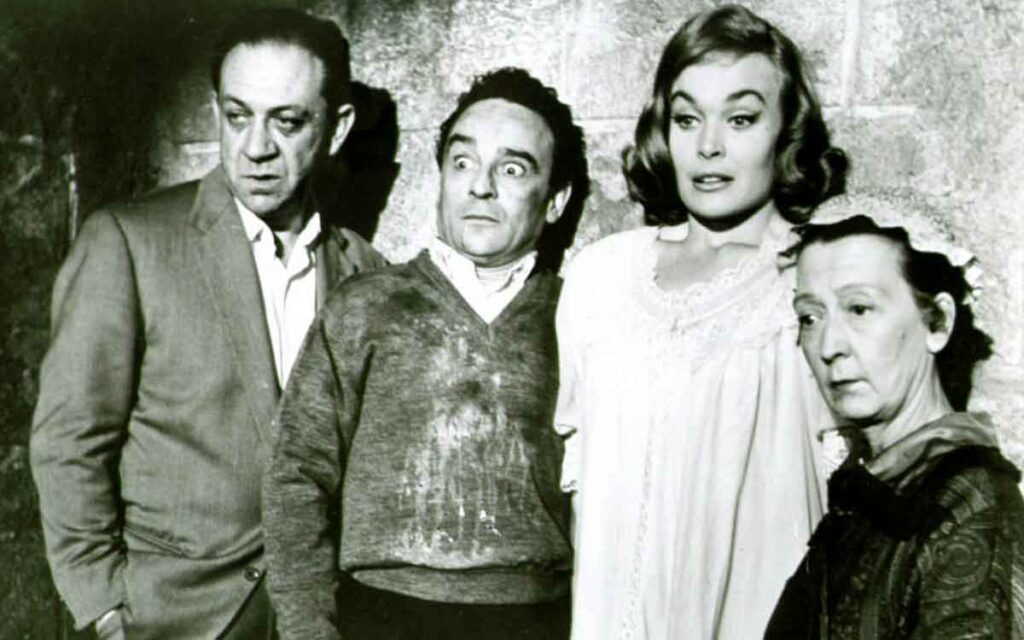 TITLE: What A Carve Up! (AKA No Place Like Homicide)
YEAR RELEASED: 1961
DIRECTOR: Pat Jackson
CAST: Sid James, Kenneth Connor, Shirley Eaton, Dennis Price, Donald Pleasence, Michael Gough, Esma Cannon, Valerie Taylor, Michael Gwynn
What a delight to find a horror comedy that – while dated in reference and performance – makes sense. What a Carve Up! 1961 made by New World Films (no relation to Roger Corman's New World Pictures) is such a picture.
This vintage celluloid romp is not as well-known as the often thought of Carry On Screaming 1966.
Known also as No Place like Homicide: What a Carve Up! 1961 features the sophistication of the Carry On series, largely due to the fact that many of its stars are present.
Now before you toss this blurb out of your mind because the Carry On films are not to your liking, then I say that you would be missing some ridiculously simple incandescent humour.
The jokes and one liners fly like spirits rising from a grave; hurtling themselves at you because one of the writers was the prolific Ray Cooney. Cooney penned farces and rapid dialogue in theatrical plays, films and television, some of which I have been a part of as an actor. It's hard to believe that this story was a remake of the deadly serious Boris Karloff picture The Ghoul (1933).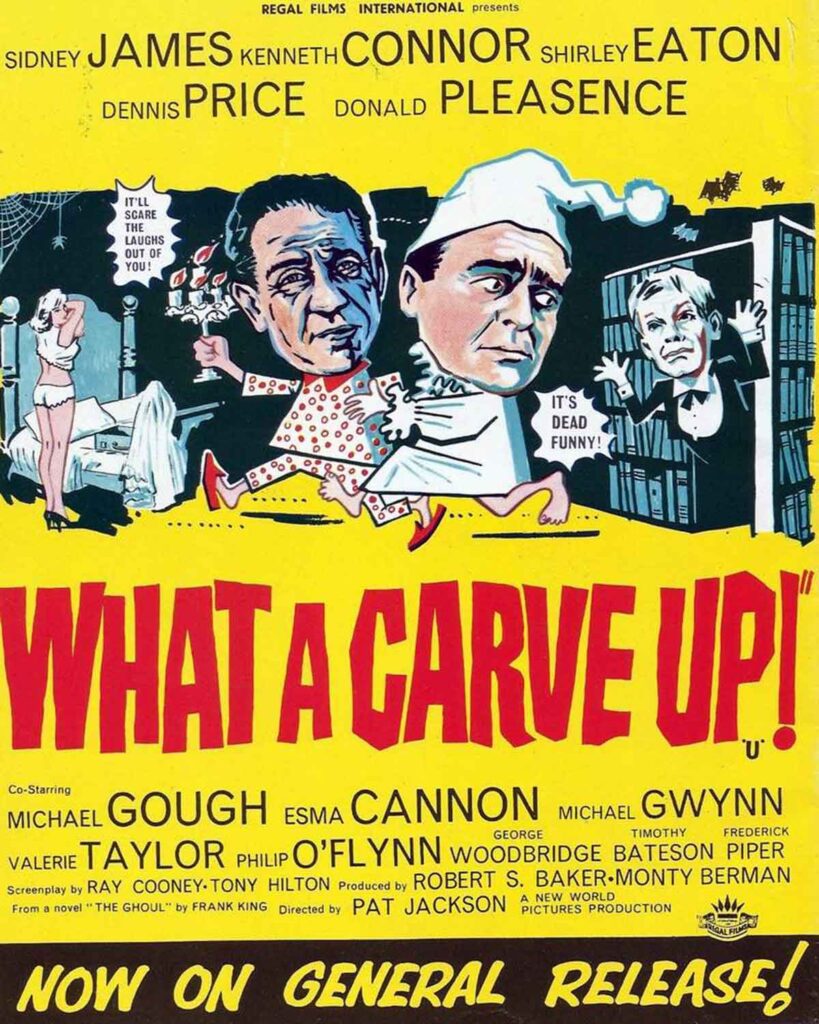 Plot wise (if you can call it that) we have a wealthy recluse who apparently dies, then equally apparently comes to life again to bump off his greedy relatives.
The chief relative is played by the superb Kenneth Connor as Ernest Broughton, a proof reader of horror novels and nephew of the deceased. His roommate is the redoubtable Sidney James as Syd Butler, a bookmaker who becomes Ernest's legal advisor, sensing a payoff.
The pair are visited one evening by the frightening Everett Sloane, a solicitor played by with tour de force simplicity by Donald Pleasence.
Sloan informs them that they must attend a will reading of Broughton's uncle in Blackshaw Towers in Yorkshire.
Out at the castle on the moor one finds Shirley Eaton, the cute nurse, and a superb Michael Gough as Fisk, the butler plus assorted cousins, aunts, and uncles either drinking and taking snipes at one another, or those who exist in a delusional world like Aunt Emily (Esma Cannon).
The will reading reveals that Eaton's character only gets pill bottles and syringes. The rest get nothing. Naturally, hysterics ensue as well as literal back stabbing comments regarding family problems and personalities. Everyone finally settles in for the night, and the killing begins.
If it seems like we have seen this before, we have, but in this case it's the execution (no pun), the dialogue and the timing from all of these performers.
Farce is an art form: be it physical as in running from room to room or verbal. The entire cast does it well with pace in the correct places, voice, movement, and contrasts in performance.
What a Carve Up! 1961 features performances that are gems to behold. Brevity must serve in mentioning them all as the cast play well off of each other.
The highlights are Donald Pleasence with a quirky accent delivering dead pan lines with his wonderful eyes and demeanor.
Sid James is his usual wise cracking self, popping rapid jokes and puns, often at the expense of Kenneth Connor.
Michael Gough shines as the butler delivering lines with a tired, nonchalant tone as he hobbles about with a curious limp that makes him bounce.
Michael Gwynn, who appeared in many Hammer films in straight roles, is delightful as the slightly mad keyboard player who continually declares that people are mad then walks out.
Hammer films character actor George Woodbridge takes a break from playing barkeeps and inn keeps to take a turn at being a solicitor.
Horror comedies today are in a poor state. Often what passes for funny today, particularly by independent film makers, feature trendy references and gags. Hence, the simple approach of What a Carve Up! 1961 works. The jokes themselves may not stand the test of time. But it works.
Watch What A Carve Up! 1961