MARK FRYERS looks back on The Ghoul 1933 – Boris Karloff's first British film…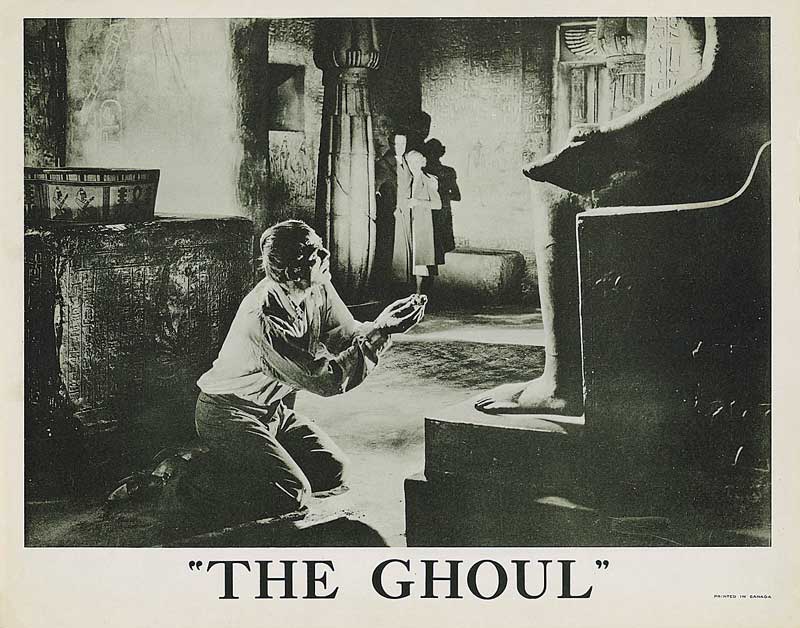 TITLE: The Ghoul
YEAR RELEASED: 1933
DIRECTOR: T. Hayes Hunter
CAST: Boris Karloff, Cedric Hardwicke, Ernest Thesiger, Ralph Richardson
Having missed the boat by not going ahead with a mooted version of Frankenstein, British Gaumont were keen to capitalise on the success of Universal's own version by importing its English star, Boris Karloff, to star in their own gothic concoction – The Ghoul 1933.
The finished film was a strange generic blend.
It mixes elements of the murder mystery which were ten-a-penny in British film, theatre and literature at the time (it was based on such a play by Leonard Hines and Frank King, and a novel by King) with the Universal Gothic style, which itself was heavily influenced by German expressionism.
This is evident in the marvellously gothic sets of Art Director Alfred Junge who came from an expressionist background and cinematographer Gunther Krampf, who had worked on Nosferatu, whilst American director T. Hayes Hunter had no such track record, but had made several crime mysteries and melodramas.
The Ghoul resembles The Mummy
The film that The Ghoul resembles most is Universal's The Mummy, released the previous year, and which also starred Karloff.
As in that film, Karloff portrays an Egyptologist who is buried with a pagan jewel, with dire warnings that he will return from the grave if it is disturbed.
The film is actually more graphic in its depictions than some of the aforementioned films, with Karloff appearing with deep lacerations across his chest at one point, after offering a blood sacrifice.
Likely due to its source material, the film centres around the English country pile and is rife with stock characters who echo the class system so prevalent at the time.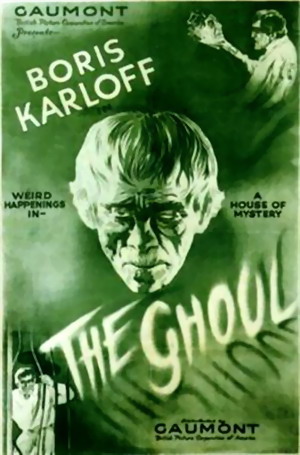 Future Knight of the Realm and Oscar nominee Ralph Richardson is Nigel Hartley – a duplicitous vicar, whilst Ernest Thesiger, who had played Karloff's butler in The Old Dark House and who would also go on to make a big impression with Karloff in Bride of the Frankenstein in 1935, plays Laing.
Another future Knight of the Realm and Hollywood star, Cedric Hardwicke, is Broughton whilst Kathleen Harrison provides the working-class comic relief as the maid, Kaney. Anthony Bushell, who had also successfully carved out a Hollywood career, was the romantic lead, Ralph.
Once thought lost, now is found
Long thought lost, it was located as a 16mm print in the 1960s and a 35mm one in the 1980s and has been endlessly copied and circulated since in some terrible copies, so bear in mind that the top-level art design is lost in these dark and muddy versions.
The Network blue-ray DVD from 2015 is probably the best place to appreciate this.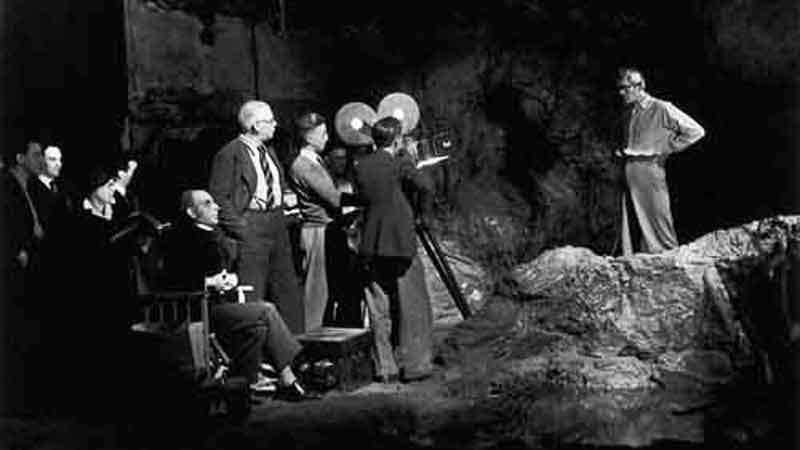 And it is definitely worth a look, as despite its age and a being a creaky amalgam of generic plotlines, it is the first 'sound' British horror still available, showcases a great collection of acting talent and thanks to the creative personnel, the grand guignol horror looks great, with several key moments lingering in the memory.
Perhaps its charms are best exemplified by a contemporary American review: "It is too revolting to be recommended, in spite of the excellence of its production."
Did you know: What A Carve Up! 1961 is a British comedy-horror film, starring Sid James, Kenneth Connor, and Shirley Eaton, loosely based on The Ghoul. It was released as No Place Like Homicide in the United States.
Watch The Ghoul 1933 Full Movie
Tell us what you think of The Ghoul 1933 in the comments below!