Reading Time:
5
minutes
BARRY McCANN goes behind the scenes of Doctor Who classic The Daemons and visits the real Devil's End – Aldbourne, Wiltshire…
Aldbourne is a picturesque English village in Wiltshire, located in the south slope of the Lambourn Downs and about six miles northeast of Marlborough.
It is a place steeped in history with a church, St. Michael, which dates back to Norman times. It had a bell foundry active from 1694-1826 and, from 1943-44, was the base for U.S. Army paratroopers of Easy Company as they prepared for both D-Day and Operation Market Garden. Both they and the village featured in the 2001 miniseries, Band of Brothers.
However, in 1972, Aldbourne found itself transformed into the village of Devil's End for the classic Doctor Who story, The Daemons.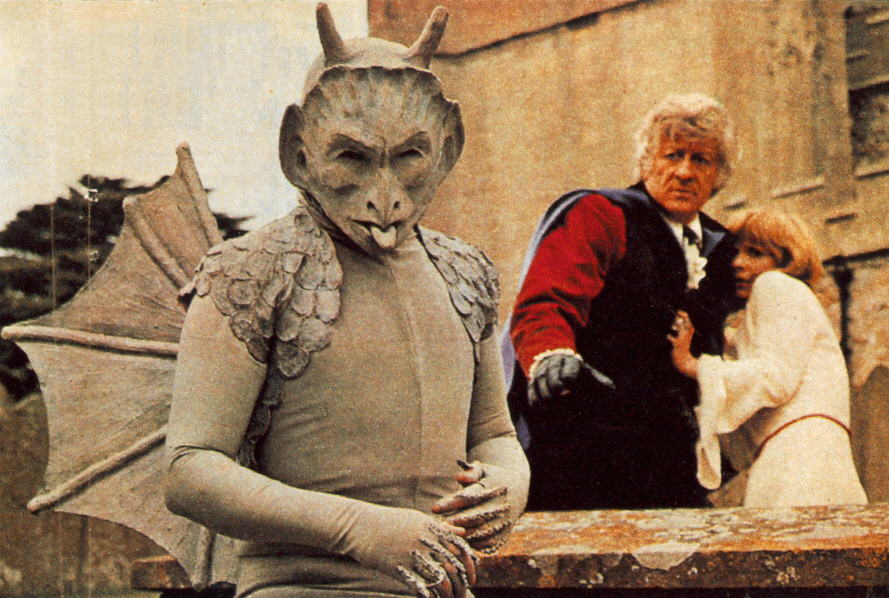 Written by producer Barry Letts and playwright Robert Sloman (under the pseudonym Guy Leopold) the classic tale concerned the excavation of an ancient burial chamber at the burrow of Devil's Hump, while in the nearby village of Devil's End sinister machinations are afoot with a satanic cult led by the church vicar, Mr. Magister.
Suspecting dark forces at work, The Doctor (Jon Pertwee) travels to the village in a thwarted attempt to bring proceedings to a halt. He is soon joined by UNIT stalwarts Captain Yates and Sergeant Benton as they discover Mr. Magister to be The Master, plotting to resurrect an ancient horned alien, Azal, with help from his deadly animated stone gargoyle, Bok. To complicate things more, the Brigadier and the rest of UNIT are cut off from the village by a deadly heat barrier, powered by Azal, which the Doctor must also break. Suffice to say, all hell breaks loose.
Aldbourne a perfect fit for Devil's End
Aldbourne proved so perfect a fit for Devil's End it almost seemed fated. For the purpose of the tale, the BBC required a village with a central green not only large enough to land a helicopter but immediately surrounded by a church and pub. Furthermore, they needed an Iron Age burrow to stand in for the Devil's Hump. Aldbourne had them all and within compact distance, while the imposing uphill church, complete with gothic tower and gargoyles, loomed over the village with eerie effect.
Director Christopher Barry secured a 10 day shoot as opposed to the usual one week allocated for location filming to fully maximise the qualities of the location. The Blue Boar Inn became The Cloven Hoof, while the church and its graveyard lent itself to many of the memorable action scenes including the Brigader's immortal line: "Chap with wings there. Five rounds rapid!"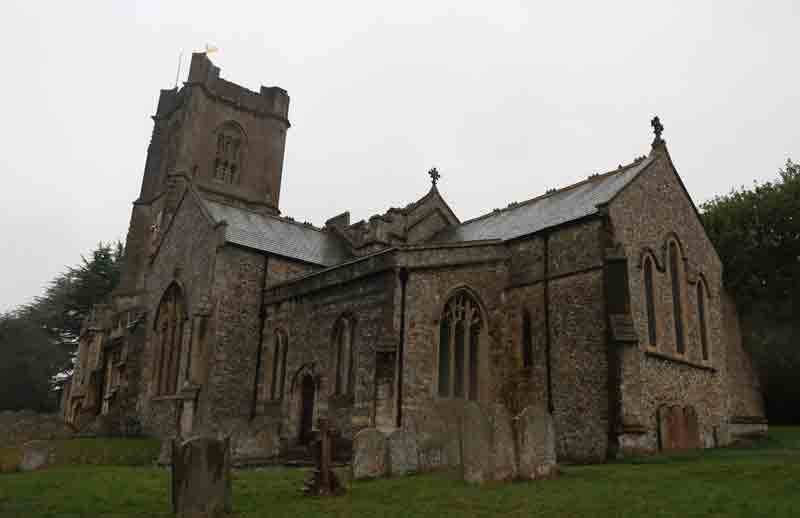 Many of the villagers themselves became part of the fun as extras, including some excited children who Jon Pertwee treated to rides in the Doctor's vintage car, Bessie. Indeed, the location filming became the subject of a behind the scenes feature in that year's Countdown annual, including a candid shot of Pertwee and Kay Manning tucking into mash potato while sitting in Bessie!
Pertwee returned to visit Aldebourne a number of times during the years since and, in 1992, was reunited with director Christopher Barry and co-stars Nicholas Courtney, Richard Franklin and John Levene for a Reeltime Pictures documentary entitled Return to Devil's End.
Devil's End 46 years later…
Forty-six years later Aldbourne remains unchanged, though location hunters may be slightly disappointed to find the church does not boast a crypt after all. But it does have a heritage centre packed with artefacts and information regarding village history, including its incarnation as Devil's End.
However, one of the church gargoyles still appears to be missing – just saying!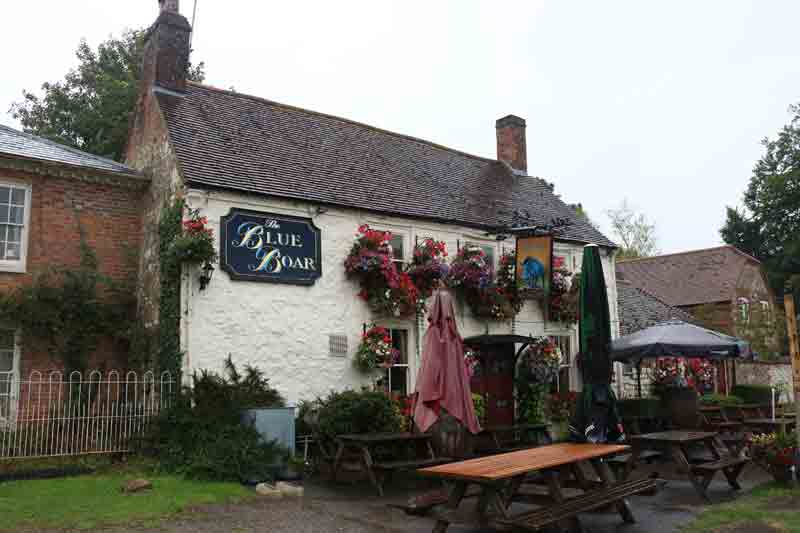 10 Things You May Not Know About The Daemons
The serial began life as an audition piece for Jo Grant written by producer Barry Letts himself. It involved Jo being rescued from a church by Mike Yates and a book being torn to threads by an elemental force. He then decided expanding it into a black magic story could be an interesting departure for the series.
Because BBC policy frowned upon production staff writing for their own series Letts and Sloman adopted the pseudonym Guy Leopold – Leopold being Letts's middle name and Guy that of Sloman's son.
Damaris Hayman, who played white witch Olive Hawthorne, is herself knowledgeable about the occult and acted as an unofficial advisor to the production team. However, she stresses not being a witch in real life.
Plans to set the ritual scenes in the church itself were changed to a crypt so as not to upset viewers of a Christian sensibility. Even then, the crypt was referred to as a cavern to create an extra layer of separation.
For the same reason, the incantation used by the Master to summon Azal is the nursery rhyme Mary Had a Little Lamb spoken backwards, as opposed to the Lord's Prayer.
Future Sooty presenter Matthew Corbett appears in the final episode as a coven member who objects to the sacrifice of Jo Grant. Regrettably, Sooty and Sweep sat this one out.
The sequence where the Brigadier's helicopter blows up in the heat shield was footage from the James Bond film From Russia with Love.
Similarly, the final episode climaxes with the village church destroyed in an explosion, which was achieved by model work. However, the BBC received complaints from viewers who were convinced they had gone mad and blown up the actual church itself. Special effects wizard Peter Day wasted no time in adding that accolade to his CV!
The serial was originally transmitted during May-June 1971 and achieved an average viewing figure of 8.34 million per episode. However, an edited compilation repeat screened during Christmas of that year attracted the even higher figure of 10.53 million.
With the original colour master tapes wiped during the late 1970s, four episodes of The Daemons existed only on black and white film prints as far as broadcast quality was concerned. In 1992 it became the first "lost" Pertwee serial to be recoloured using American video cassette recordings as template, though the picture quality was still that of 16mm film. Advances in digital technology have since fully restored its original look.