Reading Time:
4
minutes
In a city as old as Dublin, it is little wonder to discover it is a hive of dark history, haunting and twisted secrets.  ANN MASSEY takes a look at 20 Dublin facts with sinister stories and locations.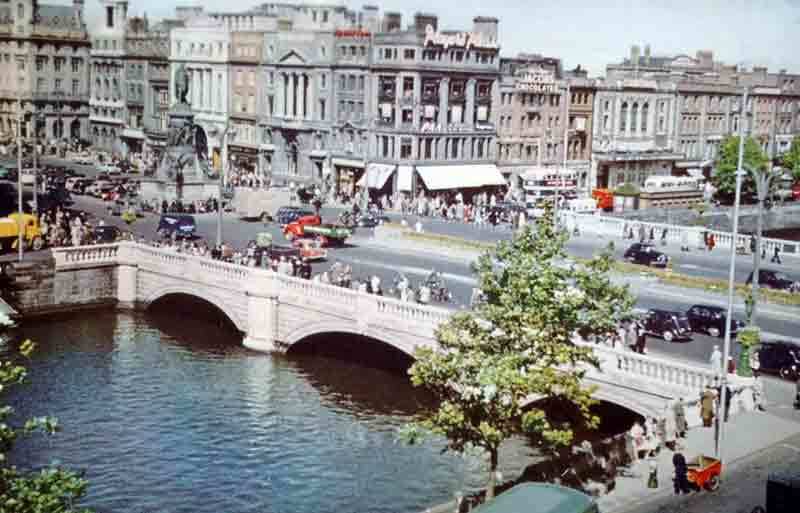 Here are some spooky Dublin facts
Darkey Kelly has the notoriety of being an 18th century brothel keeper, mistress of a Hellfire Club member, convicted witch and Dublin's first serial killer.  She kept the corpses of patrons in her basement and haunts Darkey Kellys pub in Fishamble Street.
The remains of St. Valentine are kept in the Church of Our Lady of Mount Carmel in Dublin.
The vaults beneath St Michan's Church in Dublin have created a unique set of circumstances which has left the corpses mummified. No caskets have been opened here.  The strange environment means that while the coffins are rotting and falling away, the bodies within are completely intact.
Doyles Pub formerly known as the Arthur Conan Doyle was a personal favourite of the world renowned hangman, Albert Pierrepoint. Doyles is in close proximity to Mountjoy prison so when he was in Dublin for 'work', Albert would pop in for a whiskey or two.
Long before Jack the Ripper, early 18th century Dubliners were tormented by a demonic black pig known as 'The Dolocher', believed to be an executed prison inmate seeking revenge.
During a break from filming Othello in 1951, Orson Welles made a short film in Dublin called 'Return to Glennascaul' also known as 'Orson Welles' Ghost Story' based on the tale of a vanishing ghostly hitchhiker in the region which was nominated for an Academy Award.
Located beside the famous Glasnevin Cemetery, Kavanagh's 'The Gravediggers' Pub' is where body snatchers would wind down after a hard night of stealing corpses and during the day thirsty gravediggers would throw a handful of earth at the pub wall in order to scare up a pint!
As medical teaching facility, new ground was looking to be broken and Trinity College was not without tales of body snatching. When a new extension was being built, dismembered bodies and body parts dating back to the 18th Century were found as they dug out foundations which have been attributed to overzealous medical students.
Saint Patrick's Cathedral was the last resting place of Jonathan Swift. The author's body was body was exhumed almost a century after his death and a post mortem took place to prove he had died from Meniere's disease and not insanity as first thought. His body was returned to its burial place and the Cathedral is also home to a mask of his skull and other death masks.
Davy Byrnes Pub has been around for more than 125 years, with the upstairs room being used for Republican meetings and frequented by Michael Collins himself. It is however, most famous for its associations with James Joyce and it is immortalised in the pages of Ulysses. James Joyce seemed to enjoy Davy Byrne's so much that he never left, his reflection regularly seen in the bar mirrors.
The Shelbourne Hotel on St Stephen's Green was the subject of many ghost stories and sparked the interest of recognised paranormal investigator Hans Holzer and the infamous British Psychic Sybil Leek. The pair visited in 1965 and claimed to find evidence of paranormal activity.
When the Easter Rising took place in 1916, Commandant of the Dublin Brigade, James Connolly was seriously wounded. Captured, he was taken to Dublin Castle and kept for a week in a room now known as the James Connolly Room. Despite the wounds being mortal, James Connolly was dragged to Kilmainham Gaol where he was tied to a chair and executed by firing squad.
Author of Dracula, Bram Stoker was born in Dublin in 1847 and a graduate of Trinity College in Mathematics of all things. His memory lives on with an annual Bram Stoker Festival around Halloween every year.
Buck Jones was well known in social circles in Dublin. He acquired the large property known as Clonliffe House and continued his education abroad.  Upon his return, as well as receiving the title of City Sheriff, the young man set up his own theatre company.  Due to unscrupulous peers, Jones become destitute and ended up in debtor's prison before dying penniless and alone.  His headless shade can be seen riding on the back of a white horse along Jones Road in Dromcondra, Dublin 3.
Robert Emmet was a prominent freedom fighter convicted of treason against the Crown in 1803.  Sentenced to be hanged, drawn and quartered, he was publicly hanged in front of saint Catherine's Church on Thomas Street.  His dismemberment stopped at beheading much to the disappointment of the crowd as the executioner Thomas Galvin didn't know how to do the rest.
Dublin's Olympia Theatre was opened in 1878. Artists from Laurel and Hardy to Noel Coward and Alec Guinness have all performed in the Victorian building and poltergeist activity has been rife throughout its history with stories of doors and windows rattling violently, ghostly footsteps echoing throughout and the violent destruction of a dressing room by an unseen entity.
The Dublin-born writer W. B Yeats had a lifelong fascination with the occult and the dead. He founded the Dublin Lodge of the Hermetic Order of the Golden Dawn in 1885, an occultist movement who had notorious members such as Aleister Crowley.
Phoenix Park is over 350 years old and in 1882 it became the location of the infamous Phoenix Park murders where Lord Cavendish, Chief Secretary for Ireland and Thomas Burke were slain with surgical scalpels for their allegiance to the Crown. The perpetrators, members of the Invincible were hanged after their own leader turned traitor.
St Mary's Chapel of Ease in Broadstone, Dublin is now deconsecrated but was known as 'The Black Church'. It is said that if you go three times clockwise around the Church and stand by the altar you would come face to face with the Devil.
No list of Spooky Dublin is complete without a visit to the notorious Hellfire Club. Whether the tale of a visitor with cloven hooves playing cards with members is true or not, Lucifer would be deemed more welcome here as the black arts, murder, sacrifice and debauchery were just some of the member pastimes.  It remains one of Dublin's haunted locations.
Have you ever seen anything spooky or possibly paranormal in Dublin? Tell us in the comments section below!