The Shelbourne Hotel in Dublin was once frequented by famed paranormal investigators Hans Holzer and Sybil Leek. ANN MASSEY profiles the hauntings…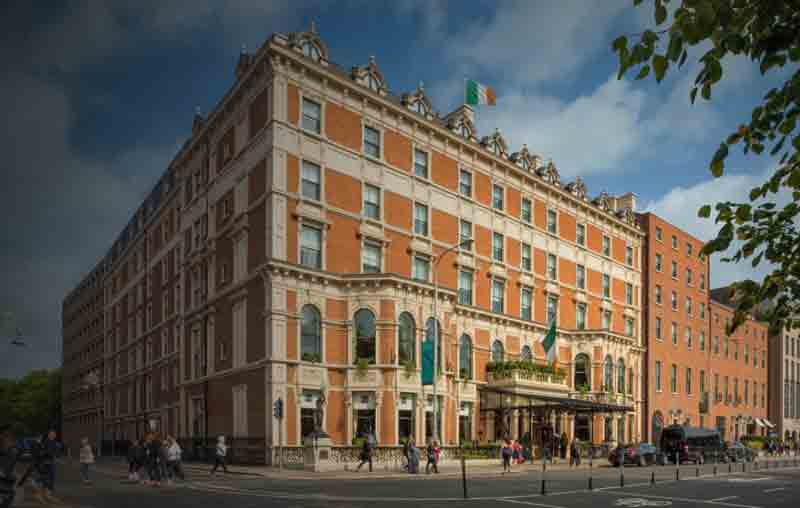 Shelbourne Hotel
27 St Stephen's Green, Dublin
History of The Shelbourne Hotel
In 1824, a Tipperary businessman, Martin Burke bought up three townhouses on the illustrious site of St Stephen's Green. He then set about creating one of Dublin's most famous landmarks, the luxurious Shelbourne Hotel.
The hotel was named after William Petty, 2nd Earl of Shelburne, a Dublin born man who became Prime Minister of Great Britain in 1782. As residents relax in the opulent interior and sip on cocktails in the famous Horseshoe Bar, tales are told of hauntings and the turbulent history of the hotel and Dublin itself are not forgotten as the hotel has its own museum within.
The Grand Old Lady of St Stephen's Green as she is sometimes affectionately known, has a veritable who's who of guests. Orson Welles stayed here when filming his ghostly academy award nominated short film, Return to Glennascaul.
Everyone from John F Kennedy to Grace Kelly have slept between the sheets of the centuries old rooms, however it is the military history and links to the Nazis that could be the source of some of the apparitions and ghostly activity within the walls.
In the early 20th century, a certain Alois Hitler Jr. took up employment in the high class establishment as a waiter. Yes, THAT Hitler. Adolf Hitler's elder half-brother was a working Dublin resident!
The Shelbourne Hotel also saw the internment of several German employees during the First World War and it was the station for British Troops during the 1916 Easter Uprising.
The most notable historic moment however, was the drafting of the Irish Constitution in 1922 by a committee chaired by Michael Collins and one of the two original drafts are kept in the museum of the hotel in the Constitution Suite, Room 112.
Paranormal Investigation by Hans Holzer and Psychic Sybil Leek
It was a very different room, that of 526 that has drawn the most interest within the paranormal community.
Following several reports of supernatural disturbances within the hotel, infamous paranormal investigator Hans Holzer and witch and psychic Sybil Leek paid a visit to the landmark in 1965 as a part of their investigations into haunted Ireland.
Both claimed to have experienced the paranormal within the walls of The Shelbourne Hotel, including cold spots, strange sounds and movements within the rooms. However it is Sybil's supernatural interaction with a young girl who died some number of years prior that was the most intriguing.
While lying in her bed, Sybil claims she heard a young girl crying and invited onto her bed to comfort her. The child said she was cold and looking for her sister. Sybil says she fell asleep with arm around the ghostly child and awoke with a numb arm. Holzer followed up on this by putting Leek into a 'trance' and learned the girl was a cholera victim named Mary Masters, aged no more than seven and most likely a resident of one of the original townhouses.
Terrified Shelbourne Hotel Guests
Hotel management have said that terrified residents and staff have reported spectral figures and shadows in the corridors, facets and showers turning themselves on and numerous accounts of poltergeist activity.
In one particular room, so many reports were made of an 'other-worldly presence', that a hotel worker was sent to sleep overnight and report back any findings!
Most recently, actress Lily Collins (daughter of Phil Collins) publicly stated she had witnessed the ghost of a little girl and heard her giggling.
In a hotel renovated from old Dublin townhouses dating back centuries, with dignitaries and movie stars staying under her roof and historic military events taking place within her walls, it is little wonder that the Grand Old Lady of St Stephen's Green is known as one of Ireland's most haunted hotels.
Have you been to the Shelbourne Hotel in Dublin? Tell us if you saw any ghosts in the comments section below!