Reading Time:
8
minutes
Dublin is a perfect place to visit for a genuine Irish haunted experience! ANN MASSEY lists its 30 paranormal hotspots…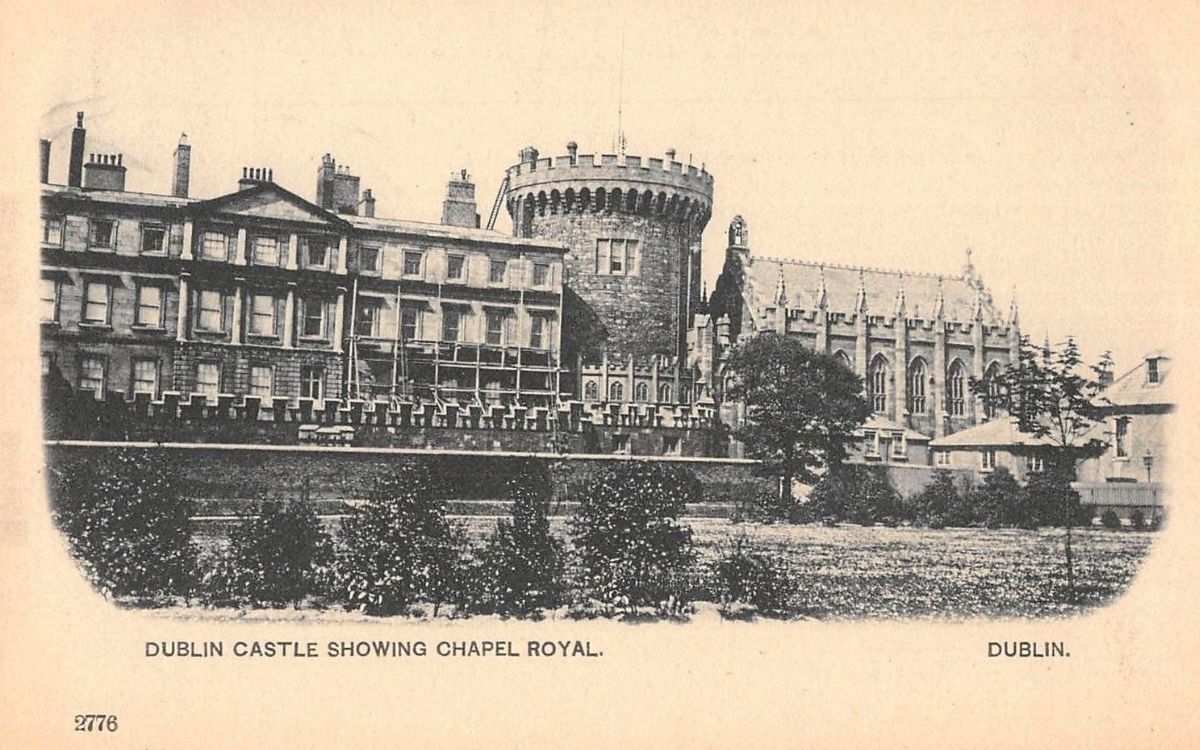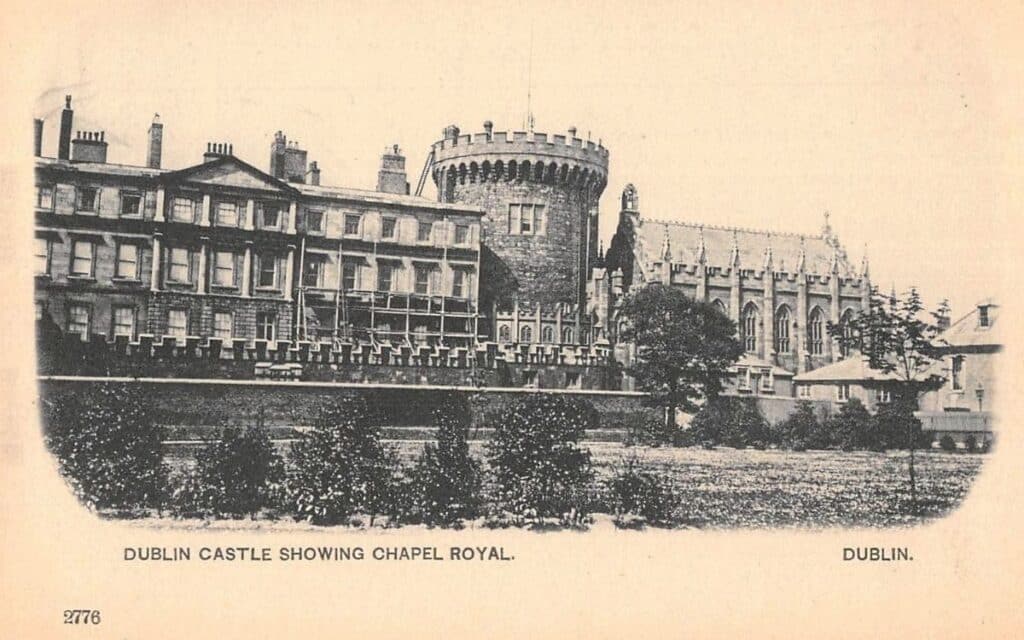 Darkey Kelly's, Fishamble Street, Dublin 2
Darkey Kelly was a convicted witch and Ireland's first serial killer after the discovery of several deceased patrons in her cellar.
Visitors to the pub feel watched, hear strange sounds and have soon objects move on their own!
Read 11 Haunted Dublin Pubs That Are Full Of Spirits
Malahide Castle, Malahide, Dublin
This 12th century castle with a turbulent history has extensive ghostly activity within.
Sir Walter Hussy moans and reveals his mortal spear wound, Lady Maud Plunkett floats through the halls in her wedding dress, owner Miles Corbet manifests in full armour and court jester Puck is said to haunt the castle forever following a doomed love affair.
Marsh's Library, St. Patrick's Close, Dublin 8
The library was founded by Provost of Trinity College, Narcissus Marsh more than three centuries ago.
He was guardian to his niece and was heartbroken when she eloped. He could not bear to read the letter she left and hid it in a book, dying shortly after.
His ghostly forlorn figure can be seen wandering the stacks, looking for the elusive letter.
Trinity College, College Green, Dublin 2
This 16th century bastion of education has hauntings including Fellow of the College Edward Ford, shot dead by students and seen on campus in full gown and wig and Head of the Medical School, Dr. Samuel Crossey – skilled teacher by day and grave robber and murderer by night.
His silhouette can be seen creeping around the walkways carrying his doctor's bag and a cloth sack.
Glasnevin Cemetery, Prospect Square, Dublin 9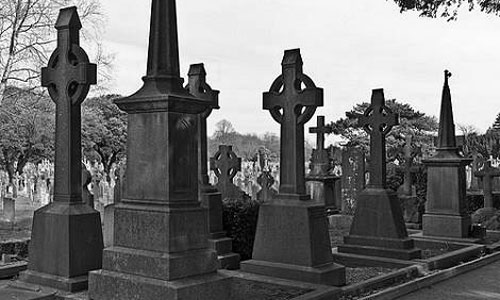 The national cemetery contains the bodies of famous Irish Leaders and revolutionaries as well as poets and scholars.
With endless crypts and watchtowers built to guard against body snatchers, the most famous ghost on the grounds is that of a Newfoundland dog who forever guards his master's grave, the grace of John McNeill Boyd.
Davy Byrne's Pub, Duke Street, Dublin 2
Having been in operation well over a century, this public house was used by Irish revolutionary leader Michael Collins for meetings. James Joyce wrote of it in 'Ulysses and the iconic Irish writer's shade is often seen reflected in the mirrors in the bar.
Olympia Theatre, Dame Street, Dublin 2
Throughout its 140 year history, the Olympia Theatre has seen acts from the biggest names in theatre, film and music.
The most impressive performances however, are those of the resident poltergeist with doors and windows rattling aggressively, the echo of ghostly footsteps and the complete obliteration of a dressing room by an invisible being.
Hellfire Club, Montpelier Hill, Dublin 7
Set high above the capital, the infamous gentleman's club was a hive of debauchery and sacrifice and tales of a visit from the Devil himself.
As a result it is considered one of the most haunted spots in Ireland, with reports of being grabbed by unseen assailants, screams of a woman, shadows and spectres on the hill and in the Hellfire Club itself.
Read more about Hellfire Club Dublin here.
Shelbourne Hotel, St. Stephen's Green, Dublin 2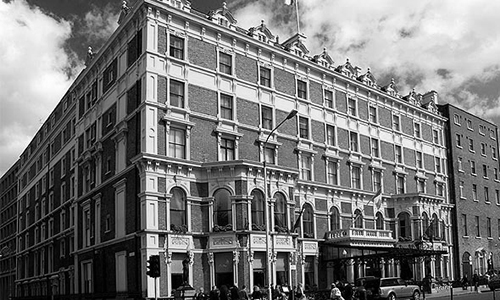 This high class hotel is almost 200 years old and has been the subject of accounts of hauntings for decades.
In 1965 famed paranormal investigator Hans Holzer and British Psychic Sybil Leek carried out a detailed investigation and claimed to have proof of paranormal activity.
Read more about The Shelbourne Hotel here.
St. Michan's Church, Church Street, Dublin 7
This Church of Ireland place of worship is mainly visited for its macabre crypt which contains mummified corpses.
Caskets on view include 'The Thief', so named as his feet and right hand has been severed and 'The Crusader' whose arm and finger protrudes from his coffin.
It is said that if you touch it you will have good fortune. Ethereal touches and disembodied voices are experienced in the vaults of St Michan's.
Brazen Head, Lower Bridge Street, Dublin 8
Ireland's oldest pub dates back some 800 years. Patrons included James Joyce, Jonathan Swift and Freedom Fighters Wolfe Tone, Daniel O'Connell and Michael Collins.
Revolutionary leader Robert Emmet held meetings on the premises until he was found guilty of treason and hanged. He remains on the premises, a spectral guard watching for an attack.
Collins' Barracks, Arran Quay, Dublin 7
Now the National Museum of Ireland, Decorative Arts and History, this former military barracks has been seen in the likes of TV's Penny Dreadful and Ripper Street.
There have been sightings of Napoleonic soldiers and guards on duty have heard ghostly gunshots and the sound of spectral horses.
Ardgillan Castle, Balbriggan, Dublin
This stately home in Balbriggan is set on a vast estate which runs down to the cliffs.
Lady Langford would await the return of her husband on the bridge known as 'The Lady's Stairs' while he went for his regular swim.
He drowned, and she still waits. If you get in her way on Halloween she will cast you to the rocks below.
Kilmainham Gaol, Inchicore Road, Dublin 8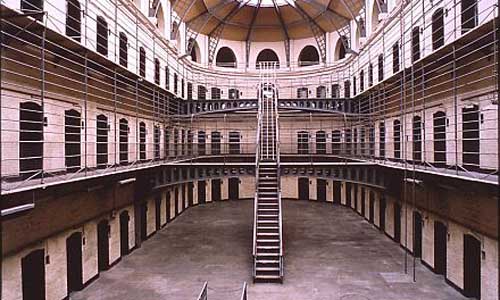 The location of the executions of some of the most powerful men in Irish history, activity was sparked in the sixties during renovations.
The spirits of both prisoners and wardens are rife, especially in the area of the prison chapel where 1916 Easter Rising leader Joseph Plunkett famously wed Grace Gifford just hours before his death by firing squad.
Bull and Castle Pub, Lord Edward Street, Dublin 8
Irish poet James Clarence Mangan was born on the site of this famous Dublin pub in 1803.
Renowned by Joyce and Yeats, the eccentric man suffered severe depression and addiction and was known for his outlandish outfit of long cloak, green glasses and blond hairpiece.
No matter how happy the mood in the public house, an icy chill sweeps the bar and imposes an air of melancholy. James Mangan is back.
John Kavanagh 'The Gravediggers' Pub, Prospect Square, Dublin 9
Kavanagh's Pub is the place gravediggers from the adjacent Glasnevin Cemetery would through sods of earth against the wall to scare up a pint and body snatchers would sup on porter after the hard graft of stealing and delivering corpses.
The spirit of an old man in a tweed suit sits at the bar sipping away on his pint.
When it is finished he just fades away.
Dublin Castle, Palace Street, Dublin 2
The dungeons at Dublin Castle were witness to some of the most heinous cases of torture and murder of Catholics for no other reason than their faith.
A widow was left to starve to death in a cell by the Mayor of Dublin, her own son – her heartbroken spirit left to cry in despair for eternity in her prison.
St. Patrick's Cathedral, St. Patrick's Close, Dublin 8
There are hundreds of bodies buried within the Cathedral and grounds, including Jonathan Swift's who was exhumed almost a century after his death. His body was returned to its burial place and the Cathedral is also home to a mask of his skull and death masks.
It is of little wonder therefore that the prolific author and clergyman is still seen within the building he called home.
Connolly Station, Amiens Street, Dublin 1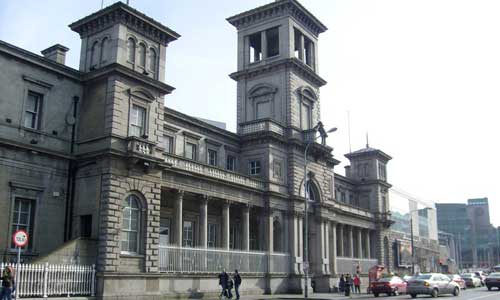 The mid-nineteenth century railway station was bombed by German Luftwaffe in 1941 which culminated in the deaths of 28 people.
Spooky sightings include a grey uniformed soldier walking along a disused platform and fading from view.
St. Mary's Chapel of Ease, St. Mary's Place, Dublin 7
Built in 1830 to serve the affluent Protestant community, the building known as 'The Black Church' was deconsecrated in the sixties.
It has been said if you go around the Church three times in a clockwise direction at midnight, you will come face to face with the devil who will then take your soul.
Drimnagh Castle, Long Mile Road, Dublin 12
Dating back to the thirteenth century, one of the residents was forced into marrying her cousin instead of the man she loved, Sean O'Byrne.
After the wedding, both men were involved in a bitter fight to the death and neither survived.
Eleanor killed herself and can now be seen, her spectral figure wandering the castle searching for Sean.
The Phoenix Park, Dublin 8
A former hunting ground, it became a public park in 1747.
Within it stands the House of the President of Ireland known as Aras An Uachtarain. It contains the final resting place of 40 Vikings.
In 1882 the Chief Secretary for Ireland and his aide were murdered by surgical knife and the grounds themselves were linked to the Knights Templar.
Esteemed writer Jonathan Swift is said to regularly haunt the national park.
Rathmines Bridge, Portobello, Dublin 8
A bitter phantom lock keeper seems to be responsible for a number of deaths.
When he appears, witnesses are greeted by a bright light that disorients, causing them to tumble into the icy waters of the canal.
Howth Castle, Howth Demesne, Dublin
Home to only the St. Lawrence family for almost 800 years, the spectre of a white rat appears whenever evil or ill-fortune threatens the family.
An oak on the grounds loses a limb as an omen predicting the death a family patriarch and there are ghostly footsteps throughout.
Corkagh Park, Clondalkin, Dublin
A beautiful city demesne with the River Camac running through it, this parkland becomes sinister after dark.
Locals veer away from the area known as 'The Devil's Passage'.
Visitors to the passage have been terrorised by a headless horseman galloping through on his spectral steed and the sound of horses hooves have echoed through the night.
Rathfarnham Castle, Rathfarnham, Dublin
This Elizabethan castle was built for Archbishop Loftus.
In 1840 as excited visitors skated on the frozen pond in the grounds, a man fell through the ice.
His retriever tried to save him but both man and dog were drowned. The phantom dog is still seen regularly.
One of the lodge gates is haunted by the ghost of a young boy murdered by a Romany gypsy.
Westown House Ruins, Naul, Dublin
Built in the 18th century for an old Irish family, the imposing mansion house fell into ruin.
Now in the process of being restored, the rambling grounds contain the ghost of a poacher who was shot during his attempts to poach game.
He can be heard, and his heavy breath felt upon terrified walkers.
Feltrim Hill, Malahide, Dublin
This whole area is a step back to ancient Irish history.
Wolves would run wild and a healing well was dedicated to a Saxon princess.
It is said that a hellhound with blood red eyes lurks in the dark, a ghostly grey steed gallops across the hill and the spectre of an old woman carrying a bundle on her back is seen moving towards the Holy Well.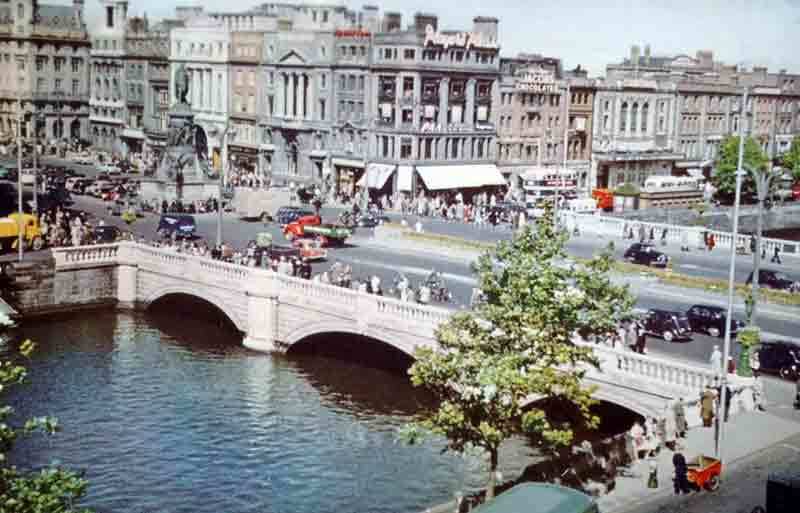 St. Audoen's Church, Corn Market, Dublin 8
This Norman built church has steps that lead down to the last gatehouse of Dublin City Wall which was referred to locally as the Gate of Hell.
Sightings are of the ghost known as 'The Green Lady'.
She is believed to be the condemned shade of convicted witch, Darkey Kelly.
Wolfe Tone Square, Jervis Street, Dublin 1
A former hospital and St. Mary's graveyard stood in this location.
One of the corpses buried was that of Earl of Norbury, John Toler who regularly handed out executions in sentencing.
A young man was convicted of sheep stealing and Toler had him hanged.
His widow died broken-hearted but not before cursing the man to never rest in death.
Locals say they hear the dragging of chains between Cabra and the graveyard as Toler serves eternal unrest as his punishment.
Have you seen a ghost in Dublin, Ireland? Tell us about it in the comments section below!
Watch Haunted Dublin Video