Reading Time:
5
minutes
When you think of Dublin, Guinness, Temple Bar and pubs are probably the first things to cross your mind. Did you know there are 666 officially-licensed pubs in Dublin? The number may be demonic, however, there are surprisingly few haunted pubs in Dublin's fair city. ANN MASSEY takes a look at 11 of the most haunted Dublin pubs.
1.) John Kavanagh 'The Gravediggers' Pub'
1 Prospect Square, Glasnevin, Dublin 9
Located beside the famous Glasnevin Cemetery, Kavanagh's is where body snatchers would wind down after a hard night of stealing corpses and during the day thirsty gravediggers would throw a handful of earth at the pub wall in order to scare up a pint! An elderly gentleman dressed in a dated tweed suit sits at the bar sipping a pint and when he has finished, simply fades away.
2.) Davy Byrne's Pub
21 Duke Street, Dublin 2
This public house has been around for more than 125 years, with the upstairs room being used for Republican meetings and frequented by Michael Collins himself. It is however, most famous for its associations with James Joyce and it is immortalised in the pages of Ulysses. James Joyce seemed to enjoy Davy Byrne's so much that he never left, his reflection regularly seen in the bar mirrors.
3.) Bull and Castle
5-7 Lord Edward Street, Dublin 8
James Clarence Mangan was a famous Irish poet and patriot born in 1803 on what is now the site of the Bull and Castle public house. As a poet he was greatly admired by the likes of Yeats and Joyce, however as a man he was a solitary figure, suffering with depression and addiction. He dressed bizarrely in a long cloak, green spectacles and a blond wig. Patrons have been sat in the bar, merry and playful, when an icy chill sweeps over the entire premises and the mood darkens and all become melancholy, a sure sign that James Mangan is home for a visit.
4.) The Brazen Head
20 Lower Bridge Street, Dublin 8
Dating back to 1198, the Brazen Head has the official title of Ireland's oldest public house. Clientele have included James Joyce, Jonathan Swift and freedom fighters Wolfe Tone, Michael Collins and Daniel O'Connell. One leading revolutionary of the 1803 uprising was Robert Emmet and he held his meetings in the Brazen Head. Captured and put on trial, Emmet was about to be cleared as the trial unravelled, until his own lawyer turned against him. The 25-year-old was found guilty of treason and hanged, drawn and quartered. Death did not stop Robert Emmet's duty of care however and he remains in the Brazen Head keeping watch for the enemy.
5.) Madigan's Bar
Connolly Station, Amiens Street, Dublin 1
Busy commuter station Connolly is in the heart of Dublin and Madigan's Bar is right on the concourse. There have been so many reports of ghosts and poltergeist activity in and around Connolly Station and Madigan's Bar, that in 2011 Irish Ghost Hunters undertook an investigation to see what was happening. So if you feel a tug at your briefcase as you sip your pint, don't assume there's a thief behind it – not a living one anyway.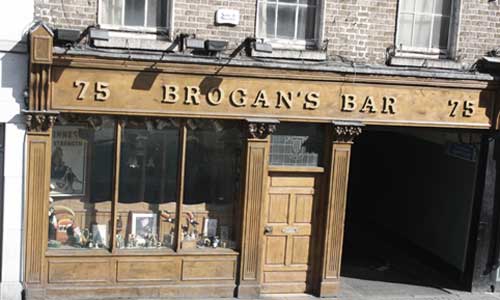 6.) Brogans Bar
75 Dame Street, Dublin 1
Formally known as Leonards, this centuries old establishment stands beside the Olympia Theatre. It has been featured in the 1969 book, 'Irish Pubs of Character' and counted Michael Collins among its regular patrons. It is little surprise given its proximity to the haunted Olympia, that there have been reports of eerie footsteps and poltergeist activity including a door being smashed. The most interesting thing about Brogans however, is the belief that there is or certainly was, a secret passageway running from the pub, underneath Dame Street and straight into Dublin Castle!
7.) The Portobello
33 South Richmond Street, Dublin 2
Situated on the banks of the Grand Canal, this pub by the bridge is the site of the spectre of a drunken lock keeper who drowned himself in the canal. His drinking habits caused the deaths of the passengers in a horse drawn carriage in the mid nineteenth century and he could not live with the deaths and being fired. His spirit is a bitter and vengeful one however, as the phenomenon associated with the lock keeper is a light so searing and powerful, it creates confusion and dizziness, causing some to fall into the icy canal.
8.) The Lord Edward Pub
23 Werburgh Street, Christchurch Place, Dublin 8
Lord Edward Fitzgerald was against the crown and played a vital role in the planning of the rebellion at the beginning of the nineteenth century. Fitzgerald did not get to see the rebellion however, as he was discovered hiding in nearby Thomas Street and attempts were made to arrest Edward for treason. He fought against his captors and was severely wounded, however he was still taken to Newgate Gaol where he later died of his wounds. He is buried in St. Werburgh's Church, right across from the entrance to his namesake pub. Lord Edward's shade is said to roam the bar, defending those within.
9.) Doyles Pub
160 Doyles Corner, North Circuluar Road, Phisborough, Dublin 7
Formerly known as the Arthur Conan Doyle, this Victorian public house was built using stones from the nearby Saint Peter's Church and comes complete with its own well in the cellar. It was frequented by the famous Irish writer Brendan Behan and was a personal favourite of the world renowned hangman, Albert Pierrepoint. Doyles is in close proximity to Mountjoy prison so when he was in Dublin for 'work', Albert would pop in for a whiskey or two. The pub used to have Lanigans Funeral Home beside it for many years, which could account for the ghost who has taken residence and terrorised patrons on the second floor. It could also be one of Mr Pierrepoint's 'work' subjects from Mountjoy, looking for the hangman!
10.) John Mulligans
8 Poolbeg Street, Dublin 2
Famous for featuring in one of the short stories of James Joyce, Counterparts, Mulligans has had more than its fair share of famous clientele. These days it is frequented by journalists and writers, who take solace in the subdued Victorian decor. Not just having to listen to the woes of dejected press members or massaging the egos of famous patrons, the bar staff have to contend with spirits and not of the top shelf variety! Flying brandy bottles, strange banging from the cellar and even the apparition of a man sitting on a beer barrel are just a few of the regular paranormal encounters at Mulligans.
11.) Darkey Kelly's
19 Fishamble Street, Christchurch, Dublin 2
Darkey Kelly was a convicted witch and Dublin's first known serial killer. Running a brothel on Fishamble Street, Darkey came to the attention of the authorities after accusing Simon Luttrell, Sheriff and member of the notorious Hellfire Club, of making her pregnant. Stories abound regarding the child being sacrificed on Montpelier Hill, however it was the discovery of at least five male corpses in her cellars that led to her arrest. Luttrell's input had the charges increased to witchcraft and she was executed. Darkey seems to remain, as patrons often feel watched, hear strange noises and objects move of their own volition.