Reading Time:
6
minutes
As the song goes, Dublin's fair city is home to the ghost of Molly Malone who continues to wander the streets broad and narrow – she is not alone. ANN MASSEY takes a look at five of the most visited places in the Dublin City Centre and the ghosts that dwell within.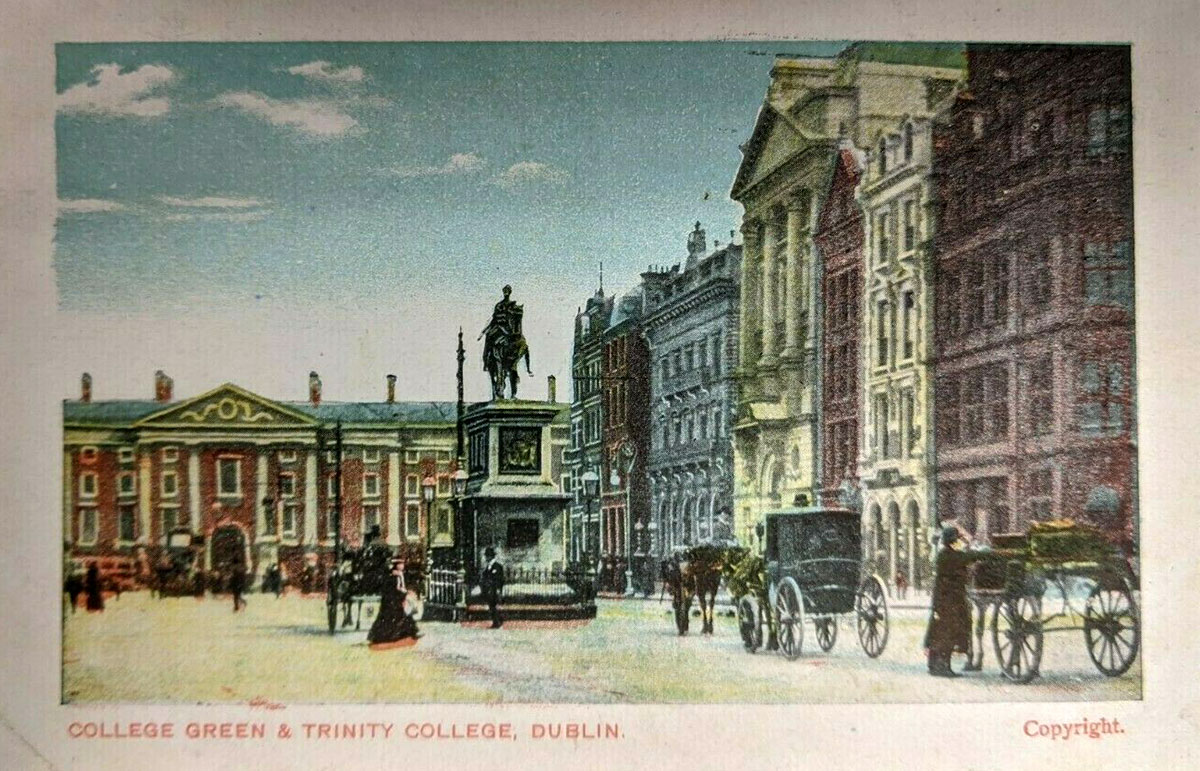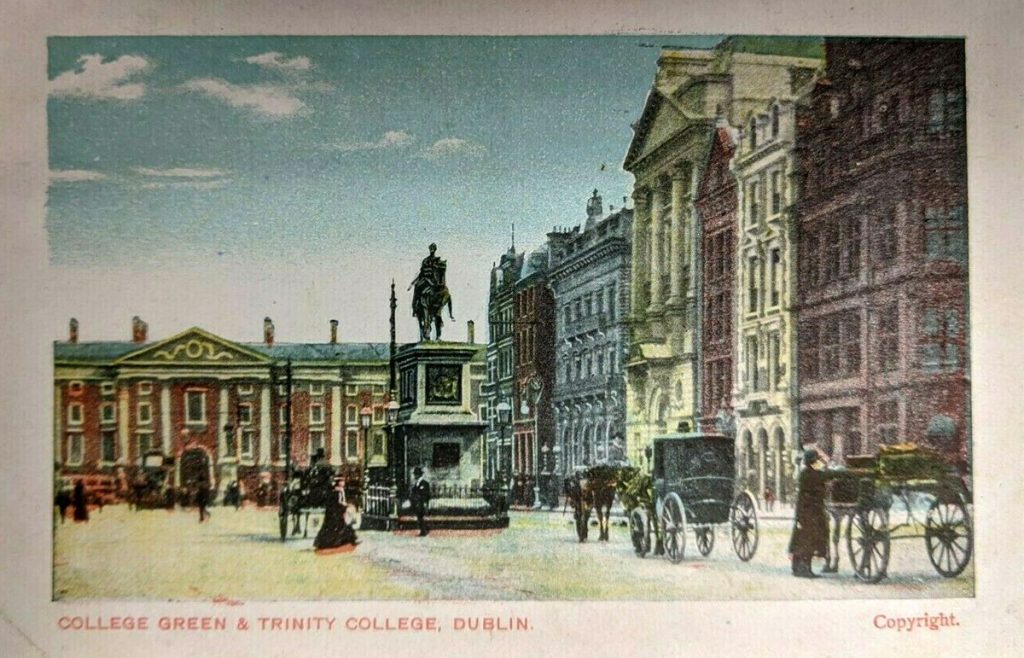 Haunted Dublin City Centre
Marsh's Library, St Patrick's Close, Dublin 8
The library founded by Archbishop Narcissus Marsh is over 300 years old. It is almost unique in that it remains in use in accordance with its original purpose and was frequented by Bram Stoker and Jonathan Swift.
Although English, Archbishop Marsh was given the title of Provost at Trinity College, Dublin and promoted the use and study of the Irish Language. To preserve Marsh's love of study and collection of books and manuscripts from around the world, he founded the library beside St Patrick's Cathedral.
Narcissus spent much of his remaining time within the confines of his book lined sanctuary while taking on the role of guardian for his niece. When she fell in love with a curate and eloped against his wishes, Marsh was heartbroken and on receiving a letter of explanation of her actions, placed it in a book, unable to read it at that time.
The heartbroken Archbishop died soon after and is now seen wandering through the stacks, searching for the elusive book that contains the letter he never read.
St Michan's Church, Church Street, Dublin 7
This Church of Ireland place of worship has been on the same Viking site since 1095 A.D. Once again a haunt for Bram Stoker, this architecturally stunning building is visited for very different reasons – the crypt.
The vaults beneath St Michan's have created a unique set of circumstances which has left the corpses mummified. No caskets have been opened here. The strange environment means that while the coffins are rotting and falling away, the bodies within are perfectly preserved.
Well not quite perfectly – as there was a one size fits all policy for coffin making, various limbs have been hacked off and bent at odd angles to ensure the deceased would fit, leaving body parts jutting out from the confines of their final resting place.
There are four main caskets on view while the others are stacked in a macabre manner. One is simply referred to as the unknown woman, another as the nun. The thief is so named as his feet and right hand have been severed, although this may just have been to make him fit!
The Crusader is by far the most well visited corpse, his 6 ½ foot frame astounding for a man from some few hundred years ago. His arm and finger protrude from his coffin and it is said that if you touch it you will have good fortune.
But be wary, you may well feel an ethereal touch of your own, or hear whispers and disembodied voices as you visit the crypts of St Michan's.
Trinity College, College Green, Dublin 2
The flagship of Irish Academia, Trinity College has been in established since the end of the sixteenth century and covers nearly fifty acres of ground.
Trinity has been a highly recognised centre of excellence for the study of medicine for centuries as well as having some extremely notable students in other disciplines, such as Bram Stoker (him again!) who studied here from 1864 – 1870.
The Dublin University is also the guardian of major artefacts and manuscripts including the Book of Kells, so it of little surprise to find Trinity College has faculty members who have not let death stop them occupying the prestigious campus.
Narcissus Marsh, of course, prefers to spend time in his library, both alive and dead, however another Fellow of the College interfered too much in student life and paid for it with his life.
Edward Ford was disliked by the students and one night, the 7 March 1734, saw a group of rowdy gentlemen barge through the Front Gate, attacking a porter in the process. Unhappy at being admonished by Ford, they returned later to break the windows of his apartment in the Rubrics building.
Outraged, Edward fired his pistol into the crowd, slightly wounding a student. Angered further, the mob acquired their own weapons and shot Edward Ford dead as he screamed at them through his open window.
The disgruntled Professor can be seen to this day, in full wig and gown, walking the paths until he simply dissipates as he approaches the Botany Bay area of the college.
Of course as a medical teaching facility, new ground was looking to be broken and Trinity was not without tales of body snatching. In fact when a new extension was being built, dismembered bodies and body parts dating back to the 18th Century were found as they dug out foundations which have been attributed to overzealous medical students.
Perhaps they were inspired by the Head of the Medical School, Dr. Samuel Crossey, a man who was known for his brilliance as a medical teacher and trained many of the world's leading doctors and surgeons of the time.
Samuel Crossey, however, was also infamous for his nocturnal habits. At a time where cadavers were scarce, he was believed to have sourced his own. Not just from grave robbing either – in events that may have inspired Burke and Hare themselves, the bodies produced for dissection lectures were as likely to have been grabbed from the street as a grave. At least two students were also thought to have disappeared in mysterious circumstances.
It would seem that death was not enough to stop Dr. Crossey continue his work, as his tall intimidating spectral figure can be seen crossing the quadrangles and paths of Trinity College, in one hand a surgeon's case and the other carries a rather conspicuous and chilling cloth sack.
Saint Patrick's Cathedral, Saint Patrick's Close, Dublin 8
The imposing Cathedral is built on what is believed to be the site of baptisms by Saint Patrick in the 5th century when he visited Dublin.
There are hundreds of bodies buried within the Cathedral and grounds, including those of Narcissus Marsh and Jonathan Swift.
Jonathan Swift's body was exhumed almost a century after his death and a post mortem took place to prove he had died from Meniere's disease and not insanity as first thought. His body was returned to its burial place and the Cathedral is also home to a mask of his skull and death masks.
It is of little wonder therefore that the prolific author and clergyman is still seen within the building he called home.
The most famous ghost of Saint Patrick's is not human, but a Newfoundland dog. In 1861 a massive storm took place off of the coast of what is now known as Dun Laoghaire, Dublin. A coal ship called The Neptune was in distress and going down, Captain John McNeill Boyd took the lifeboat Ajax out with five men to attempt to save the crew of The Neptune. All perished.
Each body was recovered immediately with the exception of the Captain of the Ajax. For weeks each day his dog would join the search team until he was found. The distraught animal followed the funeral cortege dutifully to the place of interment in the grounds of Saint Patrick's Cathedral. Here the ghostly black canine remains, never to be separated from his master.
Dublin Castle, Palace Street, Dublin 2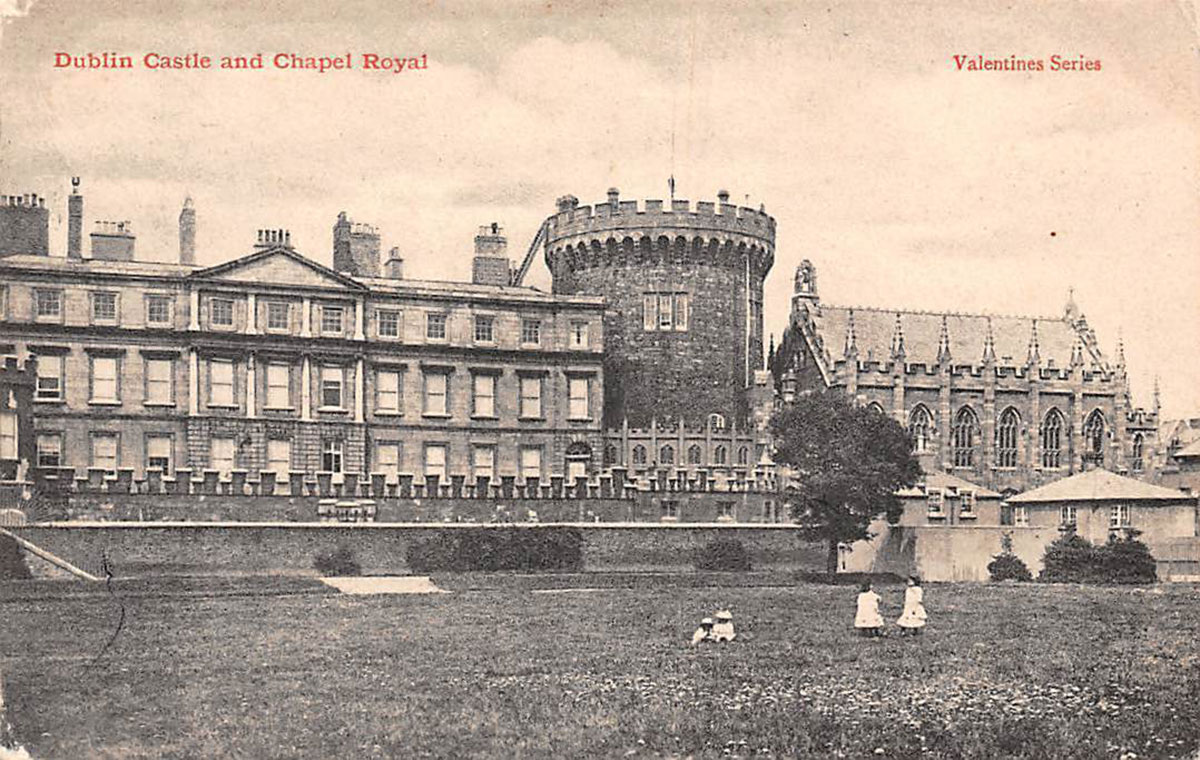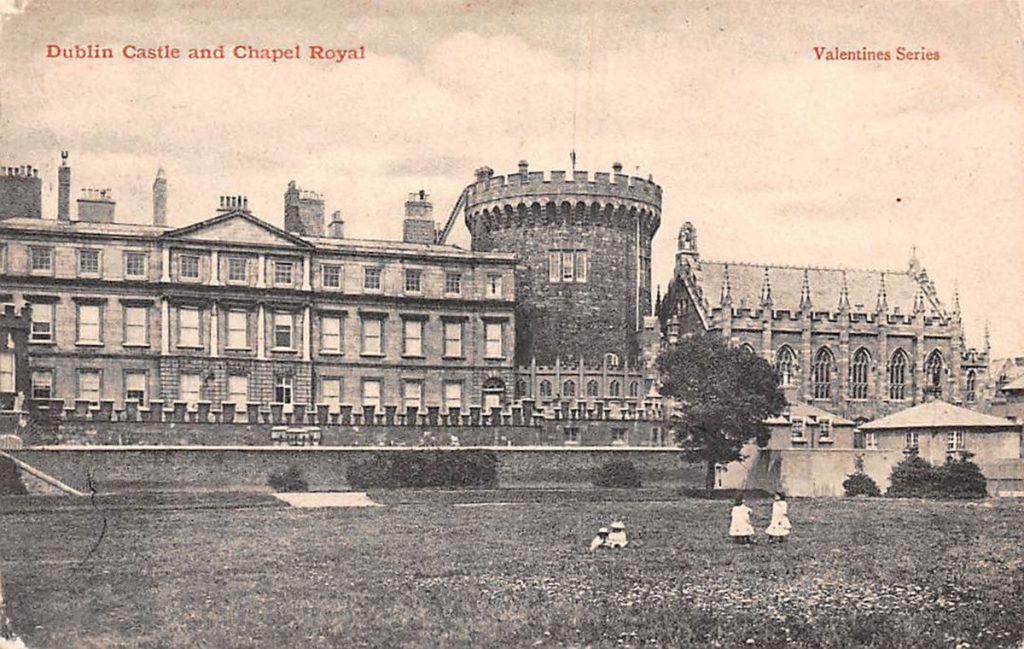 Dublin Castle is not only a place of historical and political significance in Ireland, it is the location of source of the very naming of Dublin itself. Within the castle dating back to the Vikings lies a Black Pool, the Dubh Linn.
Since the Viking invasion until the Easter Rebellion, Dublin Castle has been the nerve centre for battles, military strategy and the persecution of a nation. It has as a result been the site of atrocities and the spirits of those who met horrific and untimely deaths at enemy hands remain.
From the moment the castle was reinforced with stone walls by King John of England at the start of the 13th century, the heads of would be conquering and invading forces were spiked onto it as a deterrent to potential enemies, the bodies left to rot beneath.
The dungeons were witness to some of the most heinous cases of torture and murder of Catholics for no other reason than their faith. Clergymen were subject to every unspeakable act of cruelty including their feet being lowered into vats of boiling oil.
One particular woman, a widow in her late seventies who refused to renounce her faith was left to starve to death in a cell by the Mayor of Dublin, her own son – her heartbroken spirit left to cry in despair for eternity in her prison.
In 1316 Roger de Fynglas, a career criminal was sentenced to hang, however in a cruel twist his sentenced was replaced with the more callous "to stay without food until dead." He remains within the dungeon, dwelling on his actions and fate.
When the Easter Rising took place in 1916, Commandant of the Dublin Brigade, James Connolly was seriously wounded. Captured, he was taken to Dublin Castle and kept for a week in a room now known as the James Connolly Room.
Despite the wounds being mortal, James Connolly was dragged to Kilmainham Gaol where he was tied to a chair and executed by firing squad. His final days are imprinted firmly on the Castle and his presence is as much a part of Dublin Castle as the walls themselves.
Have you seen a ghost in Dublin City Centre? Tell us about it in the comments section below!