Reading Time:
8
minutes
Bram Stoker Dublin locations are a must-see for any Dracula fan, so ANN MASSEY takes us on a tour…
When it comes to distinguishing the most notable vampire of all time, Dracula is the name on everyone's blood-red lips. Written by Irishman Bram Stoker and published in 1897, the infamous bloodsucker has spawned countless adaptions across creative media and is the source of an entire vampire genre.
It all began in a tiny Dublin hamlet called Clontarf, itself an historical and mystical location known for the Battle of Clontarf, where Irish hero Brian Boru was slain and more than 800 years later, Bram Stoker was born.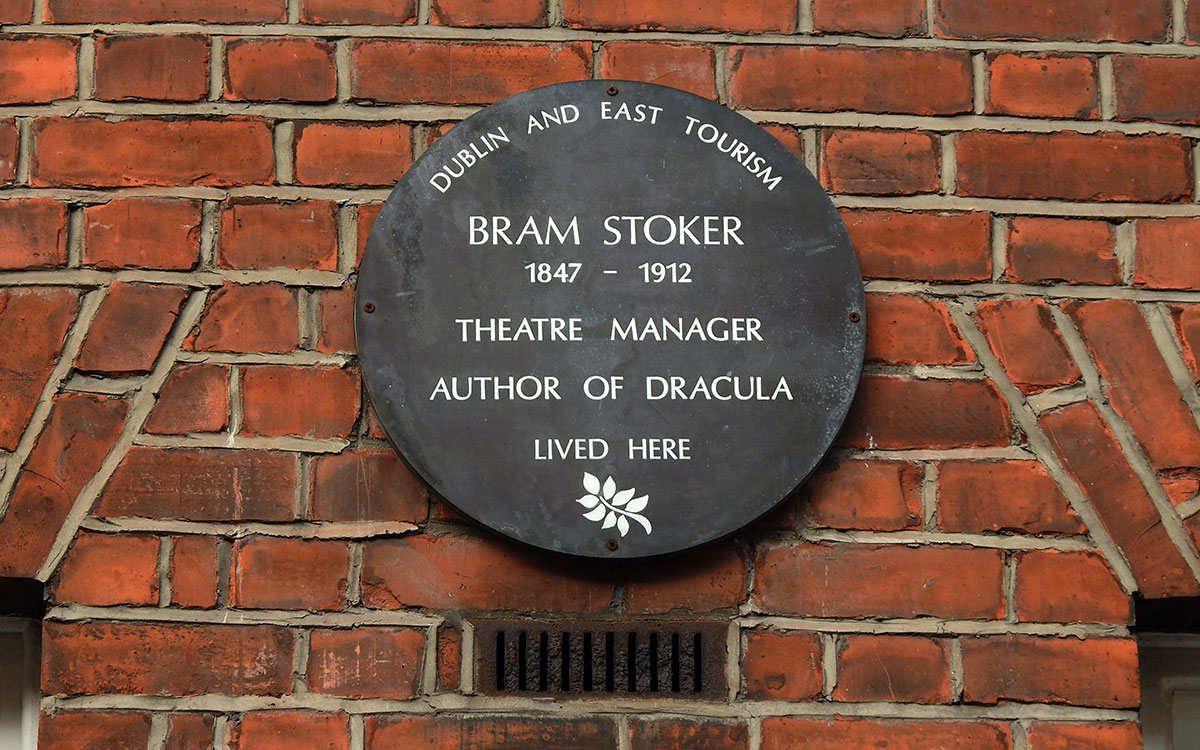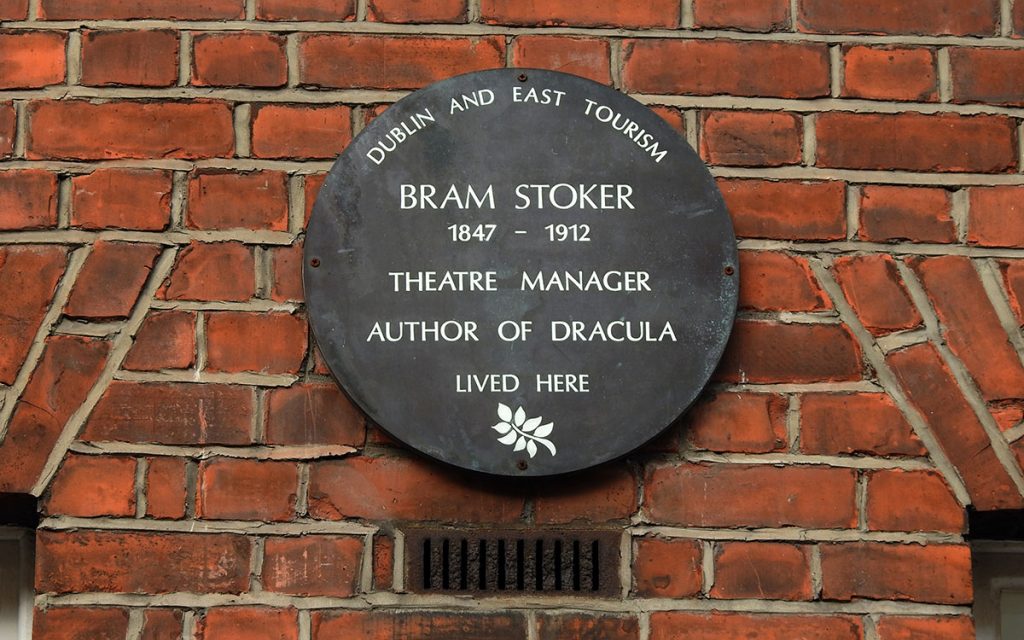 Check out these Bram Stoker Dublin locations
15 and 1 Marino Crescent and Bram Stoker Park, Clontarf, Dublin 3
On 8 November 1847, Abraham Stoker was born in 15 Marino Crescent, Clontarf, North Dublin. It was the year that saw the peak of the Great Hunger in Ireland where death and immigration led to a tragic and drastic diminishing of the Irish population. Bram's father was a Dublin man and his mother from the rugged rural landscape of County Sligo and together they had seven children.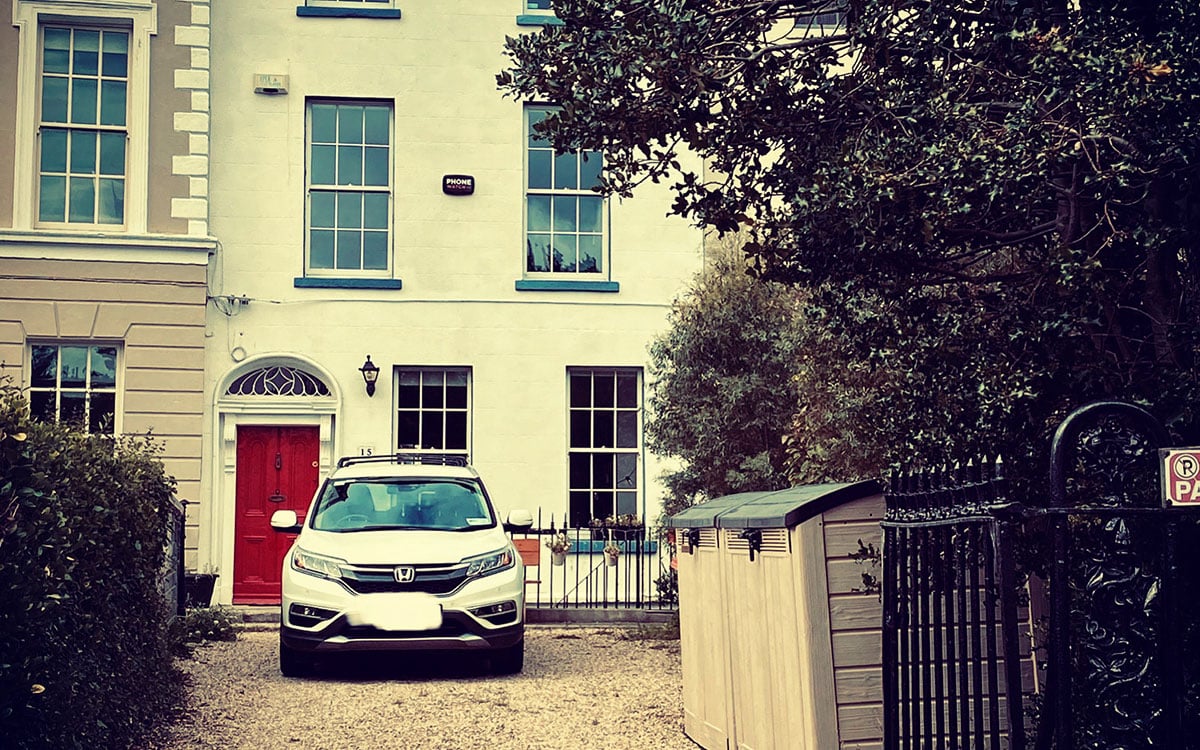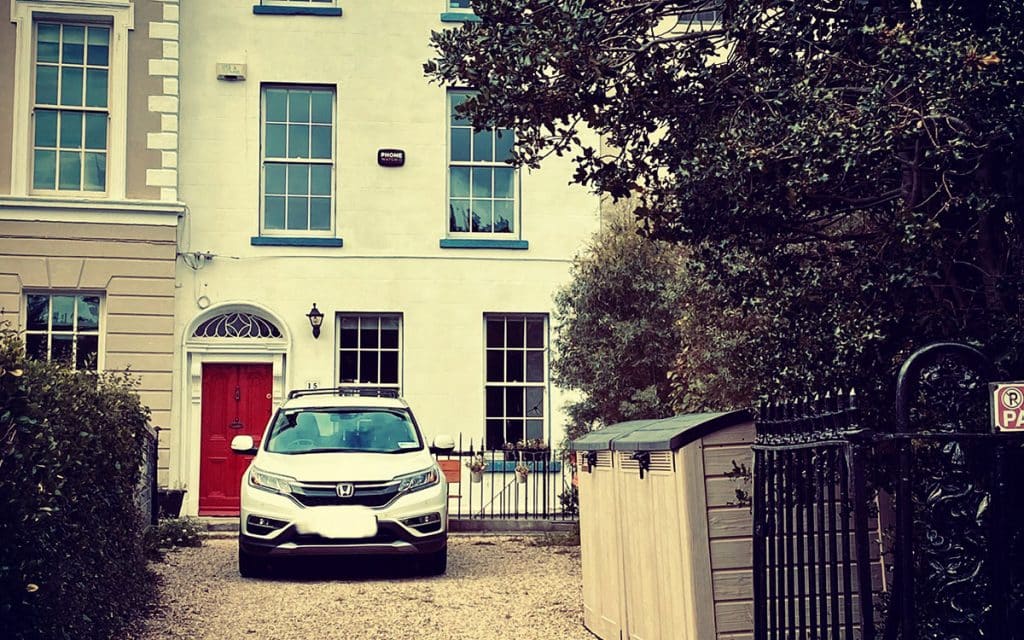 Bram Stoker was a sickly child and bedridden until he was seven years old. It provided a solitary boy with ample time to develop a fertile gothic horror imagination, as he started out of the bedroom window of his Georgian residence, across Bull Island and the dark and tempestuous Irish Sea.
Eleven years after the birth of Bram, at 1 Marino Crescent, Lieutenant-Colonel James Balcombe and his wife Phillipa gave birth to a daughter, Florence. She grew up to become a suitor of a certain Oscar Wilde, before falling for the gentleman who lived just a few doors away.
The small, enclosed green beside the home of the gothic novelist holds its secrets within a walled boundary and is occasionally used for performances. It has been named Bram Stoker Park.
St John the Baptist Graveyard and Church Ruins, Clontarf, Dublin 3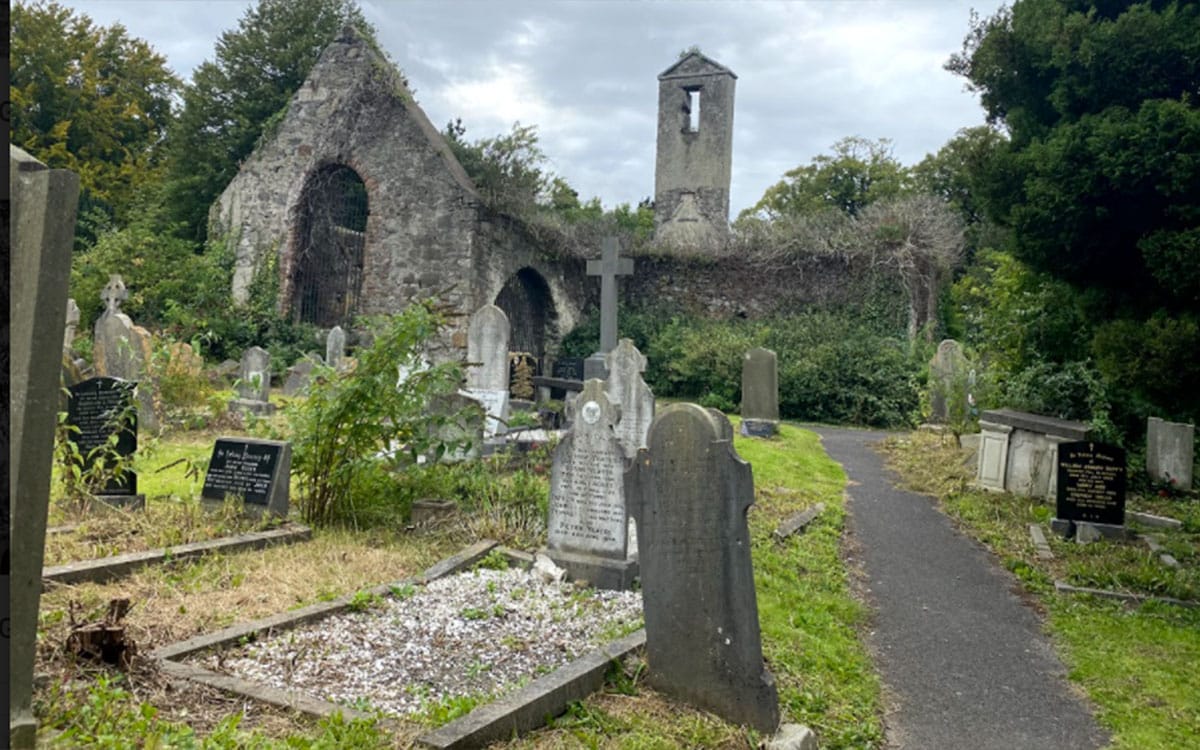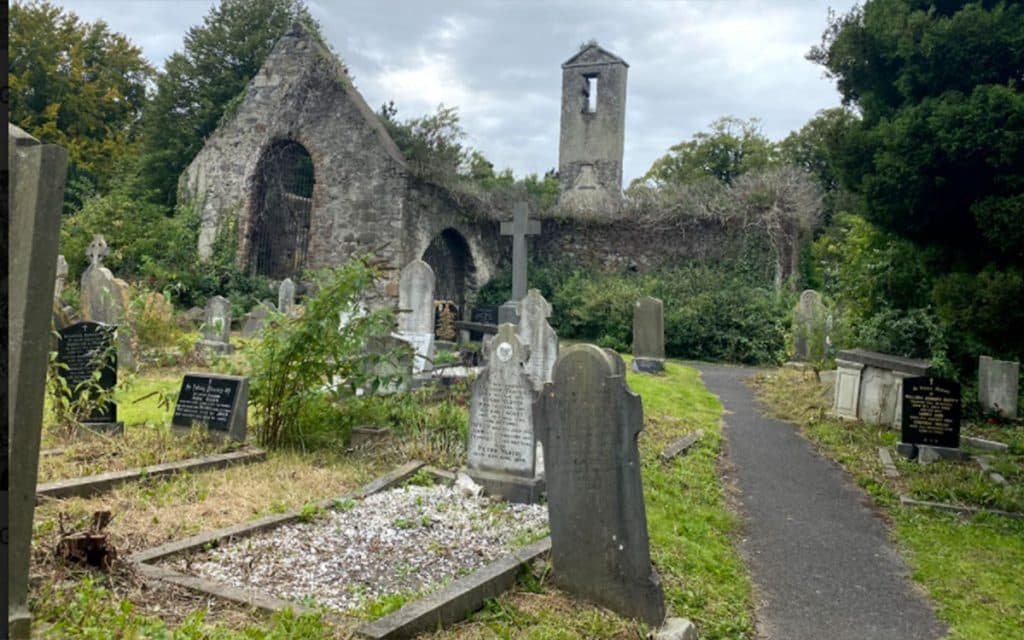 Situated a stone's throw from Clontarf Castle, this Bram Stoker Dublin location is entered through a small gate, opening up into a myriad of ivy clad headstones, old yew trees and rambling church ruins. Like his siblings, Bram Stoker was baptised in the former Church of Ireland Parish Church of Clontarf. A small ceremony, the baptism was performed by the Reverend Nugent.
Just under a third of a mile away is the well that was used to provide water to Brian Boru and his men and the entire area was once under the domain of the Knights Templar. Strolling around and examining the various ornate grave markers and tombs, it is easy to see how a gothic novelist would be inspired.
Trinity College, College Green, Dublin 2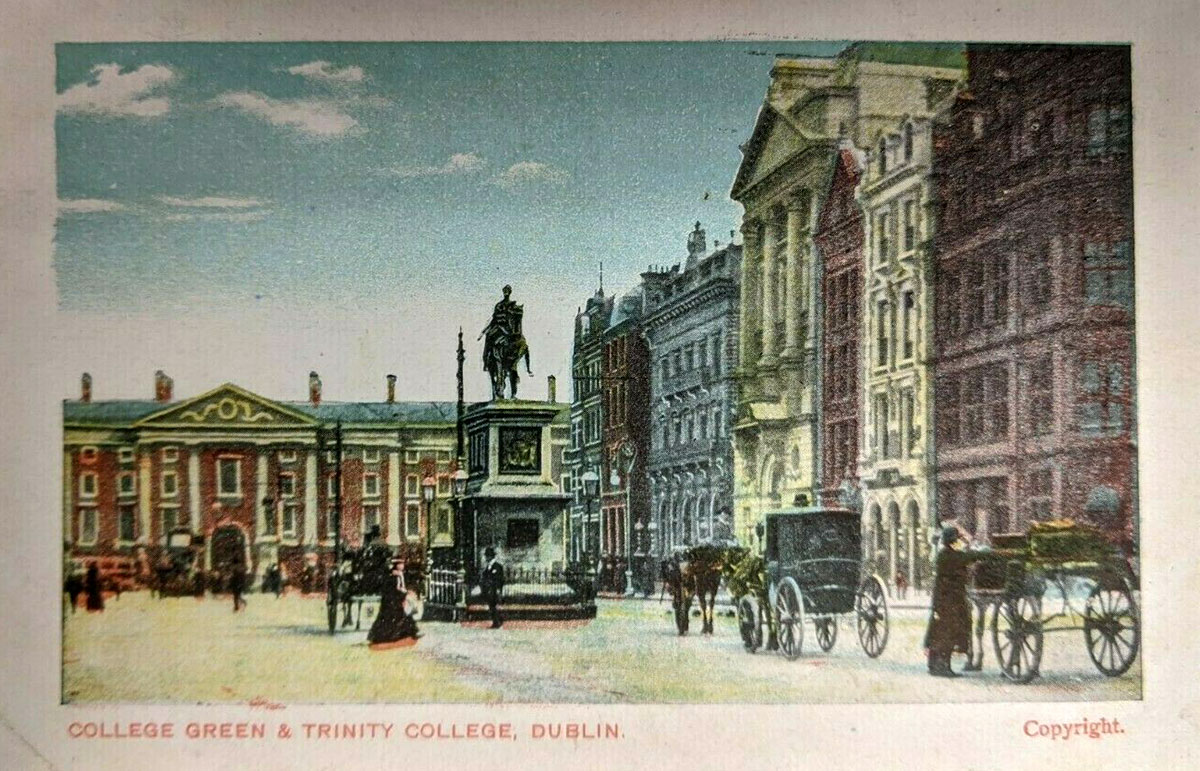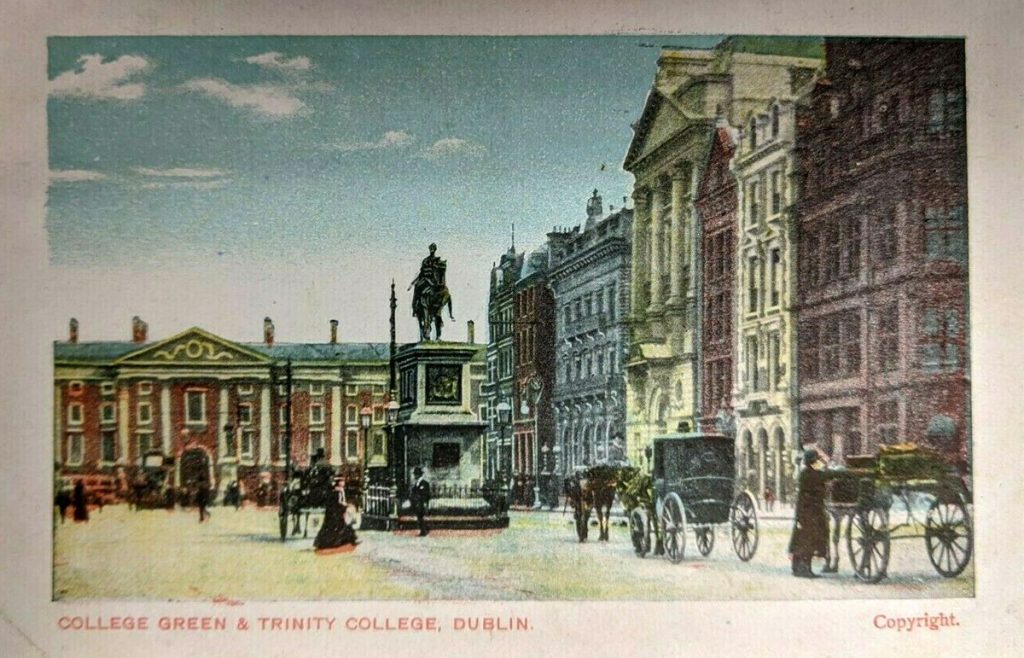 Bram entered Trinity College in Dublin's haunted City Centre in 1864 at the age of just 16. Despite his childhood, excelled at athletics and other sports including rugby as well as winning awards for weight-lifting and middle-distance races. Stoker relished in his prowess and said "… feel justified in saying that I represented in my own person something of that aim of university education mens sana in corpore sano.' This translates as 'a sound mind in a sound body'.
A prominent figure in Trinity's Historic Society and President of the Philosophical Society, Stoker graduated with a BA degree and was awarded a customary Masters a few years later. Over the preceding 100 years, the halls of Trinity were frequented by body snatchers, supplying medical students with corpses for dissection and a Professor was murdered by gunfire by disgruntled students, his outraged spirit haunting The Rubrics and perhaps inspiring Bram Stoker further.
Marsh's Library, Saint Patrick's Close, Dublin 8
Marsh's Library was founded by Archbishop Narcissus Marsh in 1707. It is almost unique in that it remains in use in accordance with its original purpose and was frequented by Bram Stoker during his student years at Trinity College.
Although English, Archbishop Marsh was given the title of Provost at Trinity College Dublin and promoted the use and study of the Irish Language. To preserve Marsh's love of study and collection of books and manuscripts from around the world, he founded the library beside St Patrick's Cathedral.
Works checked out for study by Stoker include books on poets including Benjamin Jonson, Edmond Spenser and Chaucer. He also read ancient and modern fables, as well as several books on geography and cosmography and a volume of pamphlets on astrology.
The library is haunted by Archbishop Narcissus himself, who may well have offered Stoker ethereal guidance!
Dublin Castle, Dame Street, Dublin 2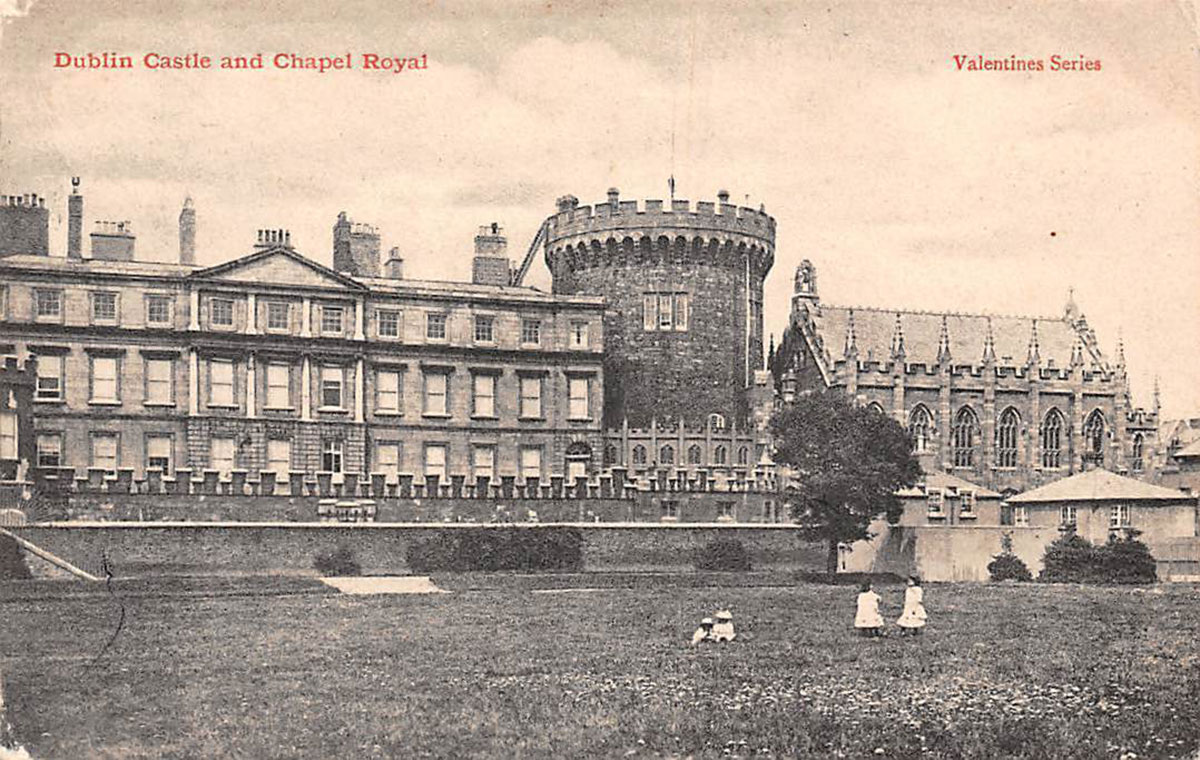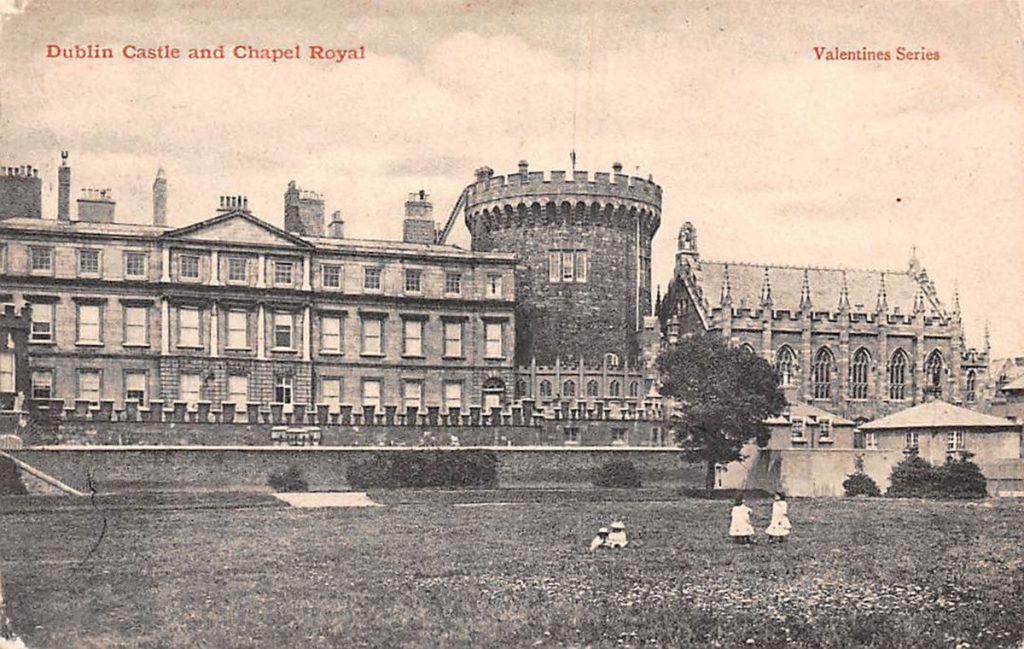 Following his graduation, young Stoker followed into his father's profession as a member of the Civil Service. He took up a position in Dublin Castle, where he rose through the ranks to become Inspector of Petty Sessions. Part of his workload involved overseeing criminal cases in the magistrate's courts and Bram's first published book was 'The Duties of Clerks of the Petty Sessions of Ireland' which was a complete civil servant handbook and as far removed from Dracula as you can imagine!
Dublin Castle dates back to the 13th century and the horrific tales from the dungeons as well as learning that the heads of enemies were placed on spikes at the entrance, the bodies left to rot beneath, may have further fuelled the author's imagination along with the surroundings of the castle itself and the secrets and dark history within.
Shelbourne Hotel, 27 St Stephen's Green, Dublin 2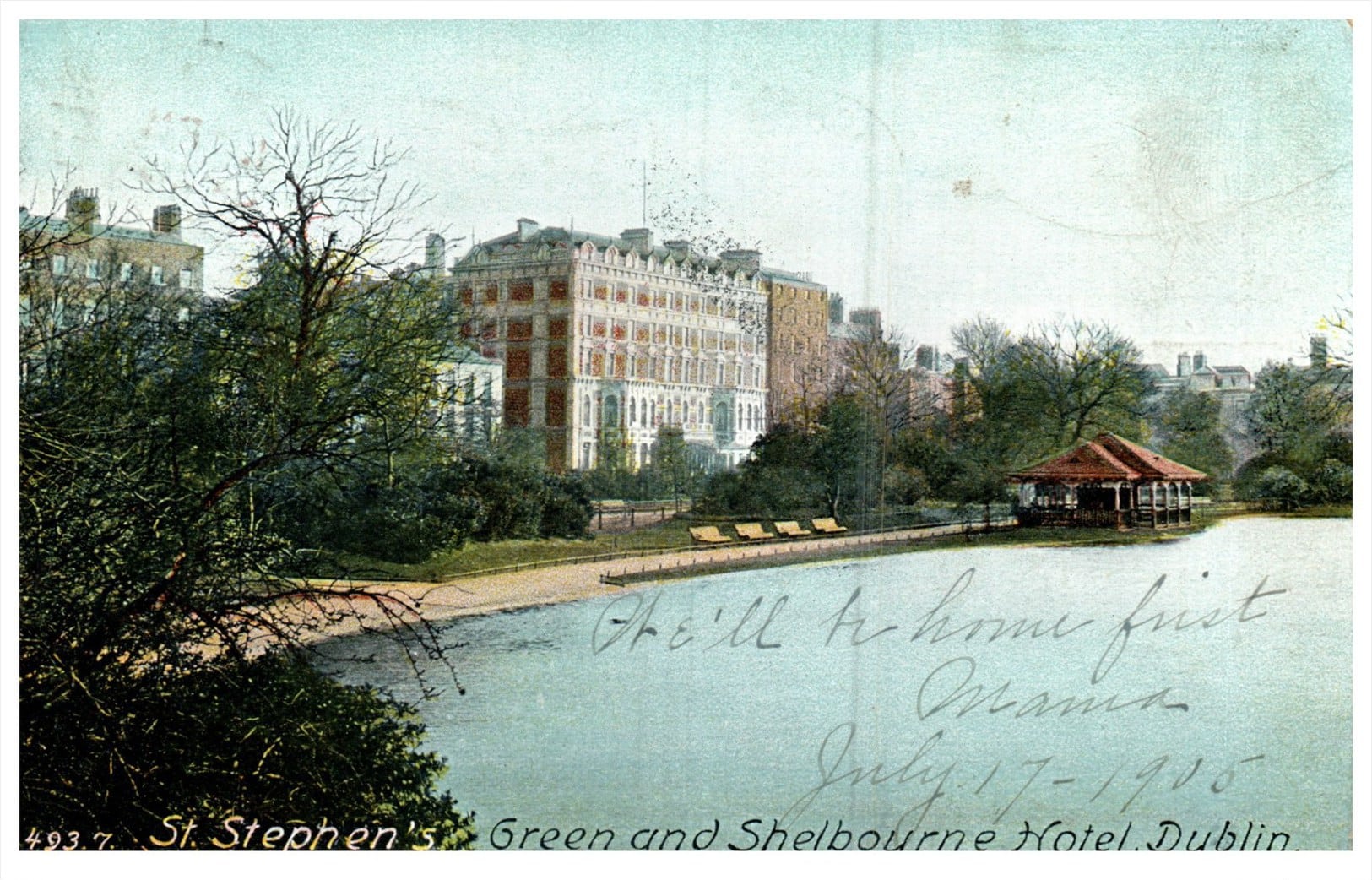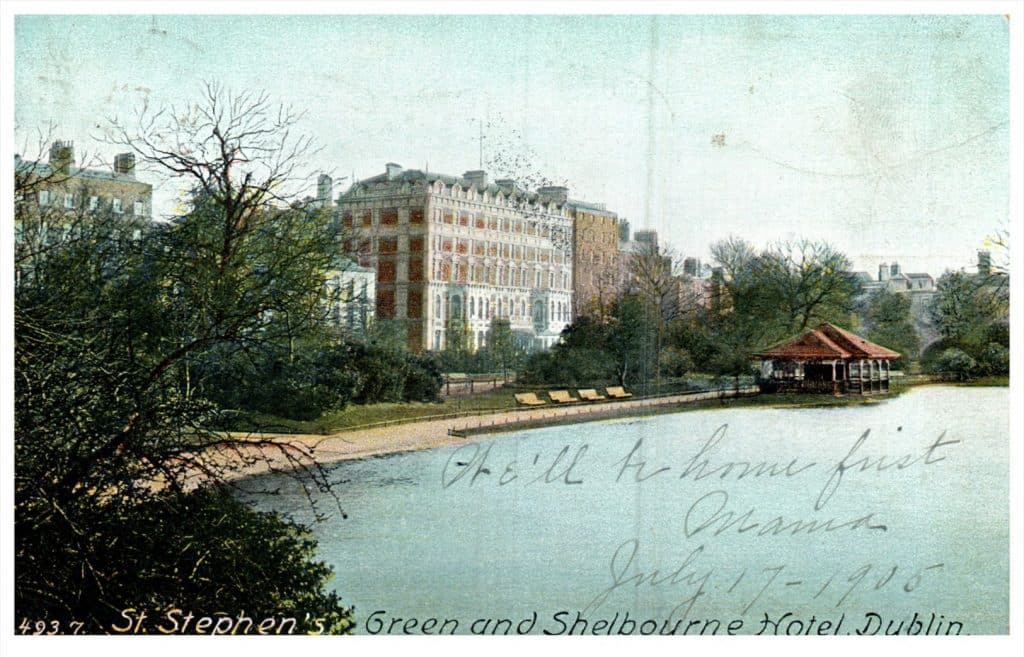 While Stoker was working at Dublin Castle, he took an unpaid critic post at the Dublin Evening Mail which was previously co-owned by Sheridan Le Fanu. Theatre critics were not held in high esteem, however, Bram became known for his well-written opinions. He came to the attention of actor and later Lyceum theatre manager and Freemason, Henry Irving, after Irving's performance in Hamlet was given a favourable review.
Stoker was invited to the Shelbourne Hotel at the precipice of St Stephen's Green, where Henry was staying. A dinner and discussion began a lifelong relationship between the two as Stoker went on to become manager of the Lyceum theatre for Irving, a role that would last 27 years. Stoker went on to name his son after Irving and based the enigmatic and persuasive Dracula's traits and demeanour on his friend and idol.
The Shelbourne Hotel was renovated from old Dublin townhouses dating back centuries, with dignitaries and movie stars staying under her roof and historic military events taking place within her walls, it is little wonder that the Grand Old Lady of St Stephen's Green is known as one of Ireland's most haunted hotels.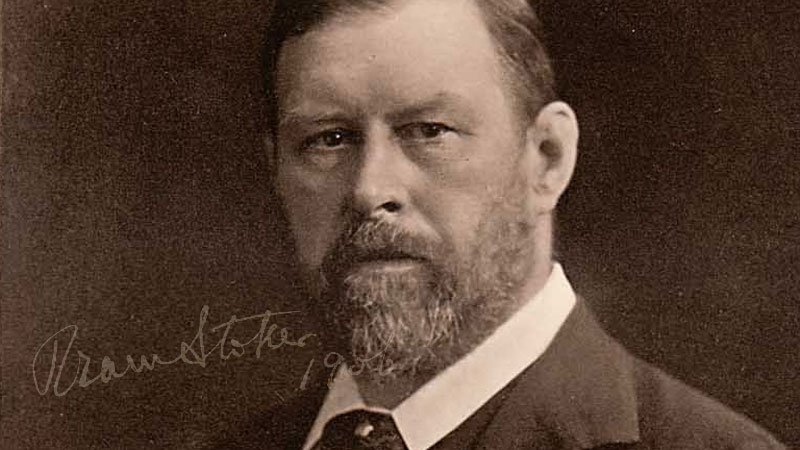 Saint Ann's Church of Ireland, Dawson Street, Dublin 2
Dating back to the beginning of the 18th Century, St Ann's Church has a prime position in an area of affluence and prestige. Private pews were actually sectioned off from the rest of the congregation for people of note and, of course, wealth.
Residing just a stone's throw from the church, Bram Stoker chose this reputable house of worship for his wedding to Florence Balcombe on 4 December 1878, shortly before their move to London.
Since 1723, bread shelves in the church have contained loaves of bread for the poor of the city by bequest of Lord Newton. The tradition is still maintained today. Any person may remove the bread without hindrance or risk of question. A bust of Bram Stoker sits within the church.
30 Kildare Street, Dublin 2
Kildare Street has played an important role in Irish history and today includes Leinster House, home to the Irish Parliament known as the Oireachtas and the National Museum of Ireland (Archaeology and History), as well as the Royal College of Physicians, with stories of body snatching and ghostly surgeons.
Number 30 was the residence of Bram Stoker and also the first marital home for both him and Florence, before they emigrated to England. Today, it is the office of a Counselling Psychologist who would probably have a very informative professional opinion on how Bram Stoker's daily life impacted on the creation of one of the most recognisable stories of all time.
Ballybough Suicide Plot, Junction of Clonliffe Road and Ballybough Road, D3
The area was orginally known as Mud Island, due to its proximity to the former mud flats and the River Tolka. It was a hive of depravity and despair, full of pirates, rogue tradesmen, prostitutes and drunkards.
Not to be confused with the nearby Ballybough Cemetery, which has its own ties to the Jewish community dating back to the 19th century, the plot now stands as wasteland slowly being developed with benches and advertising hoardings. At the time of Bram Stoker, however, things were much more sinister and today you will be standing on tragedy.
As well as being a mortal sin, the act of suicide was an offence against the Crown. The penalty was for all assets to be handing over to authorities. The body of the deceased had a stake driven through it and the burial would be on unconsecrated ground, wasteland which was to be at a crossroads. This follows the superstition that those who died in ungodly ways would rise again as deviants if not kept down by careful burial and tethered by stake or stone to Hades.
The plot at Ballybough would also contain the remains of executed criminals and infants who died before baptism, as well as victims of mass death by disease such as cholera. With later burials taking place at midnight, fear set in with locals, never to pass by at the onset of darkness. To this date no real development has taken place.
Bram Stoker was known pass the location regularly and grew up on the tales of horror and fear that emanated from the area.
Castle Dracula Experience, Clontarf, Dublin 3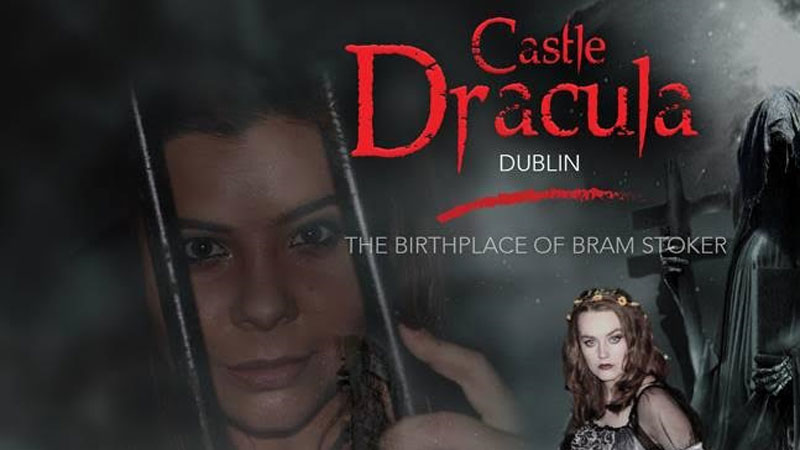 Coming full circle, the Castle Dracula Experience is just a stone's throw from the birthplace of Bram Stoker. The creation of a fellow Irishman and life long Stoker fan, this unique Bram Stoker Dublin attraction gives a little bit more. An interactive experience, revel in the story of Dracula with characters including Renfield and Dracula himself.
You can be hypnotised in the world's only Graveyard styled theatre, as you indulge and are drawn in by the powers and charisma of the Prince of Darkness, before you explore the Bram Stoker Vampire Museum, one of a kind.
Artefacts include family photos, details of Stoker's time in Trinity College, a deathbed lock of the writer's hair, paintings and an original copy of the Dracula manuscript.
There are of course, many other locations where the impact of Bram Stoker remain within Dublin, including St. Michan's Church with its mummified corpses and the annual Bram Stoker Festival itself. So, when the time is right, be sure to follow in the footsteps of Bram Stoker's Dublin. Experience first-hand the path to the Gothic horror writer's masterpiece. As Bram Stoker says himself:
"I want you to believe…to believe in things that you cannot." – Dracula 1897
Discover Bram Stoker London must-see sites here, written by Bram's great-grannephew, Dacre Stoker!
You can also discover these fun facts about Dublin!
Have you ever been to these Bram Stoker Dublin sites? Tell us about them in the comments section below!