Reading Time:
4
minutes
Walk the life and story locations of legendary Irish horror and ghost story writer Sheridan Le Fanu, thanks to this guide from ANN MASSEY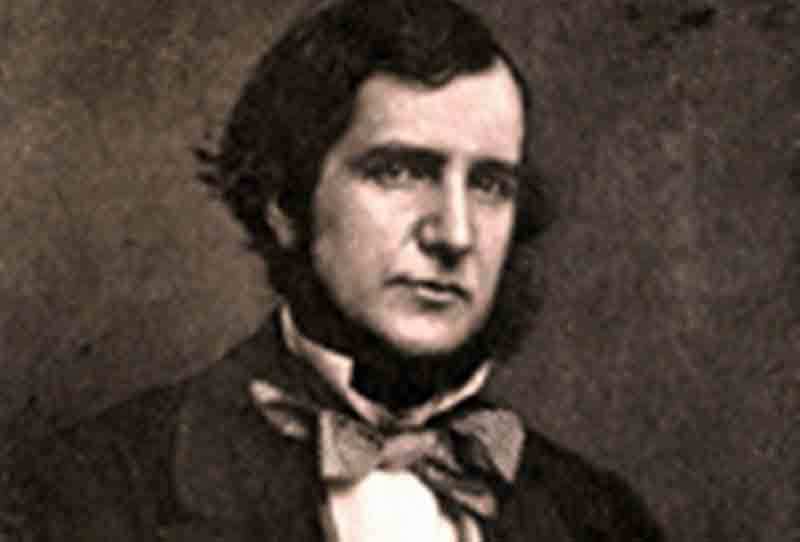 When it comes to Gothic horror and ghost stories of the classic genre, few are held with more reverence than the author of vampire novella Carmilla, which preceded Stoker's Dracula by some 25 plus years.
Sheridan Le Fanu was not just master of the horror story, but a prolific ghost story writer, held in high esteem by M.R James.
From birth to death, many of his stories were based on his experiences in Dublin and County Limerick, so let's follow in his ghostly footsteps…
45 Lower Dominick Street, Dublin 1
Joseph Thomas Sheridan Le Fanu was born in the heart of Dublin, descended from the Huguenot French Protestants with a successful literary family pedigree extending back to his grandparents and great uncle.
While much of the street has been subject to redevelopment, some of the grand houses remain.
In a strange coincidence, Le Fanu would go on to write the chilling story of 'Sir Dominick's Bargain' which we shall visit later.
St Mary's Campus, Phoenix Park, Dublin 8
Now a nursing home, this used to be the Royal Hibernian Military School for orphans of the British Armed Forces.
It stands at the Chapelizod village entrance of the Phoenix Park, home to the Irish President and dating back to Viking burials.
As an infant, Sheridan Le Fanu moved here with his family, his father taking on the role of school chaplain.
What the young child witnessed during his time here led to the story of 'The House by the Churchyard'.
Set in the village of Chapelizod, it begins with an eerie late hour funeral and the discovery of an old skull with signs of pre-mortem trauma within the churchyard.
A dark mystery unfolds leading to a death in Phoenix Park.
Abington Rectory, Abington, Murroe, County Limerick
In 1826 at the age of 12, Le Fanu's father took up the post of Rector in this east Limerick parish, following a sharp decline in finances.
Home schooled by a sub-standard tutor, young Joseph found himself relying more and more on his father's extensive library.
Memories of his time in Limerick lead to at least three tales.
Cappercullen House, Abington, Murroe, County Limerick.
'An Authentic Narrative of a Haunted House and Ultor De Lacy: A Legend of Cappercullen' is a tale of spooky happenings, evil and exorcism. Cappercullen House or castle as it was known, became a part of Glenstal Abbey estate near le Fanu's Limerick home and was in ruins at the time of his residency.
The estate is still there and tennis courts are built on the original site, however the gardens and a partial ruin, believed to be a part of Cappercullen House remain.
While the family in the story are fiction, the De Lacy name is very much a part of Irish nobility and the house itself has a strong ties to local families of importance.
Murroe Wood, Murroe, County Limerick
'Sir Dominick's Bargain' is set once again in the familiar surroundings of Le Fanu's teenage years.
A dilapidated mansion known as Dunoran set within the woods.
A story of murder, an encounter with the devil, and a pact signed in blood. If you explore Murroe Wood, be careful not to bargain with a stranger…
Lough Gur, Bruff, County Limerick
'Stories of Lough Guir' is one of Le Fanu's more popular collections and relates to the mystical Neolithic site not far from Limerick City.
The account references renowned Irish folklore and local ghost story collator, Thomas Croft Croker.
The tales are a combination of the gothic writer's own wonderful mind and the folklore known to anyone familiar with this ethereal location. This collection was published posthumously.
Trinity College, College Green, Dublin
Sheridan Le Fanu studied law at the world-famous landmark of education which also saw writers Oscar Wilde, Bram Stoker, Jonathan Swift and Samuel Beckett as members of the prestigious Alumni.
He became a contributor to Dublin University Magazine in 1838 and his first published story was 'The Ghost and the Bone-Setter', a lighter ghostly encounter based on papers left by his friend, a priest in the south of Ireland called Francis Purcell.
Aungier Street, Dublin 2
'An Account of Some Strange Disturbances in Aungier Street' is a spooky tale of night terrors, poltergeist activity and screams in the night after the purchase of a few old houses on the Dublin city thoroughfare that dates back to the late seventeenth century.
Although now filled with a college, civic buildings and dining establishments, the street itself retains the character and weight of history that made le Fanu select it as the setting for this ghostly masterpiece.
18 Merrion Square, Dublin 2
Now number 70 Merrion Square and home to the Arts Council, Le Fanu rented the residence from his in-laws from 1856.
Life really did begin to imitate art as his wife's erratic behaviour escalated into extreme neurosis, and she was convinced her late father was visiting her to tell her of a place waiting for her in the family vault.
Two years later she died in unexplained circumstances which were put down to hysteria.
Sheridan Le Fanu descended into grief and reclusiveness until his own death on 7th February 1873. Officially recorded as a heart attack, the horror writer was believed to have died of fright in the very house that claimed his wife.
A memorial plaque hangs on the exterior of the building.
Mount Jerome Cemetery, Harold's Cross, South Dublin (Sheridan Le Fanu's burial place)
Fifty-eight year old Sheridan Le Fanu was interred in the Bennett family vault along with his wife, her father and siblings.
In a strange twist that brings the author full circle, the cemetery dates back to 1836 and was named after a Protestant reverend who owned the estate on which the cemetery was built.
The burial ground only came into being after a previous attempt to create a cemetery on Phoenix Park was thwarte.
Buried in the same cemetery are a number of French Huguenots, reinterred following the redevelopment of local smaller churchyards in the 1980s.
Le Fanu Park and Le Fanu Road, Ballyfermot, Dublin 10
No walk through the life and work of Joseph Thomas Sheridan Le Fanu would be complete without a visit to the two locations in the city of his birth and death that bear his name.
Ballyfermot is by his childhood home near Chapelizod and referred to in 'Ghost Stories of the Tiled House.'
If you get the chance, visit Ireland and journey to the locations that map the life and creative mind of one of Ireland's most revered horror and ghost story authors of all time.