Reading Time:
2
minutes
FRANCES ABBOT tells us how a French couple may have snapped a photograph of a Scottish spectre at Fort William!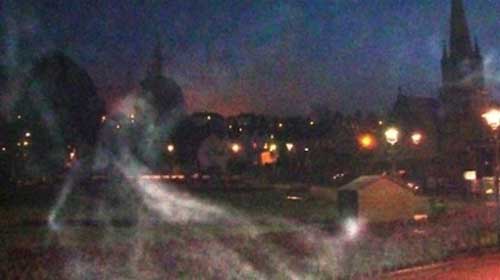 Just imagine it. You take a holiday snap, a street view of the lights of a town at night, something to show when you get back to the grind of everyday life, and you discover you have captured a photograph of a ghost. This is what happened to a French couple on a five day tour of the West Highlands in 2009 when they stayed at the tourist town of Fort William.
The town lies at the end of the West Highland way and the start of the Great Glen Way; great for walkers. It is near the foot of Ben Bevis and various Munro; great for climbers, and it is the start of the chain of lochs and canal locks that almost split the Highlands in two along the fault line of the Great Glen.
However, the town was not always a peaceful place. It was the scene of many a violent struggle from the invasion of Cromwell to the Forty-Five Rebellion and the aftermath of the Battle of Culloden when merciless retribution was inflicted on the defeated highlanders.
And it seems that our two French tourists may have tapped into that brutal time.
It was a clear night and neither saw anything unusual as they stood in the High Street to take the photograph. It was only when they looked at the result that they saw an extensive wispy white mist between the camera and the view. They could not understand it, for none of the other photographs showed anything wrong with the camera.
It was only when they showed the picture in the hotel where they were staying that an explanation was suggested. Until the 1970s the spot where they had been standing was the site of the old hanging tree put to frequent use by the governors of the Old Fort over the years.
The tree was cut down to make way for a new library and many folk predicted that it heralded a fulfilment of a Gaelic witchcraft prophecy – a curse of ill omen.
The first day the library opened the staff found the door unlocked and a scene of disruption inside. Chairs and plants were knocked over, toilets were flushing and among the various mysterious bangs an electric typewriter could be heard. The staff fled. On their eventual return it was found that the words had been typed upside down.
The photograph and the story made the local newspaper, plus a report on Scottish Television of 17th November 2009.
I haven't heard of anything spooky occurring in Fort William recently. I think you will find it is safe to visit for a holiday. Be brave.
Tell us what you think of the photograph in the comments section below