Reading Time:
6
minutes
Ghosts BBC Series 1 (2019): CHRISTINE MILLER takes a look at the episodes and characters of this spooky TV comedy.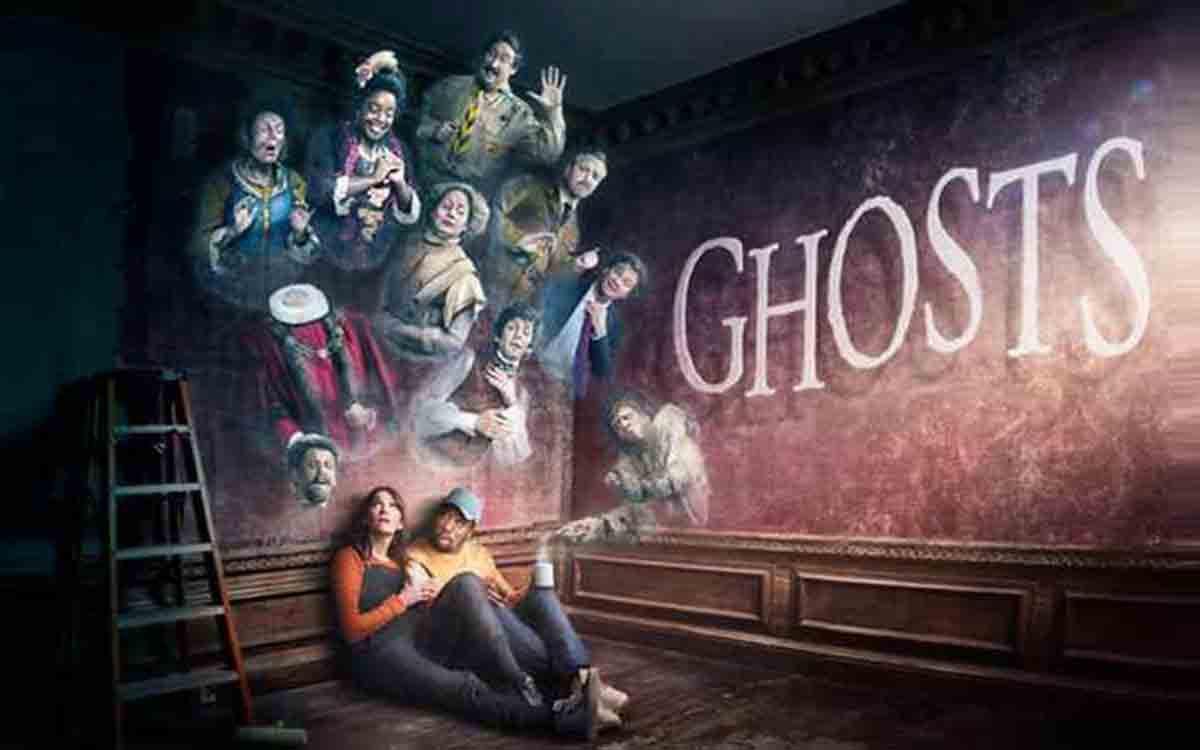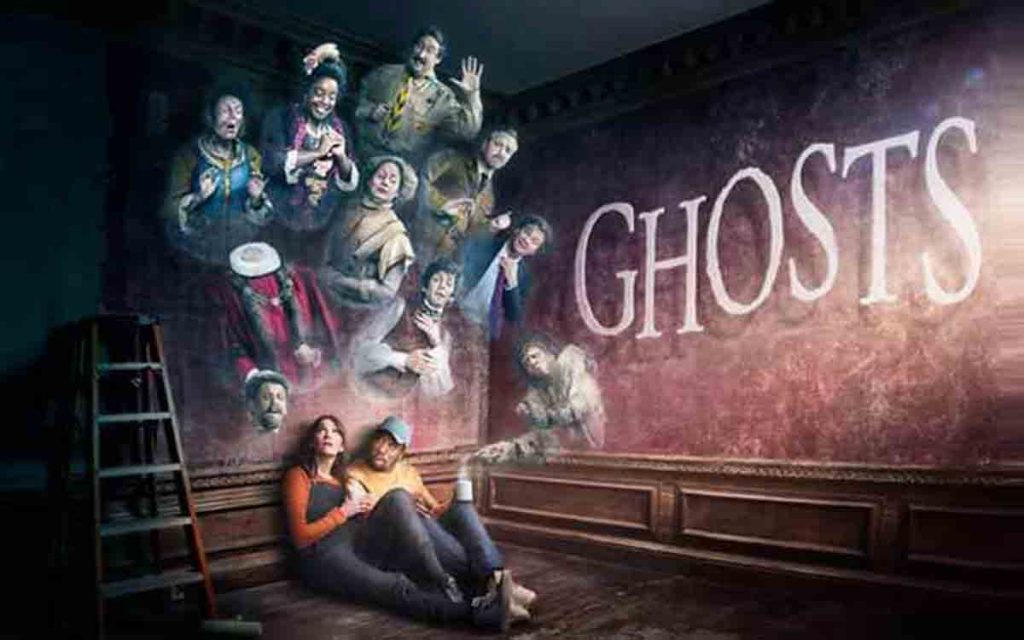 Ghosts is a hugely successful British television series comedy which first aired on BBC One in April 2019, which was written and performed by many of the actors of the hugely popular children's series Horrible Histories.
The show revolves around a young couple, Mike and Alison, who are in equal measure surprised and delighted to discover they have inherited the crumbling yet beautiful Button Hall from a distant relative. Having ignored the advice of their solicitor to sell the dilapidated property, the couple move in and begin decorating.
There's only one problem.
The house is terrorised with a large number of bickering ghosts, ranging from a trouserless MP, a (literally) smouldering young woman, a Scout Leader with an arrow through his neck, to Lady Fanny Button who's husband threw her from the window after discovering his dirty secret.
Ghosts BBC Characters
Alison and Mike Cooper: a young couple who inherit Button Hall. and following being pushed out of the window by one of the ghosts, Alison can see and hear the spooky gang that inhabit their new haunted home, while Mike is unable to.
Julian Fawcett MP: a unscrupulous Member of Parliament, sans trousers, who died in the early 90s while being embroiled in a sex scandal.
Thomas Thorne: an unsuccessful Romantic Byronesque poet who falls in love with Alison at first sight.
Lady Fanny Button: one time owner of Button Hall and all-round prude, Lady Fanny was murdered by her husband after she discovered him having a threesome with the Butler and the Groundsman.
Robin: a Caveman who once occupied the grounds that Button Hall was built on, and an avid chess player.
Kitty: an overly-familiar, highly optimistic Georgian lady. Believes babies are made by touching ears.
Mary: a victim of a Witch trial, Mary continues to smoke (literally) from her death by burning.
Pat Butcher: a friendly Scout Leader who was shot through the neck with an arrow by a young Scout.
The Captain: a Second World War Army Captain who is obsessed with the utilisation of military tactics. And the male visitors to Button Hall.
Ghosts BBC Series 1 (2019) Episodes
Here is your guide to the first series of Ghosts BBC Series 1:
Episode One "Who Do You Think You Are?"
Young couple Alison and Mike are surprised to discover that a late relative of Alison's has left her a beautiful yet dilapidated stately property in her will. When they move in, the large number of ghosts from across a variety of historical eras that live in the Hall are horrified to find that the couple want to turn the crumbling house into a hotel.
The ghosts hatch a plan to force the couple to leave, with some of them using their best ghost skills to unnerve the couple into moving out: Robin, a Caveman, can manipulate the lights, Mary, a victim of a Witchtrial, can manipulate smells thanks to the constant smouldering from her death by burning, and Member of Parliament Julian can move items a millimetre when he exerts extreme concentration.
Alison however, puts all these supernatural occurrences down to the house being in such a state of disrepair. Julian then, spotting an opportunity, decides to take matters into his own hands and push Alison out of the window as she leans out. She is taken to hospital where she spends a fortnight in a coma.
Upon her release, Alison is horrified to discover that, thanks to her near-death experience, she can now see and hear the ghosts that haunt her new home…
Episode Two "Gorilla War"
With Alison home from hospital and seeing the ghosts, Mike is convinced this is just a hangover from the coma and dismisses her concerns that their new home is haunted. Meantime, the ghosts continue with their mission to rid themselves of the couple forever – the Captain decides on a "campaign of attrition" in order to rid themselves of the Coopers.
Alison is forced to see a doctor after the ghosts ramp up their harassment, which proves that she is not merely imagining the spectral gang. The couple soon decide that they have no option but to leave Button Hall once and for all, but discover that they cannot be released from a large loan they took out to refurbish the hall without losing all of their money.
Alison then decides to speak to the ghosts to try to come to some arrangement. Asking them what they want from her, they tell her that her and Mike should leave the property. Alison says that this is not possible, but if there are any other demands, she is happy to help if she can, for the sake of a peaceful life.
Each ghost has a demand: Robin the Caveman wants a chess partner, Kitty wants a girly sleepover, The Captain, having discovered a television, wants an hour of war documentaries a week. And so on.
Alison manages to fulfill these requests which will keep the ghosts at bay.
For now.
Episode Three "Happy Death Day"
In this episode, we discover that, at an archery lesson with his Boy Scouts, one of the young boys shot Pat through the neck while giving out safety instructions, and Pat's 'Death Day' is fast looming, which leaves him in a bit of a sad mood. Every anniversary, his living family members (his son, his wife and her new husband – who as it transpires, were having an affair while Pat was still alive) arrive at Button Hall. However, Pat does finds some peace when his relatives arrive with his newly born grandson, who they have named after him.
Meanwhile, the builders have arrived at Button Hall, much to the disgust of the ghosts. However, they don't stay long – Alison's unusual antics (largely having to communicate with the unseen dead) put them off, leaving the job unfinished.
Mike decides that he is fed up of being unable to use the bathroom without the fear of a group of ghosts watching him, and so heads for the pub for a number two. However, he soon makes peace with the idea that the ghosts are observing his every move (they really aren't), and he wanders around the house dancing naked in a defiant show.
Episode Four "Free Pass"
Mike and Alison agree to let a production company use Button Hall to film a piece about Lord Byron, nemesis of Thomas, the unsuccessful Romantic poet for £3,000 a day.
Desperate for money, the couple decline to inform production of the dangerously unsound flooring.
Thomas is disgusted to learn that the actor playing Byron is Alison's 'free pass', and coupled with his horror at discovering there is a biopic of his enemy being made in his home, he decides to 'kill' himself, by throwing himself in a nearby lake.
Lady Fanny is appalled to discover that a sex scene is being filmed, while the rest of the ghosts are rather keen to watch. Sadly for them, the actor playing Byron falls through the dodgy floorboards before managing to get down to business, and filming is promptly shut down.
By the end of the episode, Thomas is still attempting to drown himself in the estate's lake.
Episode Five "Moonah Ston"
The Cooper's wealthy and extremely snobbish neighbours invite themselves over for dinner to discuss access rights for their driveway thanks to an ancient claim over the land. They ask the couple for £20,000 to settle the matter – £20,000 that Mike and Alison do not have.
Robin meanwhile is eager to observe the lunar eclipse and wants the rest of the mostly reluctant ghosts to be involved in his traditional celebrations; namely marching through Button Hall chanting 'moonah ston" and causing mayhem at the dinner party, which only adds to Alison's already mounting stress.
Alison is able to distract the ghosts by allowing them to watch the TV series Friends, something they soon become rather invested in, leaving Robin's lunar celebrations lacking.
However, dinner turns out to be a shambles, and with Alison and Mike still owing £20,000 to their neighbours, MP Julian provides them with information about their new acquaintance's offshore bank account, having known the neighbours while he was living. One veiled threat to the couple from Alison to expose his finances, and the matter of ancient land rights is soon settled in Alison's favour.
Episode Six "Getting Out"
The Captain has become utterly fed up with Mike and Alison's incessant refurbishments in the middle of the night and wants the Coopers to leave Button Hall once and for all. This leads to quite a fallout between him and the other ghosts who, it seems, have grown quite fond of the couple.
Meanwhile, a representative from a hotel chain comes to visit to tempt Alison and Mike into selling. The ghosts, all except the Captain, are disgusted to find out that Alison and Mike have decided to sell and attempt to find reasons why they should stay.
Thomas' idea of 'ghost' writing a bestselling erotic novel in Alison's name in order to make them the money they need to refurbish the Hall is rejected by the group.
However, it is soon discovered by the hotel chain that there is a plague pit under the house, and quickly withdraw their offer to the couple.
It would seem Mike and Alison will not be leaving Button Hall, or its ghostly inhabitants anytime soon…..
Ghosts BBC Series 1 is showing now on BBC iPlayer.
Ghosts Series 1 began airing at 20.30 on BBC One on 21 September 2020, but if you missed it, you can catch up on BBC iPlayer also.
Read Ghosts Christmas Special 2021 REVIEW
Watch Ghosts BBC Series 1 Trailer
Did you enjoy Ghosts BBC Series 1? Tell us your thoughts in the comments section below!