Reading Time:
2
minutes
ANDREW GARVEY reviews Rude Awakening, the third episode in Hammer House of Horror TV Series

Title: Rude Awakening
First televised: 27 September 1980
Director: Peter Sasdy
Screenplay: Gerald Savory
Starring: Denholm Elliot, James Laurenson, Pat Heywod, Lucy Gutteridge and Eleanor Summerfield.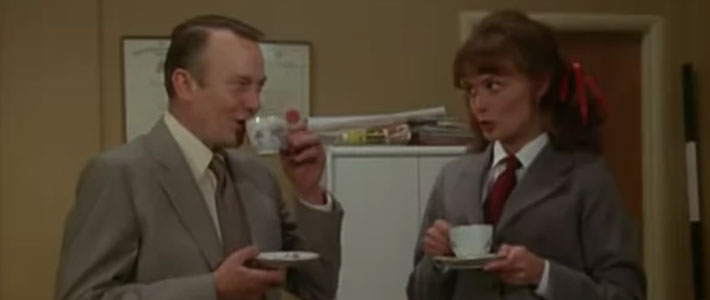 Plot of Rude Awakening
Sleazy estate agent Norman Shenley is besieged by disturbing, and erotic dreams about his assistant Lolly, the murder of his very much alive, but unloved wife Emily and a very mysterious house called Lower Moat Manor.
Where Have I Seen Them Before?
Denholm Elliot's film and TV career lasted from 1949 to 1992 and included roles in such classics as Alfie, Trading Places, Raiders of the Lost Ark and Indiana Jones and the Last Crusade.
James Laurenson starred in the film version of Pink Floyd's the Wall and appeared as Major General Ross in four episodes of mid-90s historical action TV drama Sharpe with Sean Bean.
Pat Heywood was nominated for a BAFTA for her role as the Nurse in 1968's Romeo and Juliet and, three years later, starred in 10 Rillington Place as the wife of notorious London serial killer John Christie.
Lucy Gutteridge starred in, and received a Golden Globe nomination for, her role in lavish 1982 mini-series Little Gloria… Happy at Last.
Eleanor Summerfield's film and TV career lasted over 50 years and she is best known for roles in Scrooge (1951) and the Watcher in the Woods (1980).
Best line
"I can't help you, Mr. Shenley. You see, I'm dead. Aren't you?"
Review of Hammer House of Horror Rude Awakening
Cramming more creepy images and events into the first 10 minutes than the previous (also Sasdy directed) episode did in 50, this is a disorienting, odd and most of all, very entertaining little film.
Norman Shenley's ever-more paranoid, deluded world collapsing in on itself, one nightmarish, contradictory experience after another is very well acted and great fun to watch and since it quickly becomes clear that much of what's going on is inside Norman's head, there are very few limits or constraints on where the story can go.
His long-suffering wife Emily (Heywood), the mysterious Mr. Rayburn (Laurenson), the fantastically posh Lady Strudwick (Summerfield) and office temptress Lolly (Gutteridge) all provide strong supporting characters but this is Denholm Elliot's show from start to finish.
By far the best of the series so far.