Reading Time:
2
minutes
GREGOR STEWART continues his series looking at the Most Haunted Scottish Castles with Balgonie Castle, Fife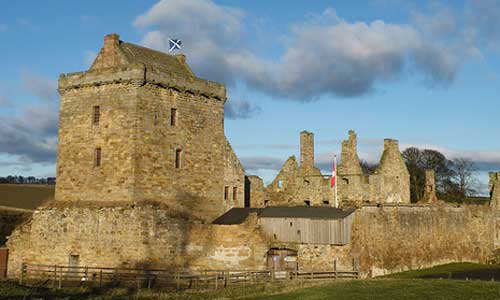 Dating back to the late 14th century, the tower of Balgonie Castle is the oldest complete tower house that remains in the Kingdom of Fife.
Situated just outside the town of Markinch on the banks of the River Leven, the castle was originally owned by Sir Thomas Sibbald of Balgonie, before being passed to Sir Robert Lundie, the Lord High Treasurer of Scotland, in the 15th century through marriage.
A new wing, incorporating an earlier chapel and tower from the original courtyard, was added to increase and improve the living accommodation, and the castle was later added to by subsequent owners.
By 1840 the castle was no longer occupied and in a state of disrepair following the removal of the roof to avoid paying taxes.
The castle was purchased in 1971 the tower house was restored.
It was bought by the present owners in 1985, reside at the castle and offer wedding facilities, with the ceremony taking place in the castle's Chapel which in the northeast wing, and the banquets in the Great Hall in the same wing.
Although restored, this part of the castle remains unaltered from its original design.
Green Lady haunts Balgonie Castle
A Green Lady has been seen at the castle. The ghost is believed to be connected with the Lundie family, affectionately known as Green Jeanie (although she is not the same 'Green Jean' of Wemyss Castle).
She has been witnessed at the castle for centuries, with records from 1842 referring to her as 'a well known phantom'.
A tall figure has also been seen, but he has been identified through a portrait hanging in the castle as the first Earl of Leven, Alexander Leslie, who died at the castle in 1661.
Other ghosts of the castle include a soldier witnessed in the courtyard, dressed in what is described as 17th century clothing, a head with no body that is seen floating through the air, an elderly man, a hooded figure and a phantom dog.
Guests also report hearing conversations taking place in whispered voices around the Great Hall.
Have you seen a ghost at Balgonie Castle? Tell us about it in the comments section below!