Reading Time:
3
minutes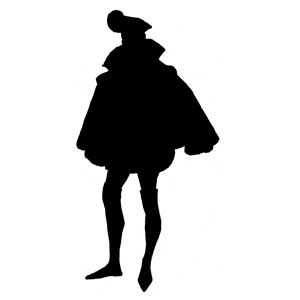 NIA JONES recounts the magnificence of Welsh legend Huw Llwyd of Cynfal Fawr, The Mercenary and Sorcerer of North Wales
Huw Llwyd has become a celebrated figure in North Wales folklore; many believed him an accomplished astrologer and sorcerer with extensive knowledge of white and black arts from magical books.
The legend purports he was born the seventh son of a seventh son; considered a powerful conjurer by nature with an ability to see into the future, he allegedly feasted on eagle's flesh so that nine generations of his decedents could charm for the shingles.
From Llan Ffestiniog, a footpath leads to the River Cynfal waterfall; a large rock in the middle of the water is known locally as 'Huw Llwyd's Pulpit' and the "pulpit" is still there today. It is alleged that Huw would stand on the rock preaching sermons and incantations, exorcising demons from those possessed and reciting poetry.
There are two famous tales involving Huw Llwyd:
The Bandits of Pentrefoelas
While staying at a Pentrefoelas coaching inn, Huw was enjoying his evening supper when four men came in and asked to join his table.
With Huw's foretelling abilities, he sensed the men were notorious bandits from YsbytuIfan in Caernarfonshire; they planned to rob and kill him during the night.
Huw worked his magic powers and made a horn grow from the centre of the table, the robbers, obliged to look at the object stayed in their static position all night, with the bandits gazing at the horn Huw retired safely to bed. In the morning, the bandits were arrested and thrown in the jail.
The Witches of Betws-Y-Coed
One day Huw Llwyd investigated a Betws-y-Coed inn that was popular with travellers making their way back from Ireland.
Those staying overnight would find their money mysteriously vanished by morning, even though the bedroom doors were locked.
The inn was run by two beautiful young sisters, who were just as perplexed as the travellers about the recent troubles.
One disgruntled customer had consulted Huw about how he suspected dark forces were at work in Betws-Y-Coed.
Therefore, Huw dressed in his army regiment uniform with a sword by his side so he would blend in, he told the sisters that he was travelling to Ireland and needed lodgings for the night.
After a pleasant evening with nothing-untoward happening at the inn he retired to bed, requesting extra candles saying it was a soldier's habit to have a constant light at night.
Locking the door and keeping his sword close he waited, eyes closed pretending to sleep until he heard a soft noise coming through the narrow slit in the walls between his room and the next.
Two black cats entered his room. Presuming Huw was in slumber the cats darted for Huw's pocket and began to gently remove his purse.
Quick as a flash Huw brought the waiting sword down on one of the cat's paw, with a terrifying yelp both cats ran back in the direction they had come.
Next morning Huw went down for breakfast, only one sister greeted him.
He enquired about the other sister and was told she was unwell, Huw then insisted on seeing her to say goodbye, after demanding he was taken in to see the poorly sister.
On offering his hand to the sickly woman she very reluctantly, and with great pain put out her hand to shake his, Huw noticed it was heavily bloodied and bandaged.
Now Huw Llwyd was certain that he discovered the culprits of the overnight thefts, the sisters would use their dark magic to change themselves into cats so they could steal money from their patrons.
Knowing he had to protect his own kind, he simply gave them a warning; the sisters acknowledged their wrongdoings and were deeply sorry.
Whether there is any truth in these tales of magical endeavours, there is strong proof that Huw Llwyd actually existed.
Born circa 1568 and dying circa 1630, he dwelled at a house called Cynfal Fawr in Maentwrog, Gwynedd.
He was certainly a poet, (his poems noted in the Penarth Manuscript), a clergyman and was mercenary in the army of King James I, serving in many places including France and Holland.
He wrote books on military tactics and was a wealth of information on herbal medicine.
His counsel on the occult was highly respected, thus likely spawning his reputation as a sorcerer.
Many mundane and banal events were commonly associated with superstition and witchcraft during the time, Huw Llwyd probably used a little spin on his own stories to enforce fear and his authority over the people.