Ireland's little people have their own shrine at the National Leprechaun Museum in Dublin, says DAVID SAUNDERSON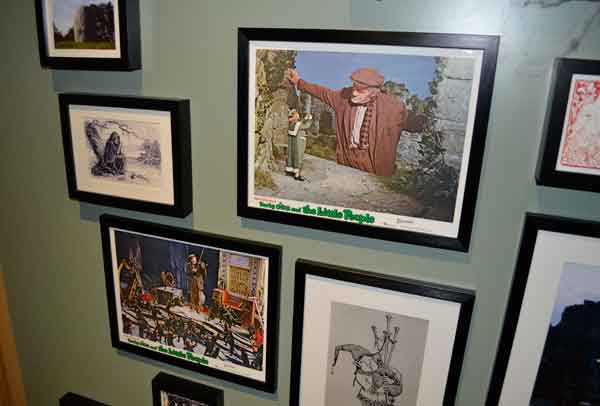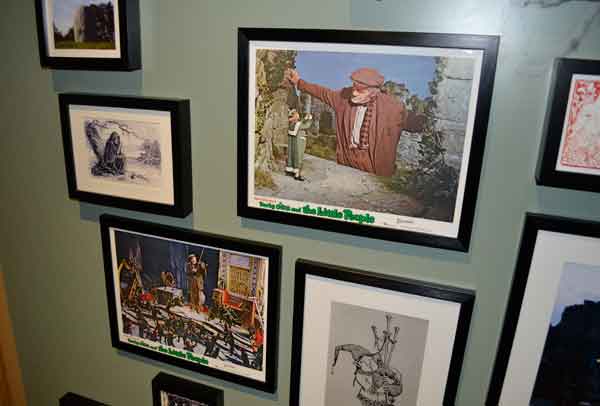 As part of a flying visit to Dublin at the weekend, I ventured to the National Leprechaun Museum on Jervis Street to discover more about the Emerald Isle's most famous fairy.
Having heard negative reviews of the place in the past, I wasn't sure what to expect but I went in with an open mind and looked forward to experience some magic at the centre.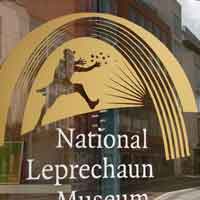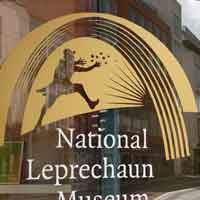 The National Leprechaun Museum was opened in 2010 and claims to be the first leprechaun museum in the world.
The short tour of the centre tells the stories of leprechauns and other Irish magic through the ages.
The guide who was presenting the tour was outstanding. Her energy and enthusiasm for the subject was second to none.
The only problem was – there really isn't much to see at the museum. In fact, it probably shouldn't be called a museum, when there isn't a lot on display.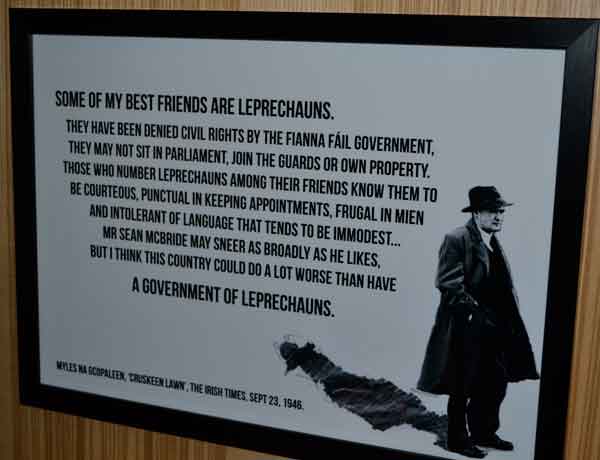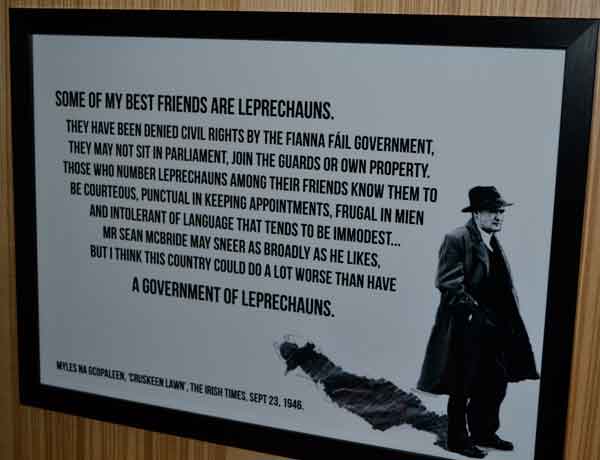 The tour goes for about 40 minutes and if you are happy just listening to someone tell stories about Irish mythology and folklore, it's a great time. But don't go there thinking you are going to see anything.
At the beginning of the tour, there are some wonderful displays of photographs and posters from films, books etc relating to leprechauns. But that is only a few moments before you are herded into a room with "big chairs" for your leprechaun experience.
The rooms resemble preschool classrooms with minimalist furniture and decor to protect youngsters from hurting themselves.
Which is why I think the National Leprechaun Museum is really just for kids.
The idea of the museum is great and worthwhile. Ireland has a rich and fabulous history of mythology and folklore that deserves to be presented as a genuine tourist attraction. Unfortunately, the National Leprechaun Museum falls short of the mark.
If you have little kids, bring them there – they will love it – but adults might be a little disappointed.
Overall, I can see what the National Leprechaun Museum is trying to do. They have lots of different events on and from the quality of the guide, I am sure the events – such as those at Halloween – would be very worthwhile experiences and lots of fun.
Find out more about Ireland's National Leprechaun Museum in Dublin at www.leprechaunmuseum.ie
---
Night At The Leprechaun Museum, Dublin REVIEW
(Article published 5 August 2017)
ANN MASSEY and CHRIS RUSH ventured to Dublin to visit The Leprechaun Museum located in the city, just off Jervis Street Shopping Centre, to take part in the adults-only DarkLand Tour.
Neither had been before and had a great sense of expectation as they have a passion for Irish folklore and both will agree that they were not disappointed. CHRIS RUSH tells us more:
While waiting for our tour guide we congregated at the museum entrance which proudly displays very interesting ancient scripts, poems and other memorabilia which are at the heart of Irish lore and you can't help but be drawn to each individual piece to gain a better understanding of what is about to come.
Cue our tour Guide "Bridget" who enters with a bang and instantly everyone falls for her charm, quirky sense of humour and obvious love for what she does. I don't want to give too much of the experience away for future visitors but what I will say is that if you think you are going to hear stories about sparkling little winged creatures dancing on the top of mushrooms then you will be greatly mistaken as DarkLand takes participants deep into the dark, mysterious deeps of ancient Irish tales which will leave you contemplating what you have just heard.
With tales ranging from the Leprechaun, Banshee and Merrow People to Fairies, Irish Kings and Queens, participants quickly learn that the sugar coated version of Irish folklore they may have been exposed to is far from that and a more sinister undertone may be at play.
As for the museum itself it is extremely well laid out from the Giants Room which gives you an insight of the world from the little folk's point of view, to the Forest Room/Well Room, great detail has been implemented to ensure each visitor embarks on a unique and mystifying journey into the other world.
If Irish folklore is an interest of your then this is definitely a must!! The stories are incredibly told in an environment which sets the perfect tone.
If I had one criticism, with isn't in the grand scheme of things it would be that it ended too soon, even though we were in there for quite some time I didn't to stand up and leave, I wanted more and more! But this in part is a salute to the great work of all involved because you don't feel the time slip by and are in a way in a different world while you're taking on this wonderful journey.
So well done to the whole DarkLand team. We both really enjoyed our tour which is run by individuals who have an in depth knowledge and love for what they do. Well worth a visit – if you dare!
---
Interview with Theresa Coyne of DarkLand at the National Leprechaun Museum
(Interview originally published 8 August 2017)
ANN MASSEY caught up with Theresa Coyne to discover more before they began their journey into the heart of the darkest Irish folklore.
ANN MASSEY: Thank you for inviting us to experience DarkLand at the National Leprechaun Museum. Explain to us the concept of DarkLand and how it differs from the normal day tour.
THERESA COYNE: The day tour can be deemed by some as "selling out" to the stereotype of the leprechaun but we were also very aware that this portrayed cheery image so familiar to everyone is what many of our visitors want to see when they visit the museum. We wanted to find a way to bridge the gap between the daytime tour and the legitimizing of our folklore culture and storytelling, so DarkLand was born.
ANN: So what is DarkLand?


THERESA: DarkLand is an adult only experience that takes participants deep into the dark underbelly of Irish Folklore and that includes the not so loveable leprechaun! Although the stories are not for the faint hearted there is definitely a tongue in cheek element as our performers lead you through the museum and into a world of magic and superstition. We have hundreds of stories to tell and love nothing more than to show terrified guests that we are more than just a nation of leprechaun and banshee tales!

ANN: How did DarkLand begin and how did it evolve?
THERESA: We had been running it for a while as more of an interactive experience which was fine at the time, but we realised it could become more and start to focus on the Irish tradition of scary story telling. Currently there are four of us running the tours with each having their own twist. For myself I began telling folklore tales of the sea, however this soon developed into talking about the bad ass women from Irish mythology and folktales – they seem to have got a raw deal in the past and I want to put that right! We also have Paudie who focuses on the High Kings of Ireland and the fact that the real monsters in our culture are the humans themselves.
We have Áine who brings her own spin to the tales she tells and Ida who portrays 'Bridget', a bold, madcap character who can have you shocked and crying with laughter in the same breath. As the performances pass, we change the mould of the stories we tell and discover more ourselves so it keeps everything fresh. We have also noticed that DarkLand has started to feed into the day tours. Let's just say that some of our younger visitors who come in thinking fairies are sparkly and all sweetness and light leave more educated than when they came in!
ANN: So how did you end up on the DarkLand Tours and how has discovering the darker side of Irish superstition and folklore affected you?
THERESA: I have always had a passion for Irish mythology and outside of the museum I do stand-up comedy. The DarkLand tours not only give me a change to combine the two and entertain, but increase my own knowledge of folklore in the process, particularly since I took on the handling of our social media. I would always have considered myself grounded in a science background and somewhat of a skeptic, however if these stories have taught me anything it's not to take chances when it comes to Irish superstition. Let's just say if I happen upon a fairy tree there is no way I'm going to snap a twig from it!
ANN: Tell us about your Halloween event.
THERESA: Well what many people don't know, is that on this street was a hospital and the very building that our museum is in contained the Morgue! We had been donated a mirror that was said to be haunted so for Halloween we placed it in the basement which was where the Morgue was situated. Guests would roam the museum and have scares a plenty and finish in the basement where they would recite "Bloody Mary" in front of the haunted mirror!
ANN: Tell us a bit about the people who visit the DarkLand experience?
THERESA: Our demographic is made up of primarily UK and USA visitors. Only 20% of our visitors are Irish. I suppose they have the pre-conceived idea that it is the stereotypical leprechaun stories and don't understand what we are about. We really want to broaden our demographic and open that gateway from the banshee and leprechaun tales to the stories that are not so well known. We want people to be taken out of their comfort zone by sowing the seeds of doubt and demonstrating that in Irish folklore the light is very much offset by the dark and the creatures that inhabit it.