Reading Time:
3
minutes
Bradford's STEPHEN DOYLE was 16 when he sneaked into to the newly-released An American Werewolf in London. He tells The Spooky Isles that his underaged exploit resulted in a signed photo and letter of appreciation from the film's director John Landis …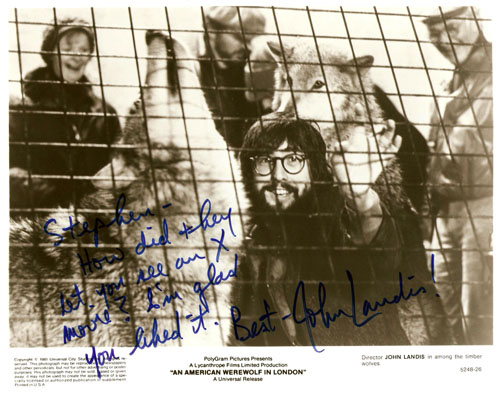 "I managed to get into An American Werewolf in London, an X certificate movie (adults only) in the Odeon in Chester, when I was 16 years old. I enjoyed the film so much I decided to write to John Landis care of Universal Studios, to say how fantastic it was. Obviously I must of included my age as he mentioned it in his reply.
I wasn't expecting the press pack which in pre internet days was something special to receive. I've liked Landis since and followed his career with interest, but as I have always enjoyed movies within the horror genre. An American Werewolf In London' has always been my favourite amongst his work.

Included in the Press Information was:
18 black and white photos;
A synopsis marked "not for publication";
Cast & Credits;
Production Notes; and
Background Profiles on John Landis, David Naughton, Jenny Agutter, Griffin Dunne; also Peter Guber and Jon Peters; George Folsey Jr and Rick Baker.
A couple of years after the UK release of the film, I was hiking/camping in South Wales and looked up the tiny Hamlet of Crickadarn (mentioned in the Production Notes) so I could take some photos (which I still have).
Over a few beers in the local pub, we were told some tales about how the film crew turned a vacant cottage into the exterior of 'The Slaughtered Lamb', how they placed 'The Angel of Death' statue in the middle of the crossroads and covered entirely the local red telephone box with a fake Oak tree.
We stayed a couple of nights on a local farmers field; he is leading his sheep in shot when David's London Doctor (John Woodvine) visits the Pub to make enquires.
My eldest daughter used this information for an essay when in Sixth Form. Later, when she actually had seen the film, it apparently is amongst her favourites too.
So there are my memories of An American Werewolf in London, a film I still enjoy today and sorry to hear it is to be remade."
If you have a special memory or some extraordinary movie memorabilia of a British Horror Film, please contact us – we'd love to hear your story.