Reading Time:
3
minutes
Today we begin a new regular column here on Spooky Isles. "The Brit Crypt" will see horror film junkie Richard Phillips Jones discuss his passion, which started with his childhood glued to the screen watching Friday Night Frights
Spring is here, and that means spring cleaning. For me, time to tackle piles of video cassettes languishing in cupboards, many of which have been part of my life for nearly 30 years.
Looking at them is like seeing my wasted youth flash before my eyes: An array of self-curated double-bills recorded off the TV, usually late on a Friday, for this was traditionally horror night on British TV. My introduction to these delights had been through the BBC (see my review of The Satanic Rites Of Dracula), but the 1980s was when the video recorder came into my life. ITV (then a network of separate regional stations, and better for it) supplied the material for my fledgling collection, as I tried to catch up with all those films I had only read about in Alan Frank's wonderful books, whose index pages acted as a personal must-see list.
Every ITV region had its own variant on this slot. My local station on the south coast, TVS called it Friday Night Fright, complete with an animated intro announcing its arrival after the News At Ten. After another week at school (which I hated), the weekly horror movie (usually British) was a godsend. Although mostly only 10 to 20 years old at the time, they already looked like they came from another world, one I enjoyed visiting.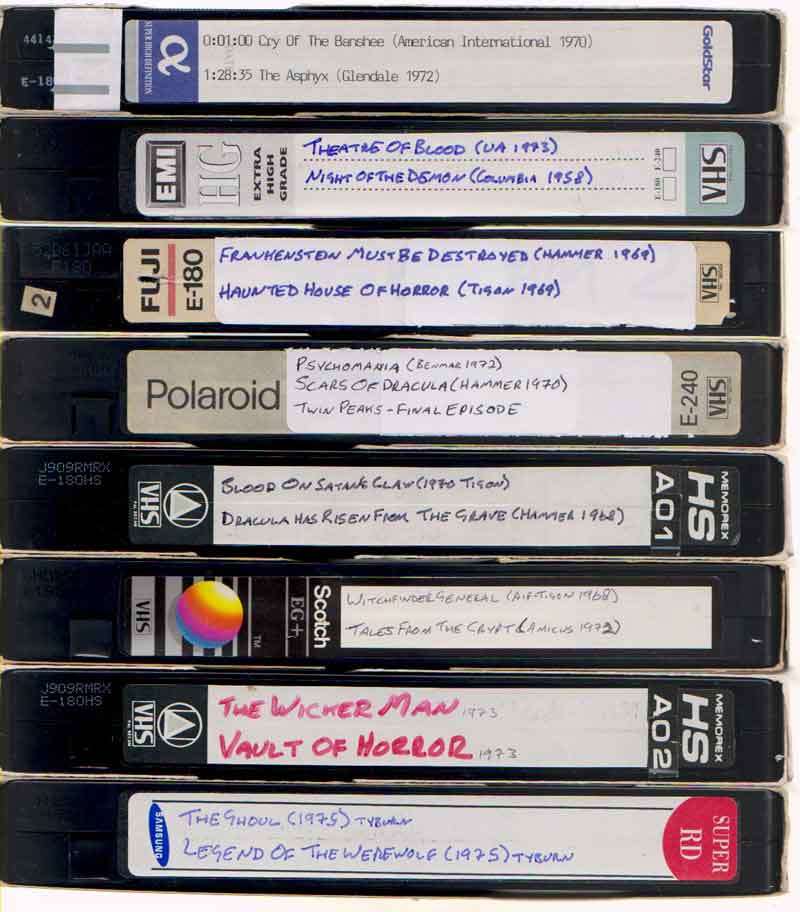 My two mates at school (both called Paul, oddly enough) would also watch or record the films, and they would be an instant topic of conversation to brighten up the following Monday morning. A screening of Psychomania caused much hilarity about the dialogue and 70's clothing (a bit rich when you consider some of the 80's fashions in retrospect). If a Hammer movie was on, there would inevitably be remarks on how lovely Veronica Carlson/Caroline Munro/(insert own favourite here) was, along with a recap of a favourite game, "Spot The Yale Lock", which basically involved spotting how many supposedly period door fittings had been spoilt by a visibly modern door catch.
Amicus anthologies sparked debate on which segment was the best one, although it was generally agreed they were all good. There would always be a giggle at how each week's gruesome denouement was incongruously followed by the ever present religious slot before closedown (no 24-hour TV then). Someone in scheduling had a delightfully warped sense of humour, surely?
I pull out an ageing VHS, a double-bill of Witchfinder General and Tales From The Crypt. I remember the careful use of the pause button, cutting out the commercials to fit two films on a tape. A 3-hour cassette cost £3.50 (equivalent to £9 now!), so the regional TV listings helped me plan ahead: whatever LWT were showing in London this week usually reached us soon after. Checking the running time, I could roughly work out if the coming attraction would fit on the end of another I had recorded, or if I had to head down to Sperrings in Hedge End for another tape.
Painstakingly, I amassed the ultimate horror collection – near enough every Amicus and Hammer flick turned up eventually, whilst a Channel 4 season in 1986 furnished me with the Universal classics. As my video library grew, I needed index cards and numbering to keep track. Fighting for space with my equally sprawling record collection, they took over my bedroom, Peter Cushing jostling with Echo & The Bunnymen.
Nowadays, that same collection of movies can sit comfortably on a couple of hard drives. Tracking down most of them has never been easier (even if some, like Symptoms, remain frustratingly hard to source). And yet…
There's no substitute for the shared experience of knowing you've all been at home watching that same film, ready to talk animatedly about it the next time you all get together. In today's multi-channel environment, couldn't someone could find room for a weekly, quality presentation of the genre's back pages? If the online discussion boards are anything to go by, there's a healthy audience there.
Meanwhile, I'm staring at the boxes of video tapes, awaiting disposal. Even though I have improved and remastered versions of almost every single one, you know something? I'm still not sure I can bear to part with them…
Tell us your memories of Friday Night Frights in the comments section below!
RICHARD PHILLIPS-JONES lives with his wife close to the Dorset Coast. He spends far too much of his spare time watching horror films and listening to psychedelic music (sometimes simultaneously). He also writes on Movies, Music, TV and other matters for his blog, The Purple Patch. You can follow him on Twitter @RPJ_Write