Little Penny Dreadfuls, a collection of 99 dark and twisted stories of 99 words, is kinda like the grandchild of Spooky Isles.
The book, by Andrew Garvey and Mike Staples, came about after they contributed to Spooky Isles' collection of vampire short fiction, Dracula's Midnight Snacks in 2013.
The collection includes stories about iconic horror subjects like ghosts, serial killers, zombies and vampires and the authors' own nightmarish creations and dark visions.
We asked Andrew Garvey about the horrific collaboration:
Spooky Isles: How did the project come about?
AG: It really grew from me trying to tighten up some of my writing (I have a tendency to waffle a bit), an exercise to see if I could tell a story in as few words as possible. I'd seen some 'two sentence horror stories' floating around a few different websites and I'd stumbled across a site that runs a monthly competition for 99 word stories – 99fiction.net
I was planning to submit a story or two and wrote four or five. That was fairly easy so naturally, I decided I could write 99 of them and just release them all as a collection for the Kindle. Charging 99p for the lot seemed like a neat marketing gimmick.
I had plenty of ideas but turning them into stories, and stories that could be told in 99 words, turned out to be a lot tougher than I expected so I got in touch with Mike. We'd met at the Dracula's Midnight Snacks launch, got along and I read his story on the train home the next day and liked it a lot. We've got quite different styles and influences but we both seem to lean naturally towards quite dark and unusual subjects. Mike was willing to help me out, even though I'm not sure either of us really considered publishing anything out of this as more than a vague possibility.
What were your inspiration for the book? Were you inspired by the original penny dreadfuls?
As far as putting all the stories together as a collection and sticking rigidly to the word count, that's mostly due to a book called 253 by Geoff Ryman, a book of 253 different passages, of 253 words, telling the stories of the 253 people on a London underground train. I read it in the late 1990s and the gimmick really stuck with me.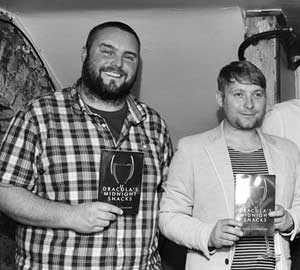 When it comes to inspiration for the actual stories, I've gone through the 49 I have in the collection – there are 50 of Mike's – and essentially I think I just grab ideas and inspiration from anywhere and everywhere. I had a quick look through them and there's all kinds of stuff in there. There's personal stuff like my own worries and fears about being a dad. I have a young son and aside from all the fantastic stuff you get to do, it's largely one long, never-ending state of perpetual worry. And there's all the things have influenced me as a horror fan, bits and pieces of Stephen King that I recognise, a little George Romero, Edgar Allan Poe, Hammer, the Twilight Zone. I've been reading grown-up horror since I was 11 and watched an American Werewolf in London when I was 5 so that's about 30 years of influences, right there. And there's the really strange stuff that's inspired some of these stories – my old job (I used to work in museums), children's television, football sticker collecting, even the Jeeves and Wooster TV series directly inspired one of my stories.
The original penny dreadfuls didn't really come into it too much, I just thought the title was a good one and it fitted the 99 stories for 99p idea neatly.  There's one story, 'Teeth in Her Tuppence' that's set in a late nineteenth century music hall and that has the kind of nasty sensationalism those stories often had, but even that one, I'd say had a lot of different influences.
Was it easy writing 99 word stories?
It's actually quite a lot like losing weight. It starts off easy, you're doing well, you shift a few pounds/stories and then after those intitial easy gains, it gets harder and harder to stick to. Not so much dealing with the word limit since you get into a rhythm and after a while I was writing 105 to 110 words on more-or-less every first draft, but generating the ideas, and ideas that work and/or can fit the format is much harder. Mike and I wrote 60 stories each and eliminated the weaker ones, or the ones that were too similar, or just didn't have the right tone. There were times when I think we both felt completely out of useful, useable ideas so we just took a break for a little while. The ideas soon started coming back.
Have you got any plans for stories longer than 99 words?
Oh yes. I've got USB sticks (I'm not one of those 'printing' people, really) crammed full of ideas, outlines, research, character notes, dialogue and notes I've scribbled down over the last few years on notepads and post-it notes, things I've written on my phone, the nearest computer, whatever. I'm really not sure what the next project will be. It may be a few short stories, a short film script, I've even got a couple of non-fiction, non-horror projects as well. I'm always working on something.
Here are two sample stories from the book, chosen by Andrew and Mike:
She Fluttered by Andrew Garvey
She fluttered softly, delicately patterned wings glinting in the pale moonlight.  She checked her list, a tiny scroll of elegant calligraphy giving the boy's name and age.  She danced and dived and spun in the air, filled with such happy thoughts and glee.  She hovered over his pink cherubic face as he slept the sound, deep sleep of the innocent.  She took out a hammer and working with magical speed, smashed out every one of his teeth and scooped them up, listening to them rattle together in her miniature burlap sack as she flew away, chased by his screams.
Surreal Estate by Mike Staples
We'd been looking at houses the whole weekend.  Both city apartments had sold; we would marry in May and needed the perfect home.  One disappointment followed another until, perfection.  It sat just beyond the town's limits, nestled behind ancient woodland, in a full acre of concealed land.  As we climbed the front steps, over the stoop with rocking-chair intact, we locked eyes and agreed, we'd fallen in love.  We turned the key and stepped inside.
Only from the master-bedroom did we see the noose hanging from the old oak.  Grass beneath still stained red.  She smiled, "Darling, it's perfect."
---
About the Authors
Andrew Garvey has been fascinated by horror since his aunt let him watch An American Werewolf in London when he was five years old. His short stories on vampires and Victorian professional wrestling and the final, rotting survivor of a zombie apocalypse have been published in anthologies by Red Rattle Books – 'Dracula's Midnight Snacks' and 'Zombie Bites'. He also writes non-fiction about mixed martial arts for Fighters Only magazine and about horror and history for www.http:http://www.spookyisles.com/ and runs the @News_of_1890s Twitter feed. He lives in Staffordshire with his girlfriend, son, bull terrier and books.
Mike Staples stumbled accidentally into writing dark fiction. A head full of dystopian ideas, he started writing songs for music project luciensghost. The development of songs and accompanying short stories for multi-disciplinary arts events in Glasgow based around 'The Undead' and 'Ghost Stories' provided a platform for further dark musings. Mike also had work published in 'Dracula's Midnight Snacks' and 'Zombie Bites', leading to the creative partnership behind this book. He lives in Moniaive in Southern Scotland with his wife and three sons, with another expected in the summer. luciensghost release their debut EP in 2015.
---
Little Penny Dreadfuls, by Andrew Garvey and Mike Staples, is available worldwide. Just search any Amazon Kindle store for Little Penny Dreadfuls. You can like the Little Penny Dreadfuls Facebook Page here.
---