Reading Time:
3
minutes
Mad Jack Mytton is a name that seems to crop up in many places in and around Shrewsbury. But who was he? And how did he earn that nickname? PHILIP DAVIES looks into the man behind the myth.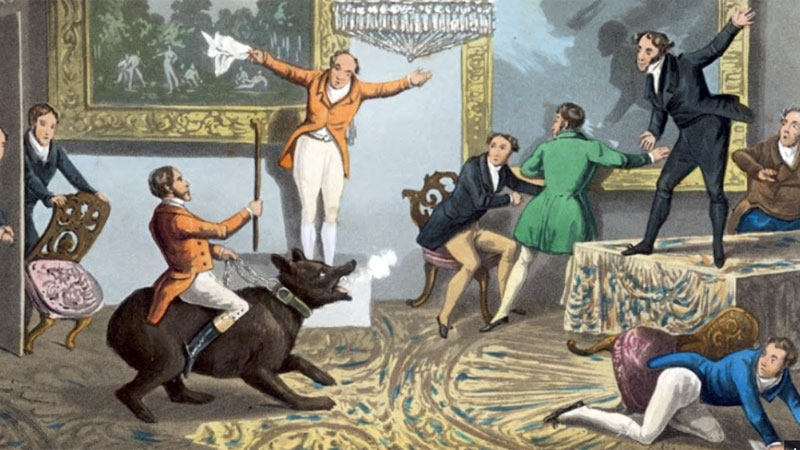 Mad Jack Mytton was Mad
John 'Mad Jack' Mytton was born on 30th September, 1796 in the family home Halston Hall, which is near the village of Oswestry in Shropshire.  His father, also called John, died when Jack was only two years old.  His father's death meant that Jack inherited the family estate as well as an annual income of £10,000 (over £720,000 in today's terms).
School life was… interesting for Mad Jack Mytton.  Rather than spending his time learning, his attitude and constant practical jokes saw him left in the hands of private tutors.  This didn't stop Jack heading to Cambridge University which he arrived at with little academic qualifications and also 2,000 bottles of port to 'sustain him in his studies'.
Jack soon left University claiming he found it boring and embarked upon the customary European Grand Tour.  When he returned from his jaunt around the continent Jack entered military service and spend 12 months serving in post Napoleonic France, spending his time there gambling and drinking.
… Bad
It was on his return to England that Jack decided to run for election and set about securing his seat by offering would be voters £10 each to put their cross next to his name.  After spending £10,000 he was, perhaps unsurprisingly, elected as MP for Shrewsbury, but after 30 minutes in the House of Commons he left saying that he found the debates boring and declined from standing for re-election.   However, Jack was nothing if not impulsive and contrary and 12 years later he tried to return to the world of politics this time gaining under 400 votes and he withdrew from the polls after 5 days.
If there was one thing that Mad Jack Mytton was good at though it was spending money.  An inveterate gambler and frequent visitor to Oswestry Race Course he even rode a horse through the Bedford Hotel in Leamington Spa for a bet, racing up the stairs and leaping over the heads of the diners that were in seated the hotel restaurant at the time.
… And dangerous to know
Mad Jack Mytton very much earned his nickname in the latter years of his life.  Halstead Hall, the family home he had inherited was also now home to around 2,000 hunting dogs, some of which he fed on steak and champagne and 'Mad Jack' allowed his favourite horse, Baronet, to roam freely about the place, curling up alongside him by the large fireplace that was kept in the main living room.
There was also the time that, in an attempt to cure his hiccups, 'Mad Jack' took a lighted candle and set fire to the tails of the shirt he was wearing.  It took the efforts of a visiting guest and his servant to beat out the flames at which point 'Mad Jack' declared his hiccups gone and headed up to bed!
The extravagant lifestyle came at a cost and rather than reduce his outgoings to a mere £6,000 a year (still over £400,000 a year today!) he fled England to escape his many creditors.  However, two years later he returned and was immediately placed into a debtors prison in Southwark.  No longer the man he was, Jack was now a 'round-shouldered, tottering, old-young man bloated by drink, worn out by too much foolishness, too much wretchedness and too much brandy' and it was in a prison cell that John 'Mad Jack' Mytton died aged 38 years.
Politicians and celebrities acting in bizarre ways seems to be an almost daily headline these days but, compared to what John 'Mad Jack' Mytton got up to, those antics that do make it on to the news actually appear quite reserved!