Reading Time:
3
minutes
Middlesbrough in North Riding of Yorkshire is an industrial town with a long and varied history spanning back more than a 1000 years. LH DAVIES has a look to see what spooky places you can visit there.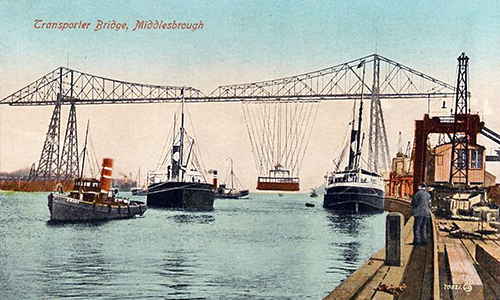 Acklam Hall
Built in the early 1680s by William Hustler, Acklam Hall is a grade 1 listed building in the Middlesbrough suburb of Acklam. Remaining the residence of the Hustler family until 1928, the hall was passed on and became the property of Middlesbrough Corporation.
Whilst under the Hustler family's tenure, Charlotte Hustler died during childbirth in 1800. It is said that her spirit still resides in the hall as, 'the grey lady' making appearances at the top of one particular staircase where she stands before disappearing. Whilst Acklam hall was a school (it has served as both a Grammar school and comprehensive) Charlotte Hustler scared many a child.
A past caretaker's dog was once noted to have been scared by something in the hall's library, refusing to enter the building again; workmen also claim to have seen a young boy dressed in what appeared to be Victorian rags head down into the cellar. On following him, they found no one there.
Central Library, Middlesbrough
This is Middlesbrough's largest library and having opened in 1912, is now over 100 years old. On the library's top floor is a room that has become known to staff as, 'the ghost room.' Female members of staff have told of being touched and experiencing the feeling of a hand running through their hair. It has also been claimed that a member of staff has captured an image of the spectre looming towards her, although this image is not apparently readily available online.
The Crown
Throughout the years since its being built, The Crown has had many uses: a cinema, bingo hall, and up until earlier this year a pub that saw many years of service. Situated on Linthorpe Road, The Crown became well known locally for its paranormal activity. In particular it's believed the ghost of a young girl named Maria haunted the building. Evidence in the form of supposed CCTV footage has also been caught of the spectre walking through the pub.
As well as Maria, the restless spirit of a former caretaker is thought to reside in The Crown, continuing his duties from beyond the grave.
Disembodied voices have been heard throughout the building on all floors.
The Crown closed its doors to its patrons in January of this year.
The Dorman Museum
Opened in 1904, the Dorman Museum was given to the then town of Middlesbrough by Sir Arthur Dorman. A memorial to Sir Arthur's son, George Lockwood Dorman who perished in the South African wars between 1899 and 1902. Dedicated to the preservation of Middlesbrough's history, the museum is thought to be haunted by Dr. Frank Elgee, the former curator.
An archaeologist, naturalist and geologist, Frank Elgee began work at the museum at its inception as assistant curator. He was known to have had bad chest problems due to the myriad of ill health conditions he had suffered since childhood; yet despite this he carried out a great deal of work in all fields of work and contributing a great deal to the museum. Due to this he was finally made Curator in 1923.
Over the years since Dr. Elgee died (1944) there have been footsteps heard in one specific corridor of the museum, where it is believed his office once resided. Coughing has also been heard along this corridor when no one else was around and it is this that has led people to believe that it is the Dr, who, despite living in Hartfordshire in his final years of life, now in death has returned to keep an eye on the museum for which he had so great a love.
Swatter's Carr
Another pub that, like The Crown, has had numerous names prior to its current incarnation, Swatter's Carr plays host to what some might consider to be a poltergeist. Crashes and bangs are often heard upstairs when there is nobody up there, and more worryingly, staff have heard snarling noises right by their ear when having to venture upstairs alone.
Watch Haunted Middlesborough Video