EMMA DARK reviews Peripheral (2018), from British director Paul Hyett
Peripheral is the fourth feature film from visionary British practical SFX guru turned director Paul Hyett. Paul has taken us on a genre roller-coaster ride over the past few years, from brutal Balkans set horror/thriller "The Seasoning House" (2012), to werewolves on a train survival horror "Howl" (2015), and supernatural nun led horror "Heretiks" (2018). Paul covers yet more new ground with trippy sci-fi/horror offering Peripheral.
The film tells the story of Bobbi Johnson (Hannah Arterton, "Atlantis"), a young and wayward but revolutionary writer under pressure from her publisher to live up to the success of her first novel with her second literary venture.
Bobbi is struggling to pay the bills, and when her electricity is cut off and she's forced to bathe in freezing cold water and write by candlelight her publisher offers to give her an advance of sorts by remedying her current financial situation and providing a 'computer' that will help her get to grips with her new novel.
We very quickly realise that the machine is not all it seems, and other more sinister agendas are at play.
With nods to Cronenberg's "Videodrome" (1983) and Donald Cammell's "Demon Seed" (1977) we see Bobbi slowly manipulated by the machine's Artificial Intelligence in a freakish sequence of events in which the viewer may question what is reality and what is fantasy.
Particularly memorable is a rather passionate human/machine sex scene which takes HCI (Human-computer Interaction) to a whole new level, and the fact that Bobbi's hands and arms slowly take on an sinister oily black appearance after each writing session.
The further Bobbi falls down a nefarious rabbit hole of control and illusion, the more the machine's Artificial Intelligence slowly violates her body and mind.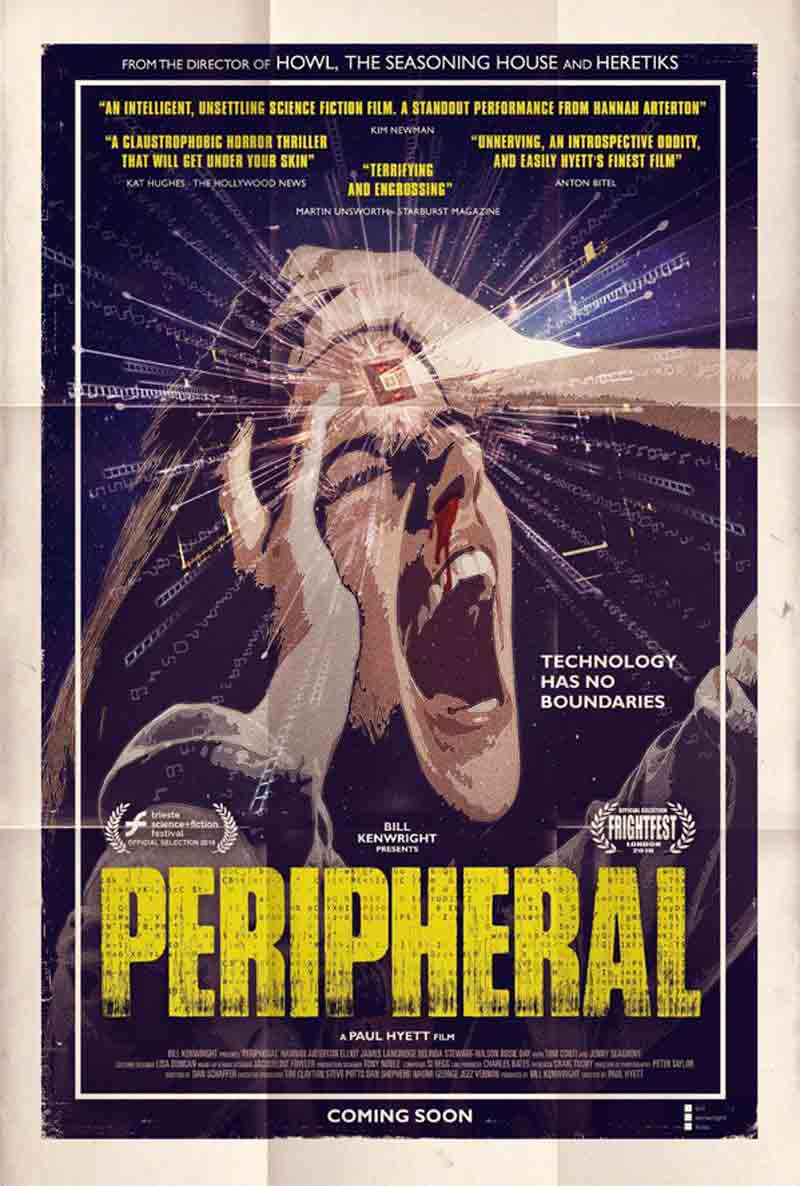 As to be expected with a Paul Hyett film the practical effects and SFX makeup are very good indeed, and in fact the VFX/CGI are also outstanding.
Peripheral is scripted by "Doghouse" (2009) writer Dan Schaffer, with prolific London based produced Craig Tuohy responsible for bringing together the written work of Dan Schaffer and the directorial talent of Paul Hyett. A
s a side note "Doghouse" was directed by another great British indie director – Jake West, both Paul and Jake are super talented directors and I do advise readers of this review to check out their films.
Peripheral recently premiered at London's FrightFest and I'm sure it will go on to have a successful festival run and general release. So without giving away any more spoilers go check out the film when and where you can, and well done to all involved!
EMMA DARK is an award-winning filmmaker specialising in the Horror, Sci-Fi and Fantasy genres.
Her first self produced and directed short film "Seize the Night" (2015) won her the Rising Star award at Northern Ireland's Yellow Fever Independent Film Festival. The film garnered favourable reviews from a multitude of respected genre websites including Dread Central, Starburst and UK Horror Scene, as well as a news article on the official AMC's Horror Channel website. As the film gained momentum "Seize the Night" and Emma Dark featured in comprehensive national print articles, including a front page mention in leading UK horror magazine 'Scream'.
2017 saw Emma complete her second short film – Sci-Fi/Horror "Salient Minus Ten", which features Star Wars actor Alan Austen in the lead role, with cinematography from internationally renowned DoP Philip Bloom. In 2018 "Salient Minus Ten" won Emma 'Best Director' at Starburst Magazine's Media City Film Festival, and the 'Albert Pyun Inspiration Award' at The Yellow Fever Independent Film Festival."