Reading Time:
2
minutes
The Phantom of the Opera 1962, Hammer's version of the Gaston Leroux horror, is reviewed by TERRY SHERWOOD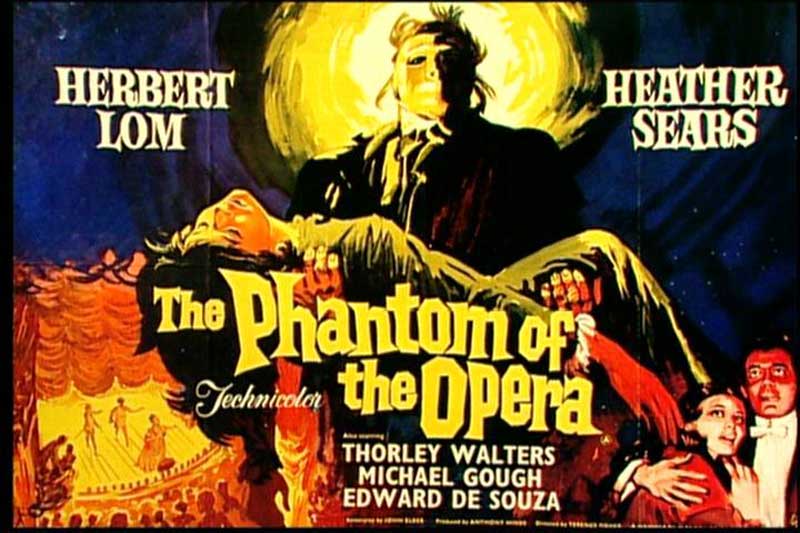 TITLE: The Phantom of the Opera
YEAR RELEASED: 1962
DIRECTOR: Terence Fisher
CAST: Herbert Lom, Michael Gough, Heather Sears, Edward de Souza, Patrick Troughton and Michael Ripper
The Phantom of the Opera 1962 Review
I saw Hammer's The Phantom of the Opera 1962 version in the theatre upon its original release, so I went into this with the skewed perspective of nostalgia.
I recently viewed it again and found some of the best, subtle acting and directing that Hammer Studios has done.
The Phantom of the Opera 1962 moves the story from the streets and sewers of Paris to London in the 1900s and is a showcase for Michael Gough as the venomous, morally bankrupt, Lord Ambrose D'Arcy who wants to give every pretty ingénue who auditions for him 'lessons' in his apartment.
Gough is wonderfully snarly (if not slightly a 'one note performance') as he does anything to get his opera on the boards including stealing music from an unknown composer Professor Petrie played by Herbert Lom.
In flashback, Petrie breaks into the print shop at night upon learning his music has been printed with Ambrose's name.
The resulting fire and acid blow back sends him running out into the street when he finds solace in the sewers, living for years and waiting on revenge.
Like the best horror pictures and literature stories, the story is what is done by those about who fall under the influence of the absent monster in this case The Phantom.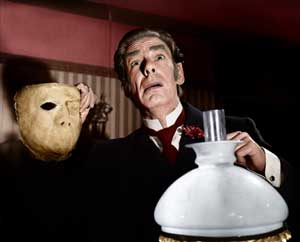 Heather Sears is wonderful as the fragile Christine Charles who becomes the Phantom's pupil.
Howard De Souza does very well as the romantic enterprising male romantic lead , Harry Hunter who is the ' voice of reason ' and researches Petrie's identity.
He locates the Phantom's lair when Christine is kidnapped and made to sing, bringing out one of the best scenes in the picture.
Herbert Lom as Professor Petrie becomes a tragic figure, pleading for a chance to work with Christine for 'a week, a month,' just so he can hear his music before he dies.
Lom and Terence Fisher work subtle action by using a close up of the Phantom's single eye with either a malevolent stare from his mask, or at one point a close up of a tear .
The body language of Petrie's taking the scene from a distance or raising his arm in the air to make a point make this Phantom a different, more satisfying portrait.
Coupled with the sets and appearances by Michael Ripper, Patrick Troughton, and a host of others colour this neglected version is delightfully different.
Tell us your thoughts on The Phantom of the Opera 1962 in the comments section!
Watch The Phantom of the Opera 1962 trailer