Reading Time:
3
minutes
Shaun of the Dead is the strawberry flavoured Cornetto of Wright and Pegg's comedy horror trilogy, says ANN MASSEY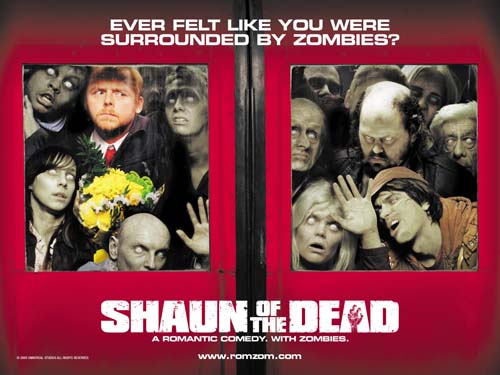 TITLE: Shaun of the Dead
YEAR RELEASED: 2004
DIRECTOR: Edgar Wright
CAST: Simon Pegg, Kate Ashfield, Lucy Davis, Nick Frost, Dylan Moran, Bill Nighy
Often described as a Zombie rom-com, Shaun of the Dead is so much more, a homage to cult TV and cinema, a nod to stalwart Britishness in a crisis and yes – it's a true horror flick to boot.
Shaun is a 30 something deadbeat boyfriend and lousy sales advisor struggling to get by in an adult world.
Refusing to give up the student lifestyle or his layabout best friend Ed, Shaun house shares with Pete who is frustrated at his housemate's lack of direction and responsibility – a sentiment equally shared by Shaun's soon to be ex-girlfriend, Liz.
Content to bury his head in the sand and spend his time playing PlayStation and drinking with Ed in 'The Winchester' pub, Shaun doesn't expect the huge turn of events about to unfold as a zombie apocalypse is unleashed on an unsuspecting London populace.
Without warning, Shaun is thrust into the role of reluctant hero as he battles to rescue Liz as well as his own beloved mum and deal with the zombification and deaths of those he holds dear.
Winchester 'citadel of refuge' for Shaun of the Dead
The Winchester becomes the citadel of refuge Shaun and his family and friends need to reach, as they fight the ever-growing army of zombie citizens as well as each other in the ultimate battle for survival.
With a veritable who's who of British comedy in cameo roles throughout the film that include Bill Nighy, Matt Lucas, Rafe Spall, Martin Freeman, Jessica Stevenson, Tamsin Grieg, Rob Brydon and even Coldplay's Chris Martin to name just a few, you would be forgiven for not noticing the underlying homage to the works of George A. Romero, pop culture tributes and the fast paced, witty script.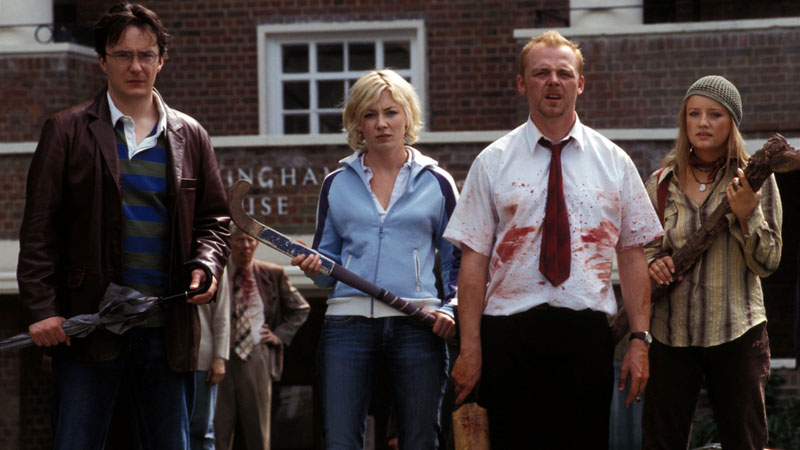 Shaun of the Dead has droll comedy, endless cult media references and Easter eggs to tax your pre-zombie brain, and more blood, guts and gore (hence the strawberry flavour) than you can shake an ice cream cone at. You have cameo roles by the dozen, a body count to rival Rambo and a soundtrack that includes the most ingenious use of Grandmaster Flash and White Lines you can imagine.
As horror-comedies go, it's up there with the best and there is no doubting it's a Pegg and Wright production of the highest order.
So, let's go to the Winchester, have a nice cold pint, watch Shaun of the Dead and wait for this all to blow over.
You can read 10 fun facts you didn't know about Shaun of the Dead here.
What did you think of Shaun of the Dead? Tell us in the comments section!
Watch Shaun of the Dead trailer