She 2014 is a bold and uncompromising short horror film, says EMMA DARK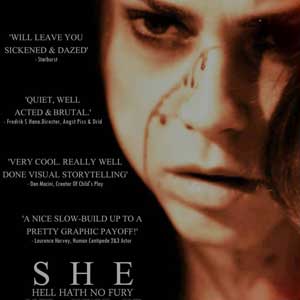 She, a short film by British film makers Chelsey Burdon and Mark Vessey, focuses on a young couple in a struggling relationship.
Where love once existed, it is now replaced by hate and contempt. 'He' and 'She' live in a fastidiously clean and tidy house, which reflects the cold clinical nature of their relationship. We see elements of abuse from 'He' but it's unclear whether this is the cause of the issue or a symptom of an already degraded partnership.
'She' is played by Fiona Dourif, daughter of Brad Dourif, who is known for playing dark roles such as killer dubbed 'The Lakeshore Strangler', Charles Lee Ray AKA Chucky in the infamous Childs Play films.
Fiona herself took the lead role in 2013's Childs Play revamp 'Curse of Chucky'. Fiona plays the role of 'She' with a great deal of intensity, having the ability to portray the same intense dark and brooding emotions as her father.
At the same time Fiona also displays a quiet fragility within the character of 'She' that wasn't as present in her portrayal of wheelchair bound Nica in Curse of Chucky.

The 15-minute film focuses more on visual and emotional cues and keeps dialogue to a minimum which adds to the overall intensity. After an unknown period of time the story progresses to the couples anniversary dinner at home.
It's at this point in time where 'She' ends the relationship, quite finally and dramatically and perhaps in a rather unexpected way.
The film has a stark coldness, often seen in Asian horror, such as The Audition, which combines the mundane with shocking brutality. SHE premiered at FrightFest as part of the short film showcase on Saturday, 23rd August 2014.
Watch She 2014