TITLE: The Canterville Ghost
YEAR RELEASED: 1996
DIRECTOR: Sydney Macartney
CAST: Patrick Stewart, Neve Campbell, Daniel Betts, Cherie Lunghi, Joan Sims, Donald Sinden, Leslie Phillips
The Canterville Ghost 1996 stars Patrick Stewart as the cursed nobleman in this television version of the Oscar Wilde-penned supernatural classic. Review by DAVID SAUNDERSON
The Canterville Ghost, a novel written by Oscar Wilde in 1887, has been filmed many times.
It is a classic English ghost story that has everything you'd want in a haunting tale – a spooky castle, a regal spectre who can change into monsters at will, and lots of clanging chains, wailing, screaming, and gnashing of teeth. It's also hilariously funny in parts.
That's why it is somewhat annoying that a film has never been made that does the book justice.
Even the first film, The Canterville Ghost, released in 1944 – starring Charles Laughton as the title ghost Simon De Canterville – doesn't even cut it – despite being such a classic and wonder to watch.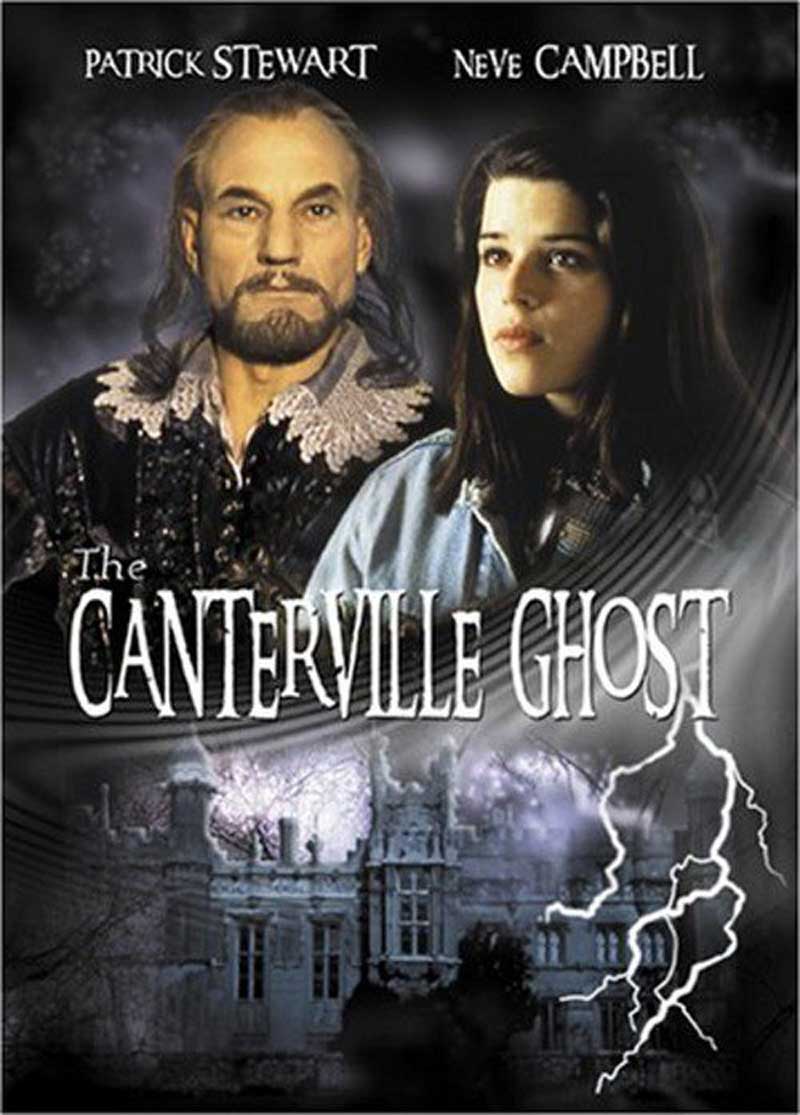 That's because film makers always want to change it in some way. Not in the way that say A Christmas Carol is always cut for time. No, The Canterville Ghost almost always has large parts of its plot changed for no understandable purpose.
The Canterville Ghost 1996 Cast
The Canterville Ghost 1996 is a little better than most. It's a glossy American made-for-TV version with a load of well-known actors, including British favourites Donald Sinden, Joan Sims and Leslie Phillips.
It stars Patrick Stewart at the height of his Star Trek powers, plays the ghost for all its worth, as a phantom doomed to stalk the halls of his former castle, which has recently become home to a family of Americans.
That the family is American makes it easy for filmmakers to make the English ghost story palapble to American audiences. They don't have to change the nationality. But they always change the family or what the father does – in this case, father Hiram Otis comes to the UK on a research grant – rather than the original novel as a visiting clergy. It's not a big deal I guess, but I just think it's kind of stupid they can't just follow the original novel.
It's not as bad as say the 1944 version, though, which replaced the family with an US army unit. (The Charles Laughton version is the best one though, despite it being so changed around for the WW2 audience – Laughton is amazing!)
Patrick Stewart shines in Canterville role
Patrick Stewart is a fine actor and fine actors make fine Canterville Ghosts – he's very dramatic, a bit scary and works well with Neve Campbell (then Party of Five before the Scream films), who plays the Otis daughter who hates that she has been brought to England but soon befriends the ghost and learns from the experience – blah, blah, blah – usual teenage angst in TV movie!
The Canterville Ghost 1996 is nice family film and I didn't hate it. I just think it's a wasted opportunity. There are liberties taken with the original novel, but there's enough there for purists to enjoy. I'd say it was one of the better versions of The Canterville Ghost.