TITLE: The Picture of Dorian Gray
YEAR RELEASED: 1945
DIRECTOR: Albert Lewin
CAST: George Sanders, Hurd Hatfield, Donna Reed and Angela Lansbury
REVIEW BY DAVID SAUNDERSON
The Picture of Dorian Gray, based on the 1890 Oscar Wilde Gothic novel of the same name, is a fine mid 1940s morality play with shades of supernatural horror.
The MGM film follows the tragic tale of a handsome, wealthy young man, Dorian Gray (Hurd Hatfield), living in 19th Century London, who comes to believe pleasure should be his only goal in life.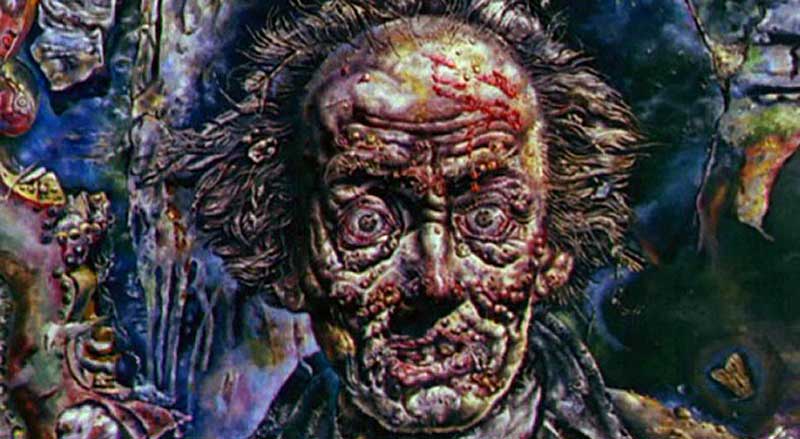 Gray meets the caddish Lord Henry Wotton (George Sanders) while he is getting his portrait painted and is told that his youth and beauty will be his ticket to a charmed life.
The hedonistic Gray openly wishes that he could stay young while his portrait ages. This leads to the painting showing his inner ugliness and decay.
While seemingly intelligent, Gray throws himself into a decadent lifestyle and causes all sorts of strife, including the suicide of singer, Sibyl Vane (Angela Lansbury) and murder of his friend, Basil Hallward (Lowell Gilmore).
The supernatural film with its strong Faustian theme strays a little way from the book with some changes, but nothing to get upset about.
The Picture of Dorian Gray is a beautifully-shot and acted movie. It is classic Hollywood and won several awards, including the Oscar for Best Black and White Cinematography and Golden Globe for Best Support Actress for Angela Lansbury.
Quite distractedly, the film uses four inserts in three-strip Technicolour of Dorian's portrait (twice in its original state and twice again after it turns ugly).
I was very confused about the inserted colour when I first saw it and it was only by checking this out on the net that I discovered it on purpose. It must have been quite shocking when it was first released.
There are adult elements in this supernatural morality play that were not seen during the Golden Years of Hollywood, making The Picture of Dorian Gray (1945) seem fresh to this day.