Reading Time:
4
minutes
RICHARD MARKWORTH looks back on The Treasure of Abbot Thomas, first broadcast on the BBC for A Ghost Story for Christmas, on 23 December 1974 at 11.35pm.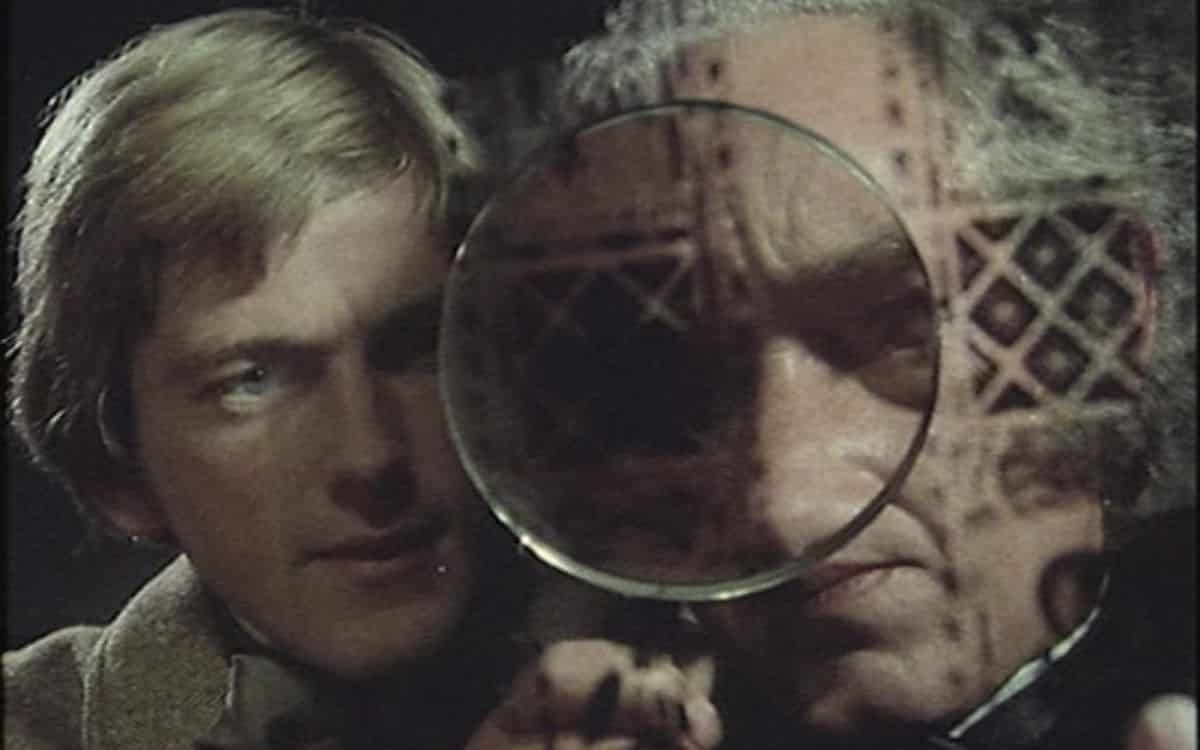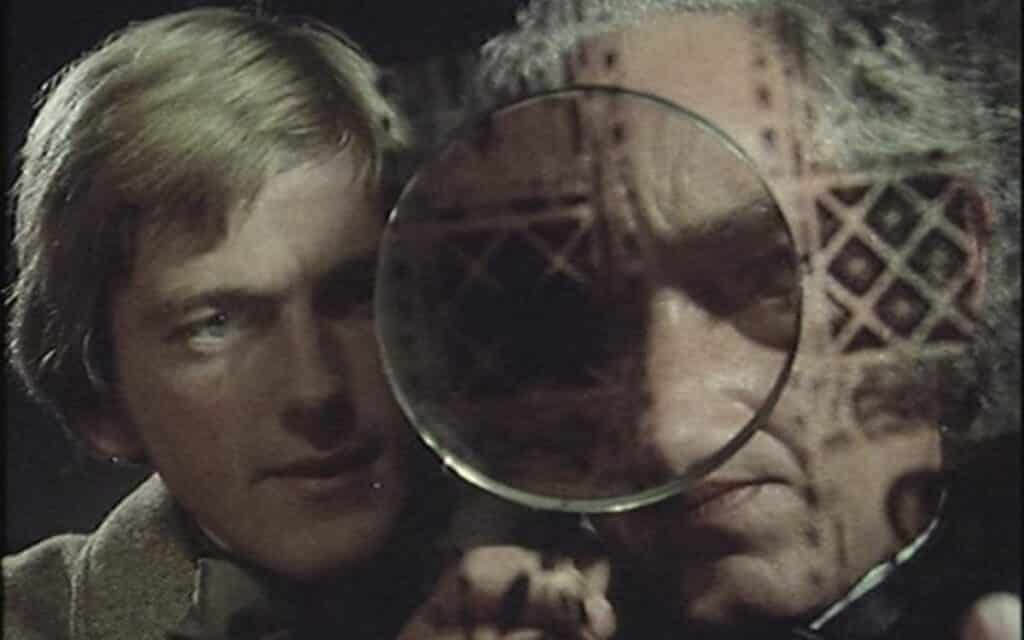 By 1974, the BBC's A Ghost Story for Christmas strand had become an established seasonal tradition. As with all previous entries, The Treasure of Abbot Thomas was adapted from a classic M.R. James short story and directed by Lawrence Gordon Clark.
This tale introduces us to young Lord Peter Dattering (Paul Lavers) who believes his grieving mother, Lady Dattering (Virginia Balfour), is being exploited by two shady clairvoyants, Mr and Mrs Tyson (Frank Mills and Sheila Dunn), who claim to be able to communicate with her recently deceased husband.
Dattering seeks to enlist the aid of his friend and tutor, Reverend Justin Somerton (Michael Bryant) to help discredit the couple and Somerton, a rational scholar of Medieval history, is happy to assist his protégé. In the meantime, Somerton informs Dattering of the results of his recent research into the history of a local abbey. These include details he has uncovered of an alleged trove of gold hidden by one Abbot Thomas, a disreputable former churchman and alchemist who, according to legend, was carried off by the Devil.
During an after-dinner séance at Lady Dattering's home, Somerton swiftly and clinically reveals the Tysons' fraudulent nature whilst, concurrently, Lord Dattering has a revelation pertaining to a clue to the location of the Abbot's supposed treasure.
The two men join forces to solve the mystery of the hoard's burial spot and slowly but surely decode the cryptic directions left behind by the notorious Thomas. Dattering is enthused by the romance of the treasure hunt while the pragmatic Somerton makes it clear to the younger man that he considers the exercise strictly a means to aid his research and believes any metals hidden in the vicinity for centuries would, by now, be degraded to the point of worthlessness.
Nonetheless, once the duo has narrowed down the likely hiding place of the treasure to a culvert in the abbey grounds, and Somerton believes he has pinpointed the exact location of the stone behind which their prize has been secreted, the older man finds himself unable to refrain from heading to the spot alone. This is despite an ominous claim by Thomas, discovered by the pair as they deciphered an ancient text, that the disgraced Abbot had "set a guardian" to protect his riches.
Somerton successfully locates the cache only to find himself immediately under attack by Thomas' sinister guardian as the evil spirit of the Abbot himself cackles at his predicament.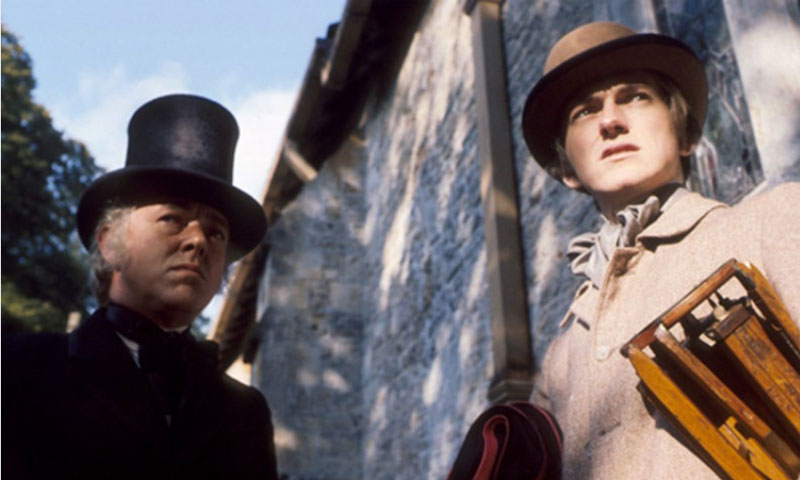 Sometime later, a near-broken Somerton is visited by a concerned Dattering. He implores the young Lord to return the treasure on his behalf believing this will appease the guardian whose ghastly, vengeful presence appears to be stalking the cleric throughout the hours of night. Dattering agrees to Somerton's request, but will his actions prove sufficient to relieve his ailing friend's torment?
The Treasure of Abbot Thomas is a cleverly constructed and atmospheric ghost story. Bryant is fully convincing as the sober-minded Somerton whose rationality is rocked to its foundations following his supernatural encounters. His description of the guardian, "it is a thing of slime, I think. Darkness and slime. It is an unholy thing" is marvellously chilling in its delivery.
Clark directs expertly once again and manages to craft a feeling of delicious tension. This is particularly evidenced when a lone Somerton enters the foreboding tunnel. We are presented with a vision of a civilized man descending into a darkened, water-logged netherworld where the established laws of nature have been left far behind. The combination of ghostly lighting and eerie music works to further unsettle the viewer as Somerton unwisely continues with his subterranean quest.
The director carefully chooses mood and suspense over graphic horror and the suggestion of the guardian's slimy presence is far more effective than any full reveal could hope to be. James' familiar tropes, including a dangerously curious academic, ancient secrets that are best left uncovered, and the relentless pursuit of a transgressor by dark forces, are employed effectively to create a chilling yet thoroughly entertaining tale.
This offering proves an excellent addition to the famous supernatural series and is highly recommended viewing for a dark winter's night.
What are your memories of The Treasure of Abbot Thomas? Tell us in the comments section below!
Watch The Treasure of Abbot Thomas
RICHARD MARKWORTH and Ian J Walls have co-written a new comedy-horror book called Igor and the Twisted Tales of Castlemaine, available from Amazon or the Troubadour website.  It follows eponymous lab assistant, Igor, after he leaves Victor Frankenstein and finds himself embroiled in a series of misadventures featuring both classic and all new monsters.