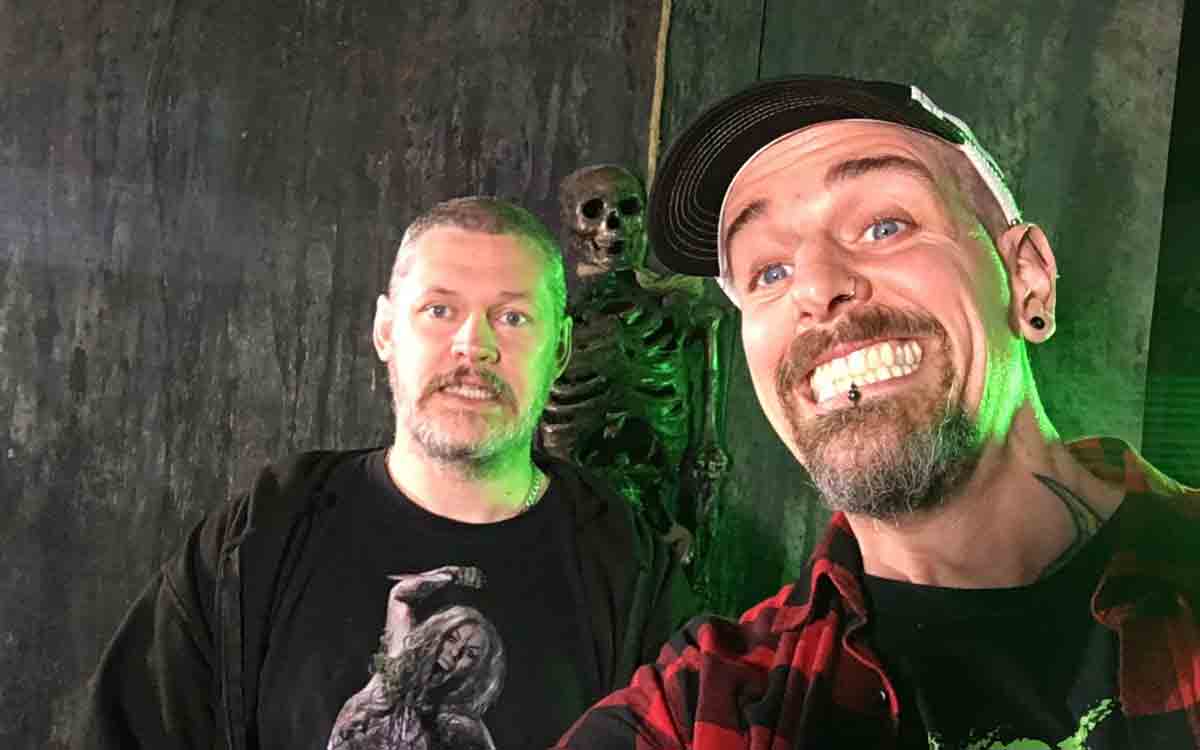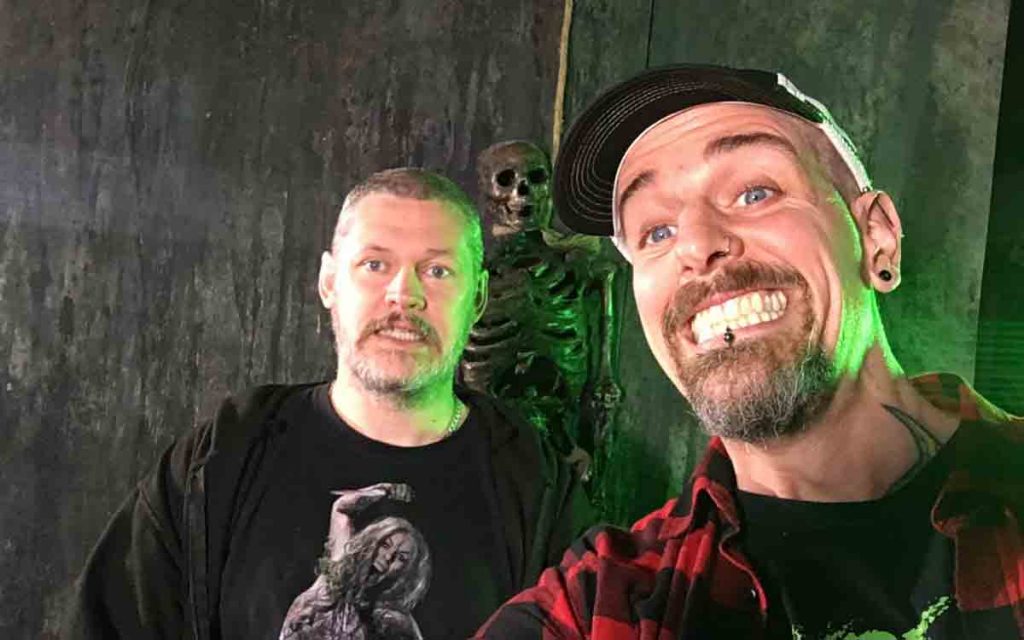 Filmmaker Dan Brownlie has looked at the British scare attraction scene – the art of haunted houses – in his new documentary UK Haunters. He talks to DAVID SAUNDERSON.
SPOOKY ISLES: How did you first come up with the idea of making a film about England's Scare Attraction?
DAN BROWNLIE: I shot a feature film at the multi-award-winning scare attraction The London Tombs (which is also called The Tombs… out soon!). While I was there for prep, the staff showed me how some of the tricks worked so that we could incorporate them in the film.
I was shown all the secret holes and various trick walls and light-sensitive traps. Obviously, come production, time to play about was over, and I had a cast and crew to concentrate on. But while running about the haunted tunnels, I couldn't help but think about all the trickery that surrounded me.
The next year while on our annual Halloween trip, my wife booked a "behind the screams" tour at Universal's Halloween horror nights in Orlando, Florida. This tour took you around the haunted attractions with the lights on where the tour guide completely deconstructed how the scares work and all the tricks they used.
When we went through the houses later on that evening, even though the whole thing had been deconstructed, it was still terrifying. This really stuck with me, but the idea of doing a documentary was still not there yet.
When back in London, the deconstruction of the trickery was really playing on my mind. I wanted to see more, but also was comparing the scare tactics from London and Orlando. Everyone thinks the US is the biggest in haunt culture, but the Tombs scare science was at very least on par with the Americans.
While on a reshoot I got chatting to Andy Cookie Rawlings. I was telling him what I discovered, and he said: "Oh yeah, England is huge on Haunts and all year round too!"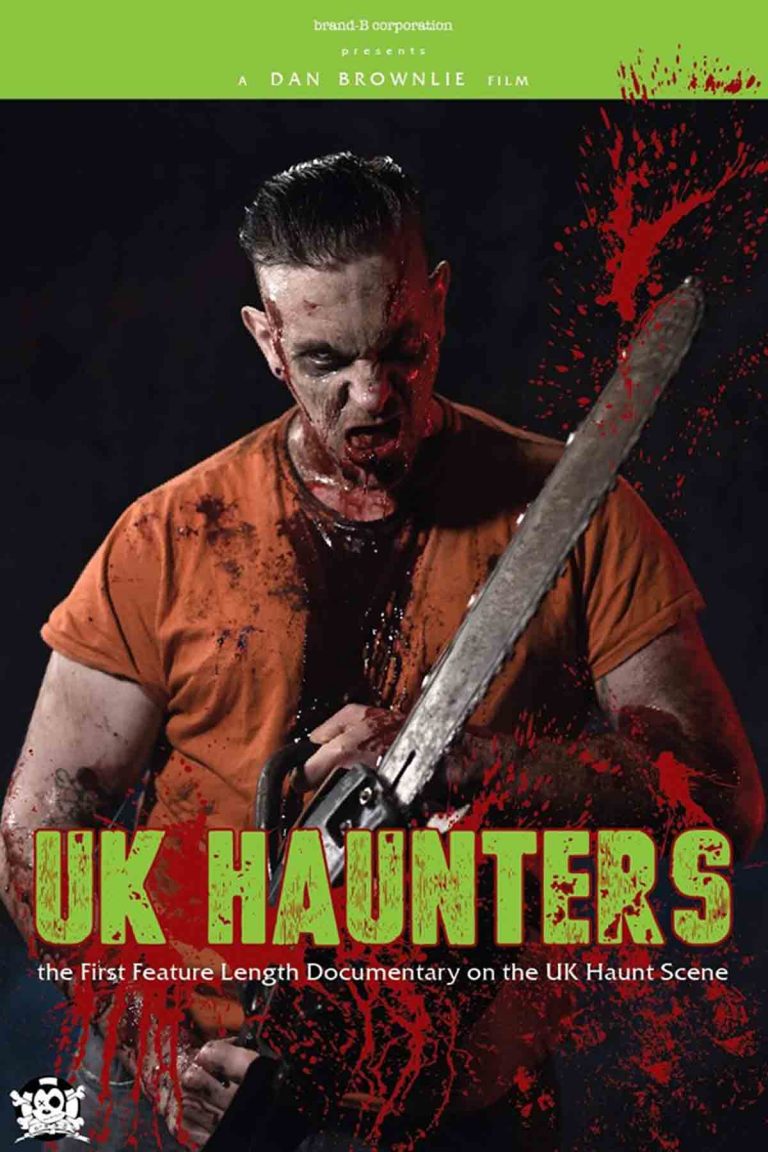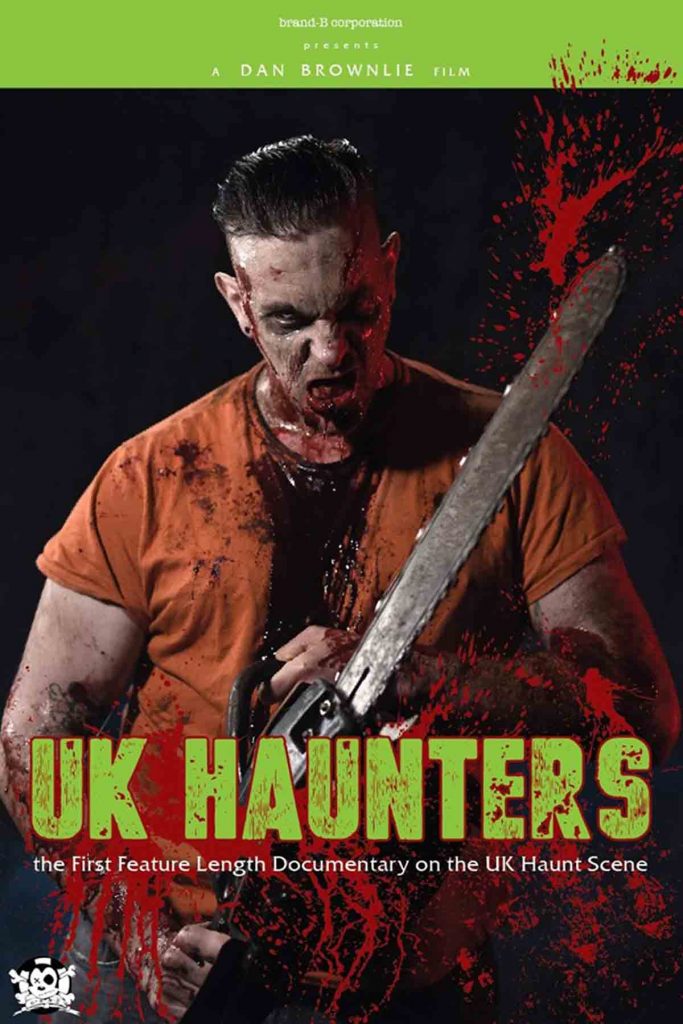 Being that we were doing reshoots, a documentary was far from my mind. What was on my mind was the proposed sequel.
I was a great lover of found footage films and had a really cool idea for a found footage follow up.
Post-production for The Tombs took forever, and I was really getting the urge to start my next project.
Alongside that, I really wanted to zip around the UK and learn about all these haunts that had somehow escaped me my entire life.
Initially, I was going to just hop around the country and find these haunts for myself. But then I started thinking: "Well, I'm a life-long horror fan and I didn't know about these haunts, maybe there's a bunch of other people who don't know about them either?" Same went with the secrets of how haunts work. I found it fascinating so chances are there's a bunch of other people who would find it interesting too.
Having recently discovered the found footage horror "The Houses That October Built" and the documentary "Haunters: Art Of The Scare" and the urge to create a found footage sequel all started to collide with a variety of ideas.
I met up with Andy and told him about my idea to do a documentary to discover the UK haunt scene and show it off to the world. I stressed the fact that I was not ready to start this yet but had an idea.
When I got home, Andy had created a group chat with the UK's biggest names in the haunt industry explaining what I was doing and would they like to get involved. The gauntlet had been laid down, and it was up to me to picket up and do them proud.
What did you discover that you didn't know?
What didn't I discover? Ha! Ha! There is so much creativity and heart in the UK haunt scene. We are just as good as our American cousins. But the real answer to this question is to watch the documentary itself.
On your travels, did you discover a favourite UK horror haunt scare attraction?
My favourite type of haunts are and will always be the traditional scare maze style that we all know and love. I just love the scares, the art, the immersion into another world. I did, however, gain a much deeper appreciation for the other style of haunts, such as extreme haunts and immersive theatre.
What were the challenges of making the documentary?
Making UK Haunters was a huge challenge as it was 90% done by me. I shot it, recorded sound, directed, edited, the whole lot.
There's a scene (in the one section where I had to get someone in to help shoot it) that shows me walking along a station platform with a big yellow suitcase and a backpack and camera bag. And that was it, that was the only help I got to shoot and edit the documentary. I was literally trawling the country with all the equipment, setting up and shooting the sections of the documentary. My wife took on producing details with me, The Tombs editor did the sound design and fellow filmmaker friend of mine shot one of the sections where I was getting made up. But bar that it was all me.
I had to learn how to use all the equipment, find copyright-free scores and fonts and find download packages for effects and getting bands to donate songs.
Overall it led to an amazing experience that helped lead to its unique stylization.
I wanted a vlog style documentary as my concept was to shoot it as a found-footage horror film. This lent itself perfectly to a complete DIY attitude and style, but also let me set up and shoot everything myself. The only downside to this is as I was doing everything myself there was no-one to shoot any behind the scenes photos.
Where can people see the finished film?
Currently, it is not released. I have been doing a few select screenings at some of the haunts that feature in the documentary, and it had its official premiere at Horror Hound's weekend of Horrors in September. I've got a few more screenings to go and then going to look at distribution next year.
Watch UK Haunters interview
Now read: Dan Brownlie's made a monster with Fetus-stein!