The arrival of some of Universal's most beloved horror movies on Blu-ray is a mixed blessing, says RICHARD PHILLIPS-JONES.
With their appetite whetted by the Universal Monsters Essential Collection (in coffin shaped packaging, no less), classic horror fans the world over have been waiting for the rest of the studio's monster movies to get the same treatment. Now, with the company getting ready to reboot their classic monsters for the 21st century, and sensing a suitable promotional opportunity it has finally happened, although the end result turns out to be something of a mixed blessing…
Before looking on the downside, let's look at the positives. Four sets are now available, each focusing on Dracula, Frankenstein, The Wolf Man and The Mummy. Each character's set contains every film they appeared in for the company from the 1930's and 1940's (with one entry from the 1950's). Unfortunately, The Invisible Man is more conspicuous than usual by his absence.
The key films featured in the earlier Essential Collection have been carried over to the new sets with their restorations and extras intact (including the Spanish language version of Dracula from 1931). The remaining films, whilst not afforded the painstaking restoration of the key films in the catalogue, have on-the-whole been sourced from masters which have remained in surprisingly good nick for their age. It is, however worth noting that Werewolf Of London in particular looks in poor shape compared to its stablemates and would have benefited from some damage repair (some tramlines and splices are jarringly noticeable).
That gripe aside, the overall level of quality is pleasing. The soundtracks have been encoded in DTS-HD, and whilst some period hiss is noticeable on some earlier titles, this isn't something that bothers me especially. Still, it's something that a potential buyer should be aware of.
At the time of writing, each collection is currently retailing around the £30 mark, which would seem to represent fairly good value for sets of 6-to-8 films. Sadly, upon deeper analysis they're not as good a bargain as they might seem. Since each collection focuses on including every film in which the main protagonist appears, duplication of titles across multiple sets is inevitable. Sure, the studio might argue that, if you're only interested in Lon Chaney's Wolf Man, you only need to buy one set to get all of his films.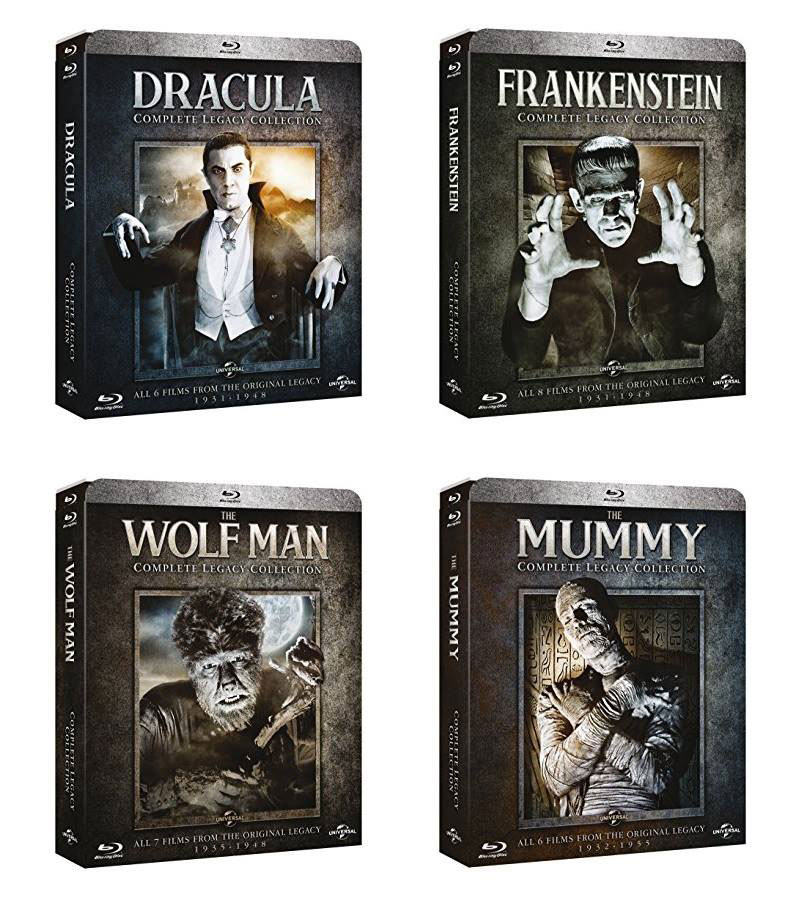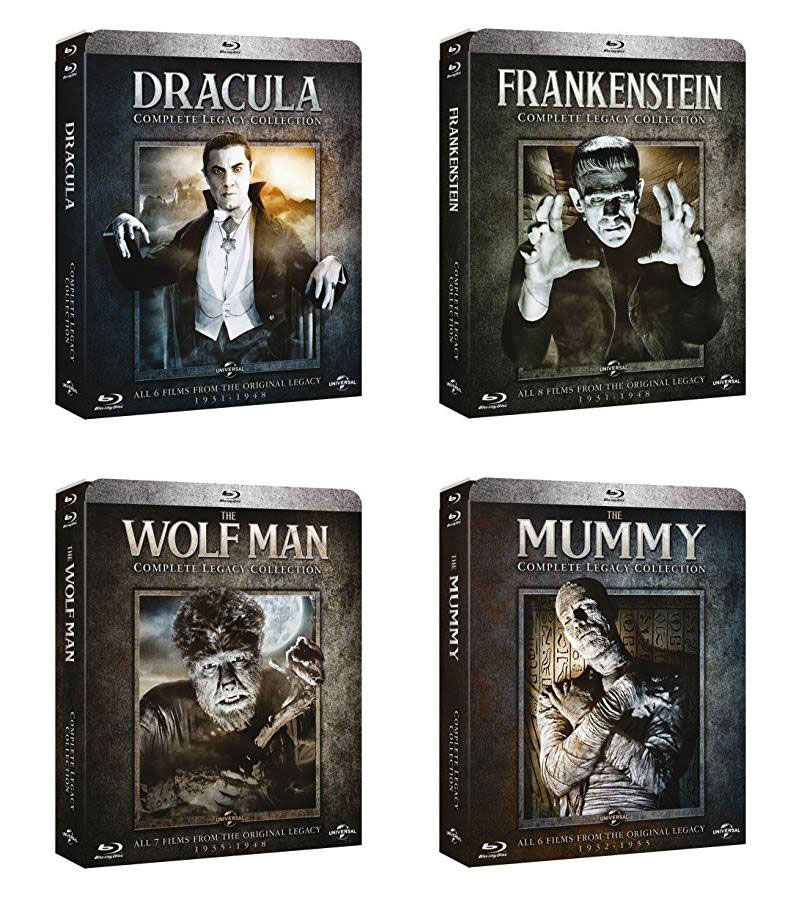 However, what if you just want every Universal monster movie in HD? That's a considerable percentage (a vast majority, I'd argue) of just the audience these sets are aimed at. That means you're going to end up with three (yes, three) copies each of House Of Dracula, House Of Frankenstein and Abbott & Costello Meet Frankenstein, as well as two copies of Frankenstein Meets The Wolf Man. Even the most die hard fans of these films might concede that this is a tad excessive, not to mention a downright rip-off.
It can only be hoped that the all-in-one set we've been dreaming of (like the earlier US DVD megaset) might come along later and rectify this (and put The Invisible Man and The Creature From The Black Lagoon back in their rightful place in the pantheon). In the meantime, either wait for a big price drop or save your money. Regretfully, only halfway into the year, Universal Pictures are clear favourites for the "Taking The Piss" award for 2017.
CONTENTS IN FULL (*** denotes films also included in the Universal Monsters Essential Collection)
Dracula: Complete Legacy Collection
Dracula (1931) ***
Dracula's Daughter (1936)
Son of Dracula (1943)
House of Frankenstein (1944)
House of Dracula (1945)
Abbott and Costello Meet Frankenstein (1948)
Frankenstein: Complete Legacy Collection
Frankenstein (1931) ***
Bride Of Frankenstein (1935) ***
Son Of Frankenstein (1939)
The Ghost Of Frankenstein (1942)
Frankenstein Meets The Wolf Man (1943)
House of Frankenstein (1944)
House of Dracula (1945)
Abbott and Costello Meet Frankenstein (1948)
The Wolf Man: Complete Legacy Collection
The Wolf Man (1941) ***
Frankenstein Meets The Wolf Man (1943)
House of Frankenstein (1944)
House of Dracula (1945)
Abbott and Costello Meet Frankenstein (1948)
Werewolf Of London (1935)
She-Wolf Of London (1946)
The Mummy: Complete Legacy Collection
The Mummy (1932) ***
The Mummy's Hand (1940)
The Mummy's Tomb (1942)
The Mummy's Ghost (1944)
The Mummy's Curse (1944)
Abbott & Costello Meet The Mummy (1955)