Reading Time:
4
minutes
BARRY McCANN looks back at Scrooge 1951, starring Alastair Sim in the Charles Dickens yuletide redemption tale…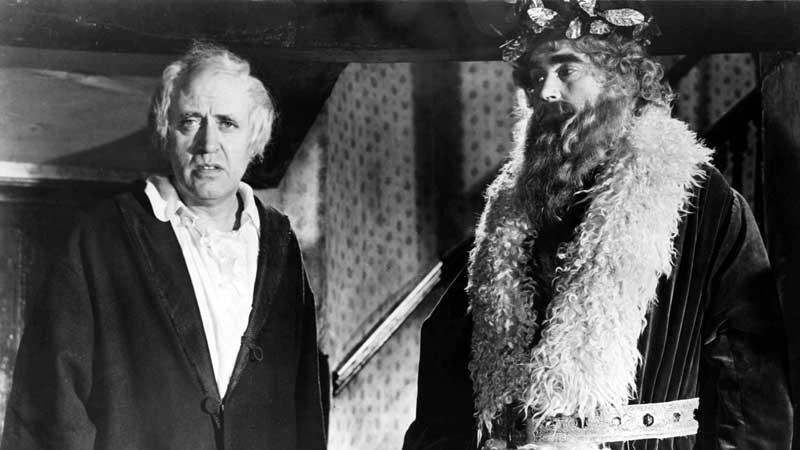 TITLE: Scrooge
RELEASED: 31 October 1951
DIRECTOR: Brian Desmond Hurst
SCROOGE 1951 CAST: Alastair Sim, Mervyn Johns, Hermione Baddeley, Jack Warner, Kathleen Harrison, Michael Hordern, George Cole
Scrooge 1951 Review
How many screen adaptations of A Christmas Carol have there been? I have read estimates ranging from 57 to 135, figures depend on whether listings include the more derivative versions. Poor old Ebenezer Scrooge has found himself repeatedly reincarnated for animated adventures, musicals, modern interpretations, even encounters with Mickey Mouse and the Muppets!
Purists will of course prefer the more faithful film and TV versions, which themselves have varied in quality. But there is one which still stands as the most popular and well known version of all, not just because it remained faithful to the Dickens tale but expanded on it, giving more body to the narrative.
Scrooge was made in 1951 with Alastair Sim as the titular miser from a screenplay by Noel Langley. It was produced and directed by Brian Desmond Hurst, and shot in glorious crisp black and white by cinema photographer C. M. Pennington-Richards. George Cole, who Sim was mentoring as an actor, took the part of the young Scrooge looking uncannily like a younger Sim himself. Michael Horden, who later played Scrooge himself for the BBC, appeared as Jacob Marley.
Unlike some of the previous versions, Langley's script did not tamper with the original storyline. A previous, depression informed 1935 adaptation had managed to completely miss out Scrooge's childhood while paradoxically padding out other events in the tale to the point of verbosity. Langley, however, had stronger ideas in mind.
While almost slavishly following the structure of the text, the screenplay also opens up more backstory which weaves into Dickens's vision so seamlessly that one would think that the added details actually came from the quill of the author himself.
For instance, the film reveals that Ebenezer's much loved sister, Fan (Carol Marsh), died while giving birth to her son, Fred (played as an adult by Brian Worth), which stokes up Scrooge's his resentment of his nephew. This is further cemented by the also added reveal that Scrooge's mother died giving birth to him, explaining his father's resentment of him. To facilitate these revelations, Langley did have to slightly tweak Ebenezer as the younger brother of Fan, as in the original story she is his younger sibling.
However, the more memorable exposition was an additional section in which the Ghost of Christmas Past (Michael J. Dolan) reminds Scrooge of how he transitioned from a happy, carefree employee of Mr. Fezziwig (Roddy Hughes) to the miserable money lender he is now, something the Dickens original pretty well skips.
Mr. Fezziwig has a business friend and rival in Mr. Jorkin (Jack Warner) who warns him the world of their respective businesses is getting tougher and more competitive. He also recognises young Ebeneezer as the kind of "Young Buck" who can cut it in this new world, and eventually persuades Scrooge to go and work for him.
Joining Jorkin's company, Ebenezer is introduced to Jacob Marley (a young Patrick Macnee) and agrees with him that "I think the world is becoming a very hard and cruel place… One must steel oneself to survive it, not be crushed under with the weak and the infirmed."
When Scrooge later oversees the takeover of Fezziwig's company, a pang of guilt prevents him from approaching his departing, former employer, especially after coldly informing one of the workers there he can only stay on for a shilling a week less.
The importance of these scenes lie in the portrayal of a hardening young Ebenezer still being on the cusp of his humanity, and not too late for him at this stage to mend his ways. But he follows the path of ruthless materialism and this costs him the woman he loved, Alice, who sees what he is becoming and wants not part of it.
Appropriately, the vision then leaps forward to the elder Scrooge and Marley present at a shareholders' meeting where Jorkin is exposed as an embezzler of the company's funds. The opportunistic pair offer to reimburse the stolen money in return for 51 per cent of company shares, in effect a takeover giving birth to the firm of Scrooge and Marley.
With this gap in the story filled, Langley's script then continues with the Dickens text, though with the nice odd little addition here and there such as the giddily reformed Scrooge playfully terrorising his confused housekeeper. We also get to see him introduced to Fred's wife (Olga Edwardes) and who can resist a lump to the throat when he humbly asks her "Can you forgive a pig headed old fool for having no eyes to see with, no ears to hear with all these years?"
The film was a box office hit in in Britain but not so in the United States. However, it became a popular Christmas Eve tradition on American television from the late 1960s onwards, a run interrupted in 1981 when Gold Key Entertainment were unable to renegotiate the US TV screening rights in time for its usual festive airing. The company head, Bob Muller, declared "They're calling me Scrooge… I'm not trying to be the bad guy, I love the film myself…"
Fine versions have followed since, but the 1951 Scrooge remains the definitive take on Dickens's tale, immortalising Alastair Sim as Scrooge. Indeed, he later returned to the role in 1971 to voice an acclaimed 25 minute animated short for America's ABC Television. The fact Michael Hordern also returned as Marley's ghost underlined its homage to their classic version.
What do you think of Scrooge 1951 full movie? Tell us in the comments section below!
Watch Scrooge 1951 full movie