Reading Time:
5
minutes
London has long held connections with lycanthropes, writes DAVID TURNBULL, as he chronicles the Werewolves of London.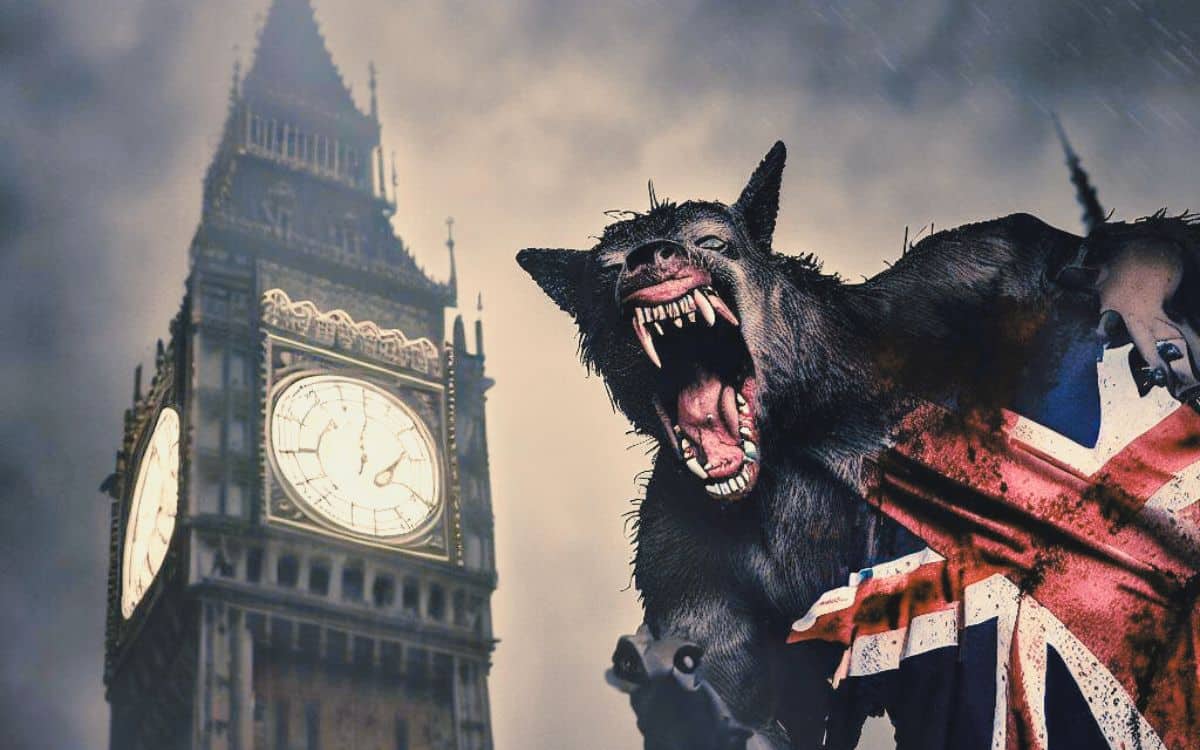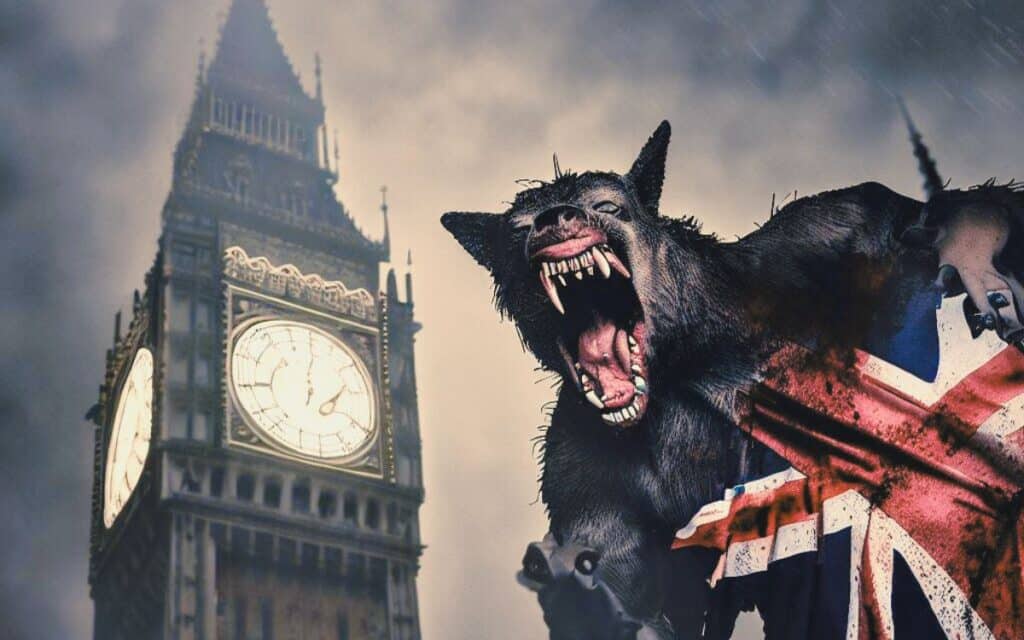 The notion of the shapeshifting werewolf has long existed in folklore, myth, and gothic fiction. Think of werewolves and the image that may well come to mind is that of a savage, half human creature running through a dense forest and howling at a full moon.

But what if the territory a werewolf prowled was a city? And what if that city was London?
Many writers and film makers have considered that possibility.
Werewolf of London 1935
Werewolf of London made in 1935 stars Henry Hull as a renowned botanist who has returned to London with an extremely rare plant acquired on an expedition to the Himalayas.
In London, he is visited by a fellow botanist, Doctor Yogami of the University of Carpathia, who tells him that the flowers of the plant contain a cure for the werewolf curse.
Something Hull will do well to heed before the plot plays out, because while he was on his expedition he was attacked and bitten by a feral creature who may well have been Doctor Yogami in werewolf form.
Doctor Yogami is played by Swedish actor Werner Oland, who built an entire career out of playing oriental characters such as Sax Romher's global super villain Fu Manchu and Honolulu based detective Charlie Chan.
A novelization of the film by horror writer Walter Harris, came out in 1977. It was published under the pen name Carl Dreadstone, a pen name also used by Ramsey Cambell in his novelization of the 1941 Universal Pictures film The Wolf Man.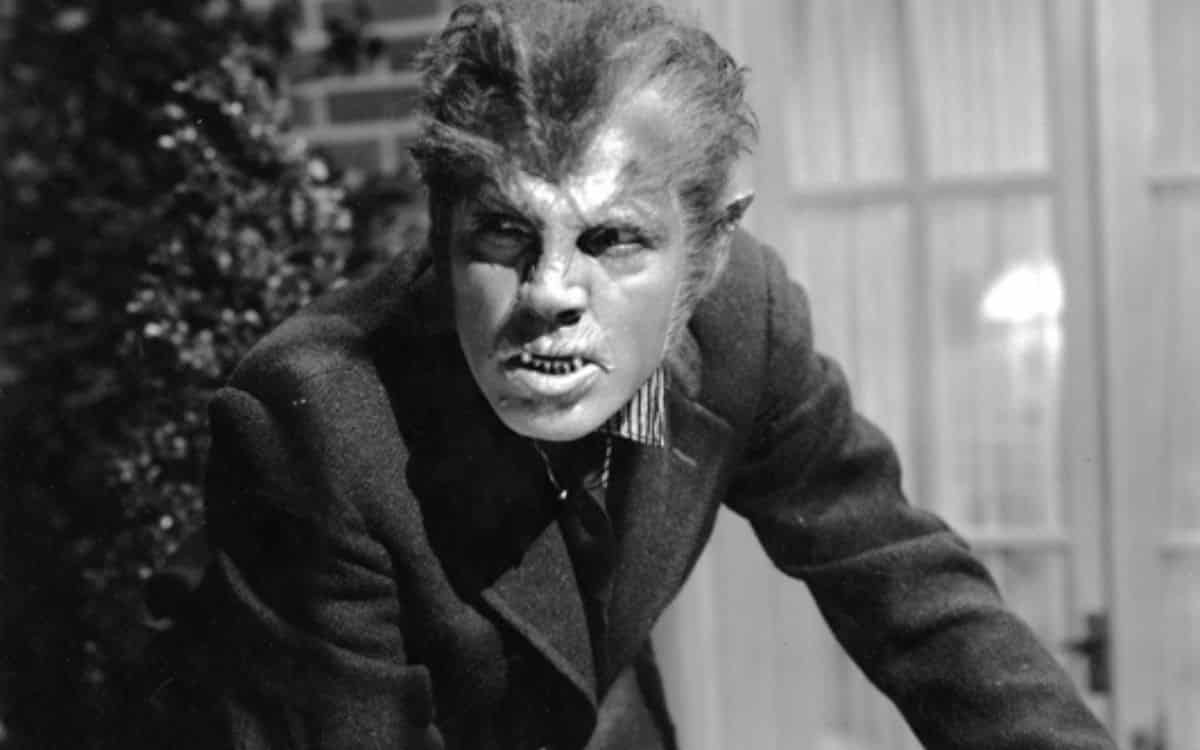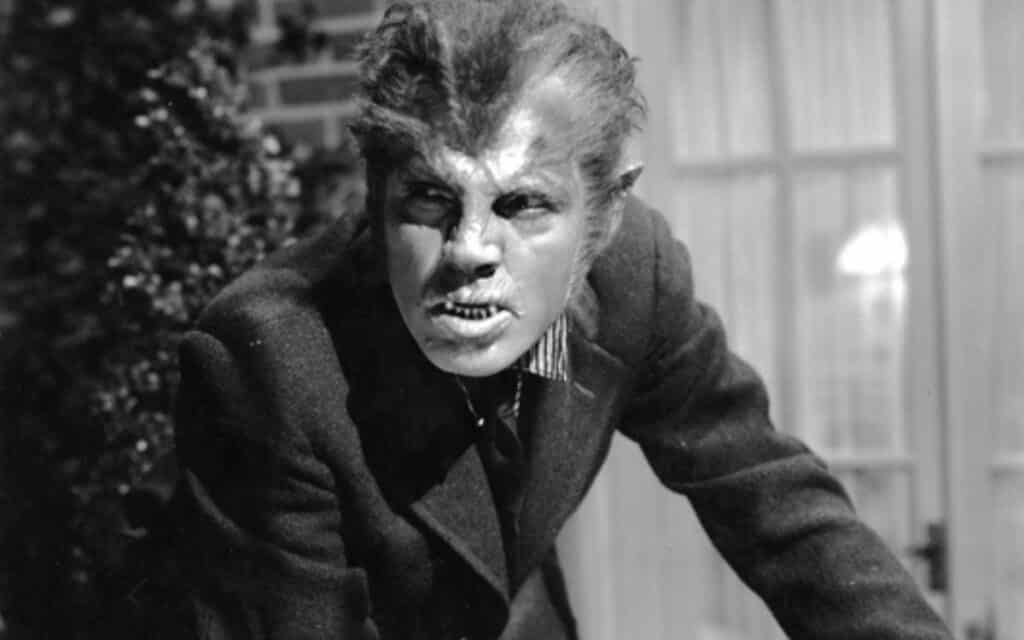 Warren Zevon and Werewolves of London 1977
Around the same time Phil Everly of the Everly Brothers singing duo watched a showing of Werewolf of London on late night television and jokingly suggested to his friend Warren Zevon that he should try to create a new dance craze by writing a song based on the plot of the film.
The result was Werewolves of London, which went on to become Zevon's biggest hit and best-known song.
As well as Lon Chaney and the Queen the song references famous London landmarks such as Trader Vics, a restaurant inside the Park Lane Hilton and a popular Chinese restaurant of the 70s, Lee Ho Fook, which used to be in Soho's Gerrard Street.
Soho of the Victorian era is, of course, the location of Robert Louis Stevenson's 1886 novella The Strange Case of Doctor Jekyll and Mr Hyde, considered by many, due to its premise of the transformation of a human being into a monstrous alter ego, to be a werewolf tale without a werewolf in the literal sense.
Doctor Jekyll and Mr Hyde turn up in Kim Newman's London based alternate history vampire novel, Anno Dracula, and in Alan Moore's graphic novel series, The League of Extraordinary Gentlemen.
Doctor Jekyll himself meets a werewolf in London in a 1971 Spanish horror movie, Doctor Jekyll and The Wolfman, or Dr Jekyll y el Hombre Lobo to give it its original Spanish title.
Dr Jekyll and The Wolf Man 1971
The film is one of a dozen movies featuring Count Waldimar Daninsky. The Count/werewolf is played by Paul Naschy, who also plays Mr Hyde.
Naschy, known as the Spanish Lon Chaney, had a prolific film career spanning 40 years, in which he played Spanish versions of all the classic movie monsters, Dracula, the Mummy, Frankenstein's monster and the hunchback of Notre Dame.
In Doctor Jekyll and the Wolfman Count Daninsky travels to London in the mistaken believe that Doctor Jekyll's serum can free him from the werewolf curse. Things do not go to plan, resulting in mayhem and chaos on the streets of London.
Black Hearts in Battersea 1964
Wolves of a different kind occupy a snowbound London in Black Hearts in Battersea the 1964 novel by Joan Aitken. The novel was the follow up to her earlier novel The Wolves of Willoughby Chase and the second in a series, known as the wolves' chronicles, set in an alternative 19th Century timeline where Britain is ruled by James III rather than Queen Victoria.
The sub-plot to the stories concerns the packs of savage wolves which have re-established themselves in large numbers in Southern England by crossing over from mainland Europe through a channel tunnel constructed 150 years ahead of its time.
The novel was made into a BBC TV series in 1995, starring, amongst others, John Altman of Eastenders' Nasty Nick Cotton fame.
Another fantasy series to reference werewolves prowling the streets of London is Ben Aaronovich's Rivers of London.
The series rewrites werewolf lore, telling us that werewolves don't transform when the moon is full but can begin transitioning any time between the ages of 20 and 50.
The transition can take as long as two decades to complete. After World War II most werewolves settled in Germany or Sweden.
The Rivers of London graphic novel, Monday Monday, has main character PC Peter Grant investigating a case connected to a werewolf which has relocated back to London from Sweden.
Brian Stapleford's novel The Werewolves of London is set in the Victorian era and concerns an orphan called Gabriel Gill who discovers he possesses occult powers, only then to find himself kidnapped by an evil satanist in cahoots with a pack of London based lycanthropes.
An American Werewolf in London 1981
But perhaps the most famous London werewolf tale is the story of David Kessler, played by David Naughton in John Landis' iconic 1981 movie An American Werewolf in London.
The plot tells of two American backpackers attacked by a werewolf on the Yorkshire moors. Kessler is bitten. His companion is killed. In London Kessler is attended to by a nurse played by Jenny Agutter.
Soon though a full moon rises and so begins his monstrous transformation. Famous scenes from the movie show the werewolf roaring out of a cinema in Shaftesbury Avenue and engaging in a violent and bloody rampage on a red double decker bus.
It was very unusual for a film maker to be permitted to film around Piccadilly and to have traffic diverted as John Landis did.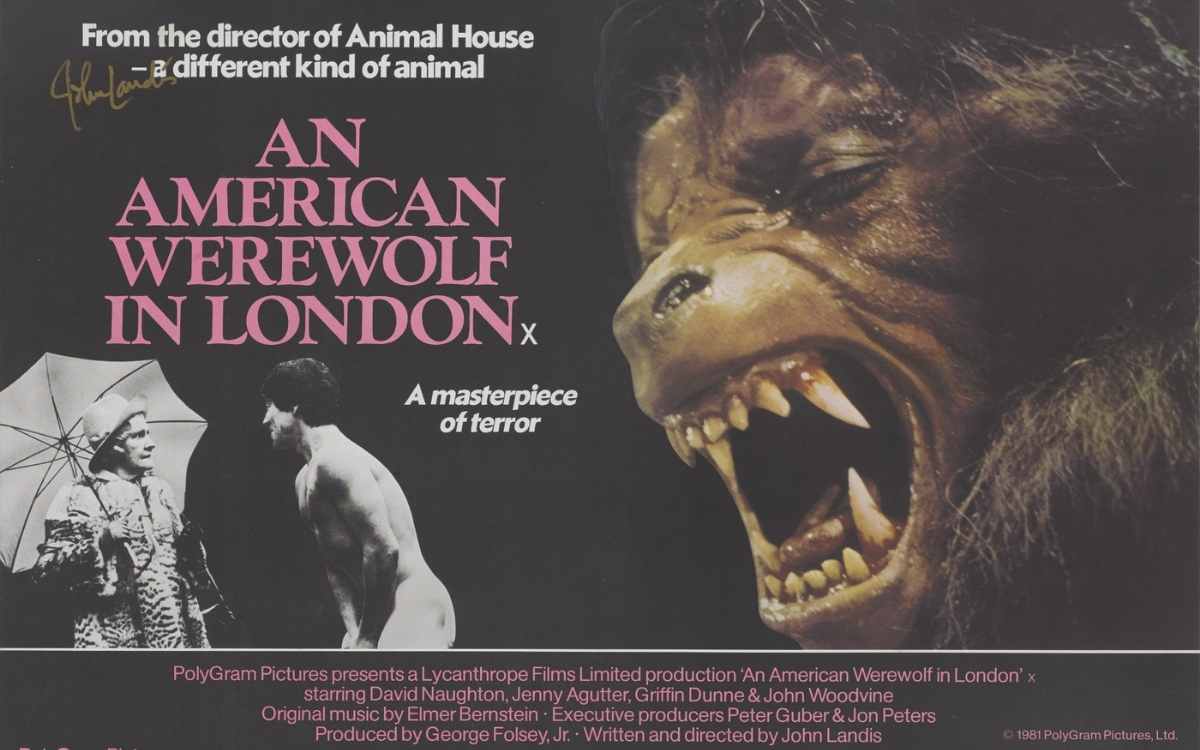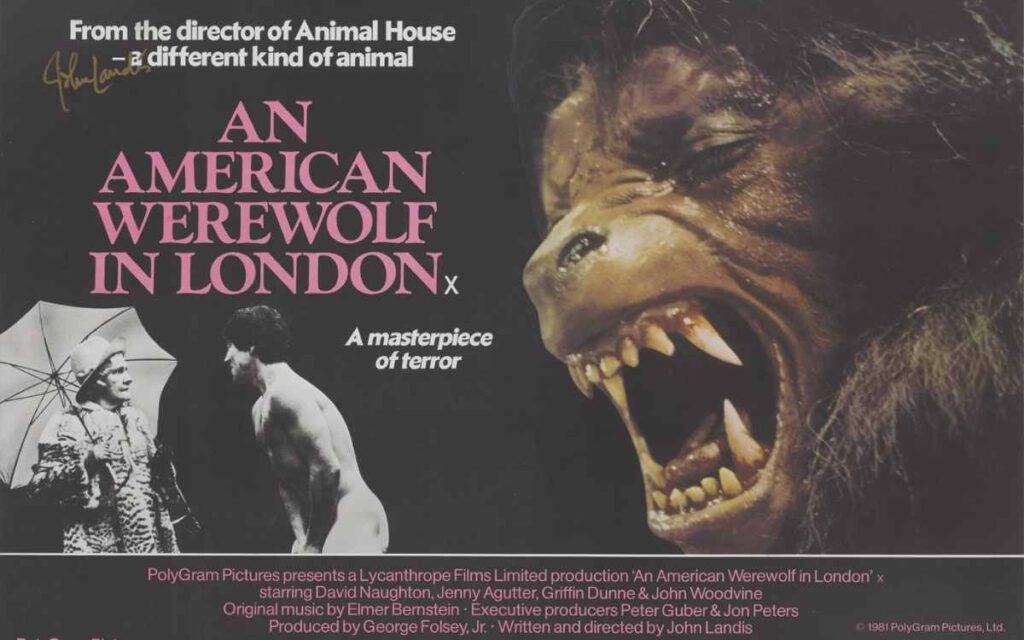 It is said that to sweeten his filming application Landis arranged a private showing of his other iconic movie The Blues Brothers for 150 members of the Metropolitan Police, who were impressed enough for him to be given the nod, allowing him to film the scenes on location in the West End.
Someone else Landis made an impression on was Michael Jackson, who asked him to direct his ground-breaking Thriller video in 1982 after watching An American Werewolf in London. Resulting in both of the receiving awards and acclamation for their visually stunning collaboration.
All of this adds up to over a century of literary and cinematic lycanthropic lore in London town. No doubt there will be more to come. In the famous words of Zevon's song, ah-hoo, werewolves of London.
What's your favourite werewolf of London? Tell us in the comments section below!
Watch An American Werewolf in London 1981 Transformation Scene