Reading Time:
3
minutes
A boulder in a Lancashire burial ground marks the grave of alleged 17th century witch Meg Shelton. But the 'Witch of Woodplumpton' may still walk the earth, according to BARRY McCANN!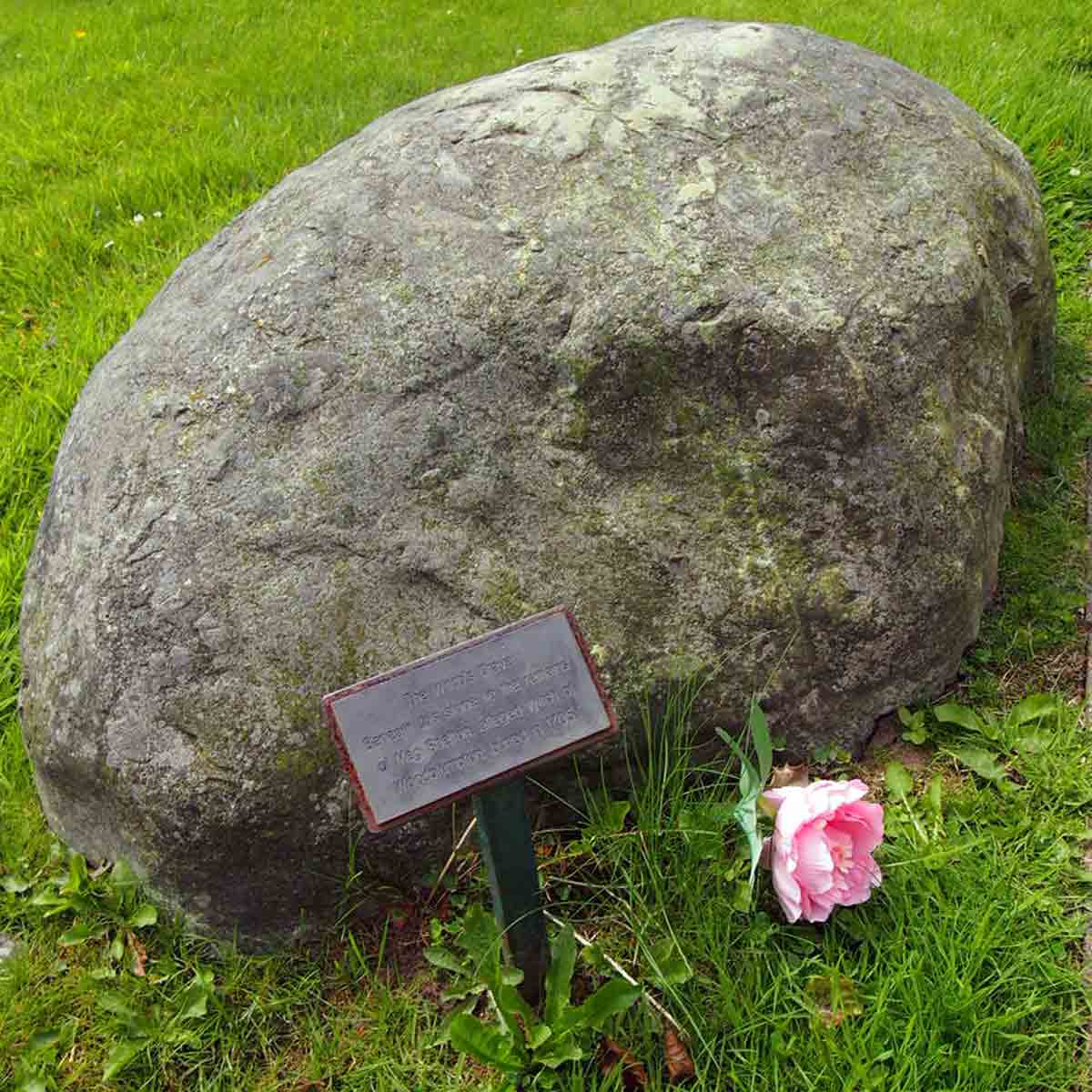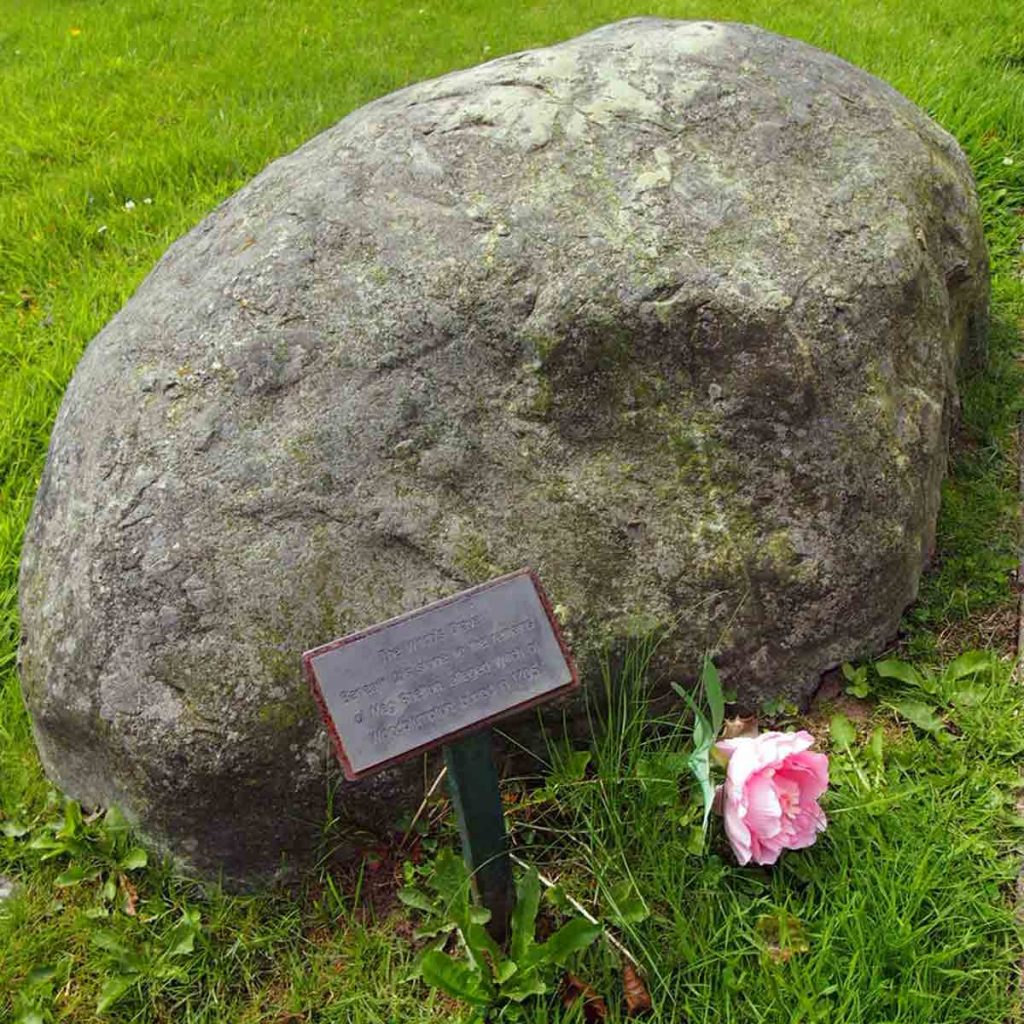 In the old Lancashire village of Woodplumpton near Preston stands the church of St. Annes, originally 11th Century but rebuilt in 1639 and 1900 with the structure that stands to this day. And among the many headstones in its burial ground is the very distinctive sight of a large boulder partially embedded in the ground. In front of it, a small sign reads:
"The Witch's Grave. Beneath this stone lies the remains of Meg Shelton alleged witch of Woodplumpton, buried in 1705."
Given she died less than 100 years after the Pendle Witches were hanged and secretly buried in unconsecrated ground, how did this woman come to be interred in a Christian burial place and why a boulder placed on top?
Meg Shelton (also known as Mag Shelton or Margery Hilton) actually lived in the nearby village of Catforth and became known as the Fylde Witch through a series of accounts concerning her mischief. Many of these involved shape shifting and using occult power to steal from the local community, especially farmers.
Who was Meg Shelton, the Witch of Woodplumpton?
Meg reputedly walked with a pronounced limp, which was bound to mark her out as different for a start. And this was said to be the result of an injury obtained while she was in the form of a rabbit due to a bizarre wager.
Meg had a bet with her landlord that she could turn into a rabbit and race his dogs from the village of Wesham where he lived, to her cottage in Catforth which she rented from him. The winning prize was to be that she took ownership of the cottage itself, and Meg attempted to ensure victory by insisting the landlord did not employ his largest and fiercest black dog on the grounds it was too dangerous. Of course, he double crossed her and released the beast which bit Meg's hind leg just as she got through the cottage door.
Many stories had Meg stealing milk from farmers' cows using a jug disguised as a goose. In one, the farmer did not initially pay attention to Meg walking her goose through his field until her saw milk dripping from the animal's bill. Approaching the goose, he gave it a kick and it transformed back into a jug which then shattered. With all the milk spilled, an infuriated Meg flew away.
Another tale had Meg transform herself into a sack of corn and hid in a farmer's barn in order to steal food his food. The farmer was somewhat smarter than she realised and noticed there was one sack too many present. He stabbed each one with a pitchfork to make sure they were all filled with corn, Meg letting out a scream and returned to her human form before fleeing the scene.
Meg eventually died in an accident when crushed between a barrel and a wall in 1705 and, despite her reputation, it was decided to lay her to rest at the village church of nearby Woodplumpton. However, two attempts at burial apparently resulted in Meg digging herself out again. Eventually, she was put head first into the ground during a ceremony taking place at midnight, and a large boulder placed on top to prevent her getting out again.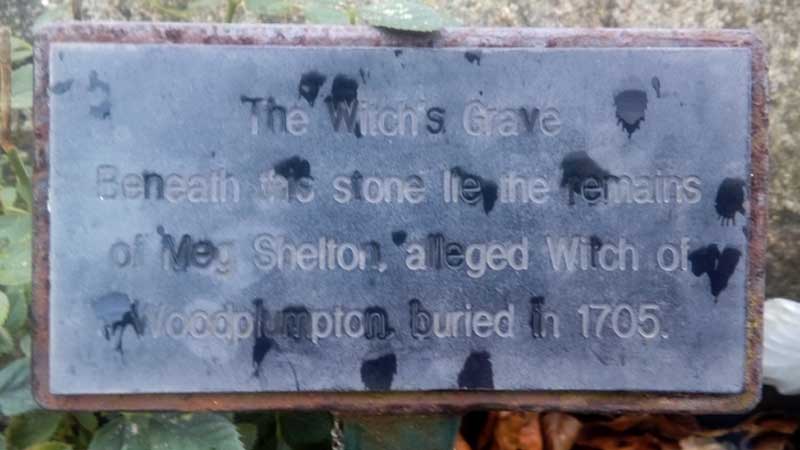 To this day, the boulder remains in place and can be visited anytime. However, the question remains as to whether the grave is still occupied since nobody really knows. And rumours have persisted that the "Fylde Hag" still walks.
The most famous account dates from the 1920s when a family visited the picturesque church at Woodplumpton.
Their excited young son ran in first, then met his parents running out again, traumatised as a haggard old woman had chased him. Assuming this was not some poor church lady doing the flowers, can it be assumed it was old Meg – the Witch of Woodplumpton – having her last laugh?
Should you ever visit Meg's grave, try sampling the delights of the Wheatsheaf Inn opposite the church. Its declared fayre boasts "Good food. Fine ales. Resident ghost." Perhaps the witch did liberate herself the boulder grave and took a fancy to the pub.