Reading Time:
3
minutes
RICK HALE tells the terrifying spectre of a grinning floating head haunts the Ye Olde Cock Tavern on Fleet Street, London.
Ye Olde Cock Tavern
22 Fleet Street
Holborn, London EC4Y 1AA
Fleet Street is an important road that cuts through the city of London, with origins dating back to 200 CE when it was a major Roman thoroughfare.
Since that ancient bygone era, Fleet Street has become home to several churches of great historical significance.
Numerous monuments and statues run along its length.
And Fleet Street is at the center of literature and most of the country's printed newspapers.
Among all this, Fleet Street is home to the Ye Olde Cock Tavern, a pub that is said to be haunted by an unnerving spectre so terrifying its appearance leaves eyewitnesses forever changed.
History Of Ye Olde Cock Tavern
This curious London pub that looks as if it is snuggly wedged between two larger buildings can trace its history back to 1549.
A century later in 1665, the plague ravaged London killing thousands prompting the tavern to close its doors.
Three years later the tavern reopened and the owners renamed it Ye Olde Cock Tavern.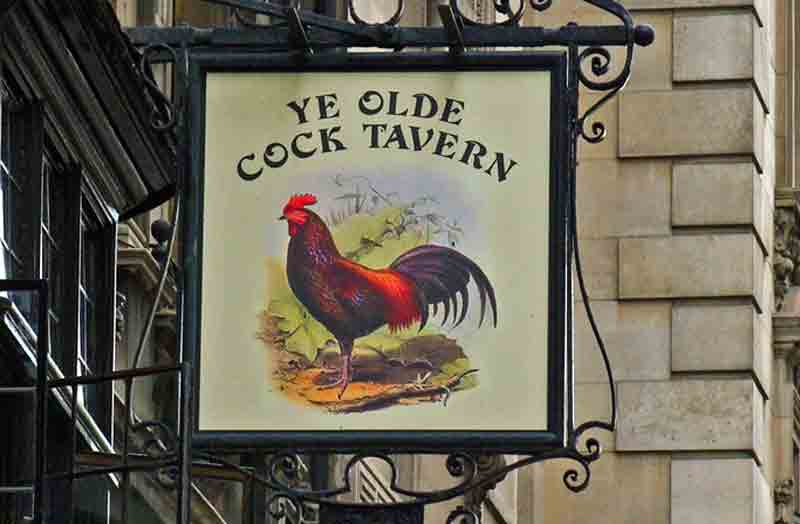 Following the horrors of the plague, Ye Olde Cock Tavern became a meeting place for some of England's greatest literary minds.
Samuel Pepys mentioned eating and drinking in the tavern in his many works.
Samuel Johnson wrote the first English dictionary here. And, Charles Dickens and Alfred Lord Tennyson were frequent patrons.
However, one literary giant loved the tavern so much, his ghost still calls it home, playwright and novelist, Oliver Goldsmith.
Haunting Of Ye Olde Cock Tavern
When Oliver Goldsmith passed, he was buried outside the tavern that played an important role in his life and work.
And it would seem Goldsmith has never left his beloved tavern. His ghost has remained and it's caused quite a stir.
The Floating Head
One morning a pub worker arrived early for her shift and when she walked through the back door something horrific was awaiting her.
When she looked up after putting her keys away, she found herself staring into the grinning face of a floating head.
According to those that heard her bloodcurdling scream, it was loud enough that occupants of adjoining buildings could hear it.
Later when she was telling her story, she looked at a portrait of Oliver Goldsmith and confirmed that was the man she had seen.
Goldsmith Makes Himself Known
Since the pub worker's harrowing encounter, the ghost of Oliver Goldsmith became increasingly more active.
Both patrons and staff have reported not only the disembodied head floating around the bar.
But also the full bodied apparition of Goldsmith wandering about the pub at all hours of the day and night.
People have reported Goldsmith suddenly appearing and disappearing before their bewildered eyes.
He has been known to play good natured pranks by taking staffs personal belongings and making them turn up in places they would least expect.
Except for that initial encounter by the worker, the Goldsmith ghost appears to be benign.
Apart from the mysterious floating head of Oliver Goldsmith, Ye Olde Cock Tavern is known for having the narrowest frontage of any London Pub.
The tavern has a reputation for a delicious menu and the chefs add to it every day.
You can also choose from a wide variety of gin, vodkas and cask ales.
If you've been to Ye Olde Cock Tavern, and had a paranormal experience, we invite you to tell us about it in the comment section.